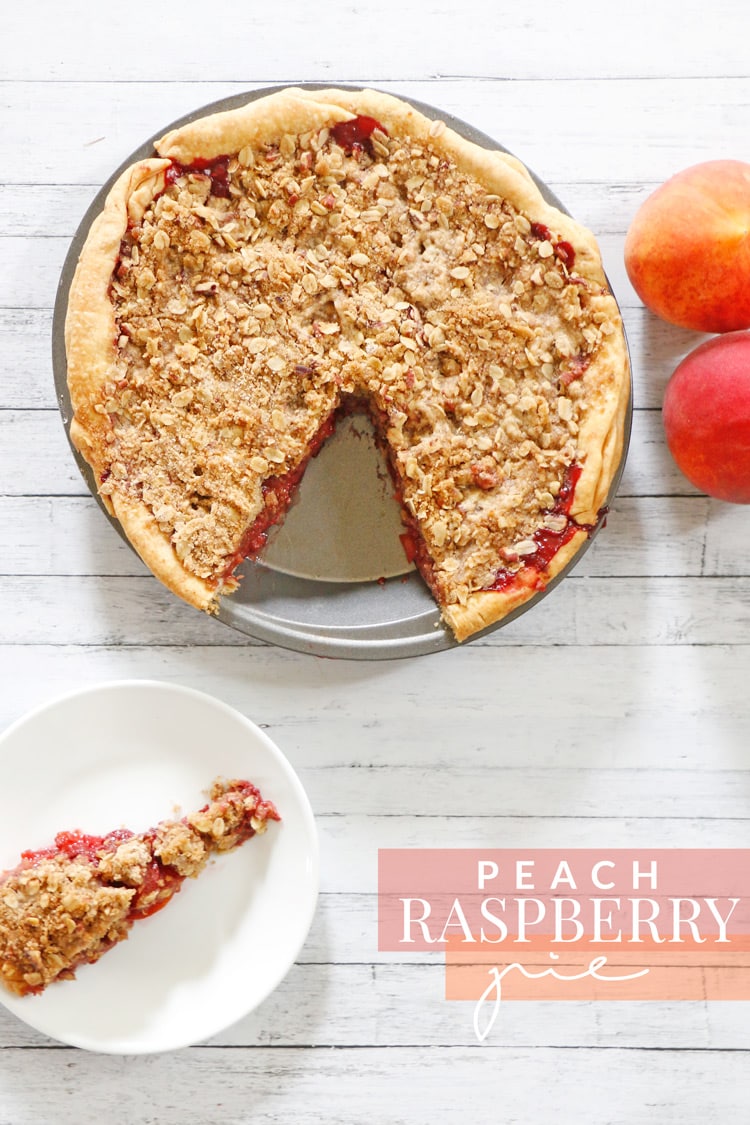 This pie. This is what makes the fact that it's Monday totally okay.
You see, it's National Peach Pie Day today (hooray!) so we had to make a pie over the weekend. Had to. And peach pies are good and all, but really – that's boring. So we changed it up bit and mixed in some raspberries. And oh. my. goodness.
I didn't know pie could taste so good. Like, I'd feel no shame if I ate the whole thing and Nathan never saw another slice of it good. It's totally worth the extra calories and inches on my waistline, you guys. It's gooey and fruity and crumbly in all the right ways. I don't know if there's a wrong way even, but it's perfection regardless. This peach raspberry pie is the pie you've been waiting for, even if you didn't know you were waiting for it.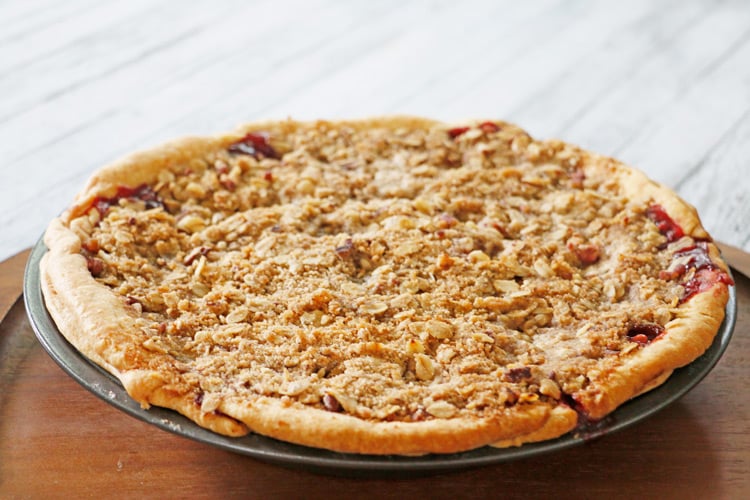 We had leftover Georgia peaches that we had canned last year so I was excited to give them a purpose beyond me just opening jars and inhaling them before we could even make something with them. And our canned peaches versus store canned peaches? WAY better.
But before I get to the recipe, I need to tell you about what happened while we made this pie. Nathan put the whole thing together until the topping as I was making peach salsa (more peach recipes – yay!) and then I was going to do the lattice top. It was going to look amazing, guys. I had this perfect image of it in my head even though I'd only done it once before. And then I tried it. And it looked everything but amazing. Like "it wouldn't have even been on the blog because it was just plain ugly" kind of not amazing.
The pie crust was all melty and I apparently don't do well with patterns so we pulled it off and opted for the crumble topping. I'm going to say I screwed it up on purpose because this pie was meant for that crumbly oatmeal and nutty topping. Seriously. It was a match made in food flavor combo heaven. De-li-cious.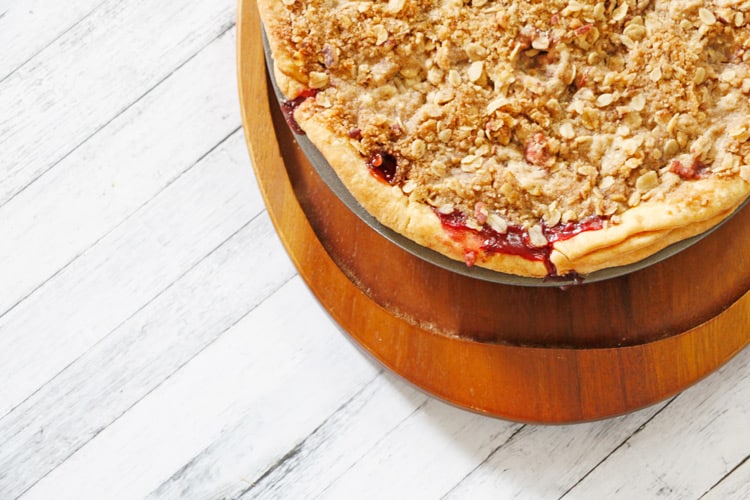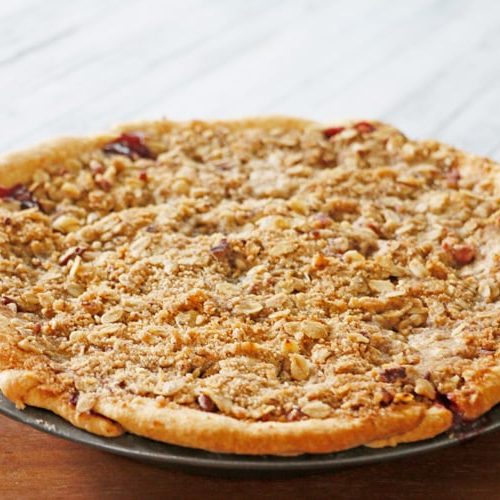 Peach Raspberry Pie with Crumble Topping
Ingredients
For The Pie
28

oz

Peaches

Sliced and Peeled

28

oz

Raspberries

1/2

Cup

Sugar

1/2

Cup

Butter

1 Stick

1

Tbsp

Honey

1

Tsp

Cinnamon

1/2

Tsp

Nutmeg

1 9

" Pie Crust
For The Topping
1

Cup

Brown Sugar

3/4

Cup

Flour

3/4

Cup

Oatmeal

Anything but instant

1/2

Cup

Chopped Pecans

1/2

Tsp

Cinnamon

1/4

Tsp

Salt

1/2

Cup

Butter

1 Stick
Instructions
For the Pie
Preheat the oven to 375F. Combine all the ingredients except for the pie crust in a medium pot. Bring to a boil.

Reduce heat and simmer for 15 minutes.

Lay the pie crust in a pie pan and pour the mixture in.
For the Topping
Combine all of the ingredients except for the butter in a medium mixing bowl and mix thoroughly.

Cut in the butter and mix until butter "chunks" are evenly distributed throughout the mixture.

Pour the topping over the pie and spread evenly.

Bake the pie for 40 minutes.

Let cool before serving.
Recipe Notes
While baking, be sure to check periodically to ensure that the crust isn't burning. Cover the crust with foil if necessary.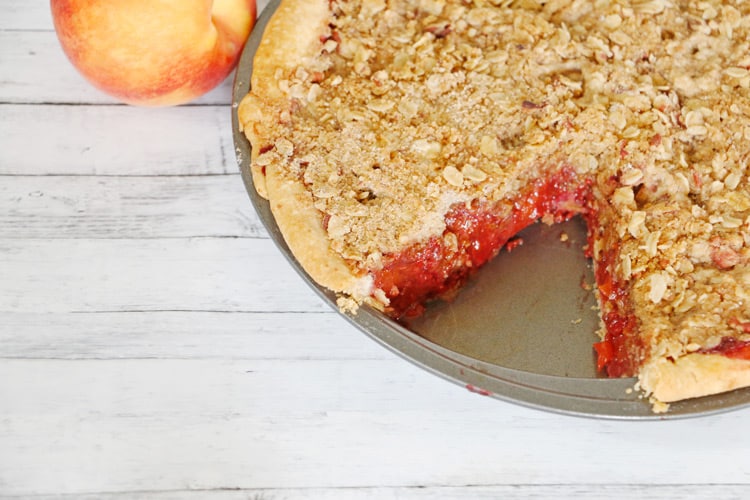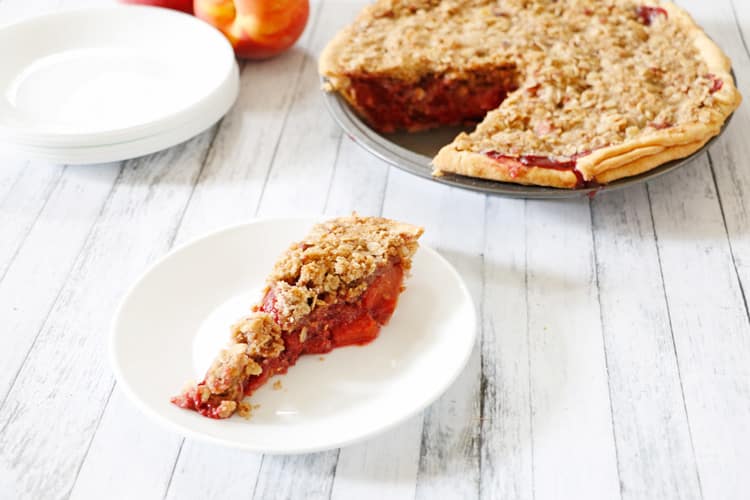 Your house will also smell like a little slice of pie heaven when you make this. And then your family will fight over who gets the last piece entire pie. And then you'll just have to make more like I'm pretty sure we will be later this week.
happy national peach pie day!