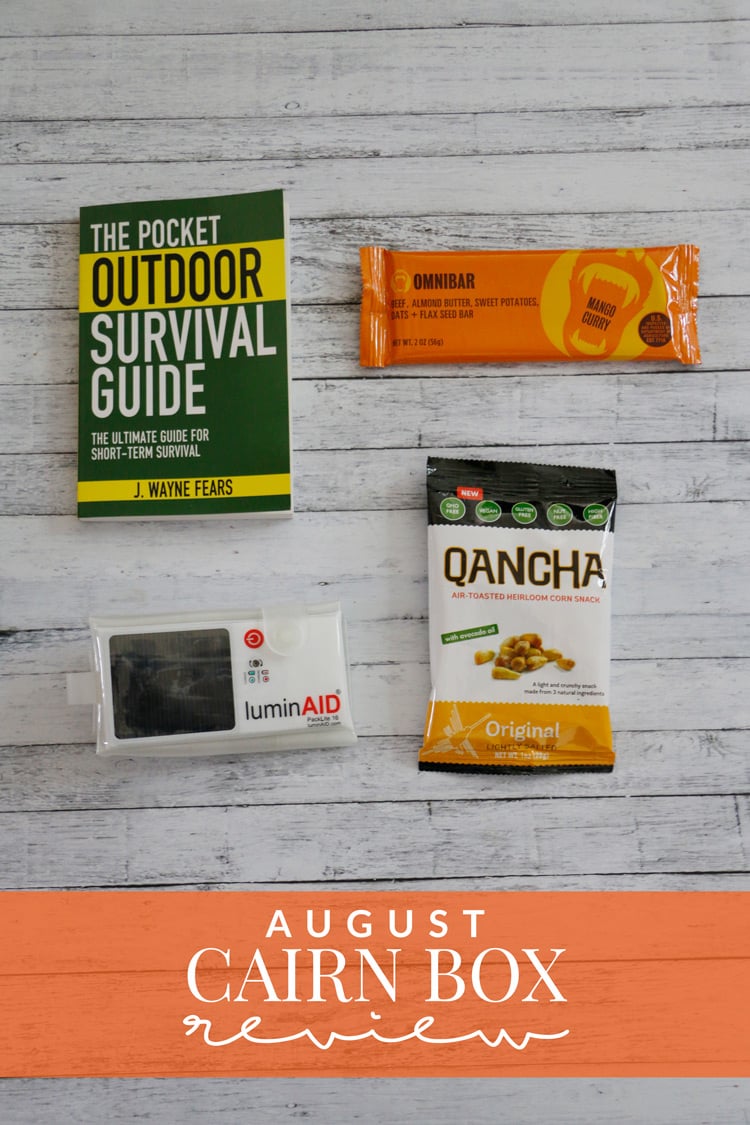 I don't get that many subscription boxes anymore simply because I haven't found enough value in the ones I used to subscribe to. The value may be well above the box's price, but if I'm not going to use half of it, I can't justify keeping it. I've narrowed it down to two right now.
BarkBox – our pups LOVE this box and it's always awesome to open up a new box with them!
Cairn – the box that I am SUPER excited to share with you today!
I've only been a Cairn subscriber for three months now, but this is by far my favorite box I've received. I kinda feel like my love for this box matches our dog's love for the BarkBox. And if the commotion in our house on BarkBox delivery day is any sign of their love for it, that's a whole lot of love.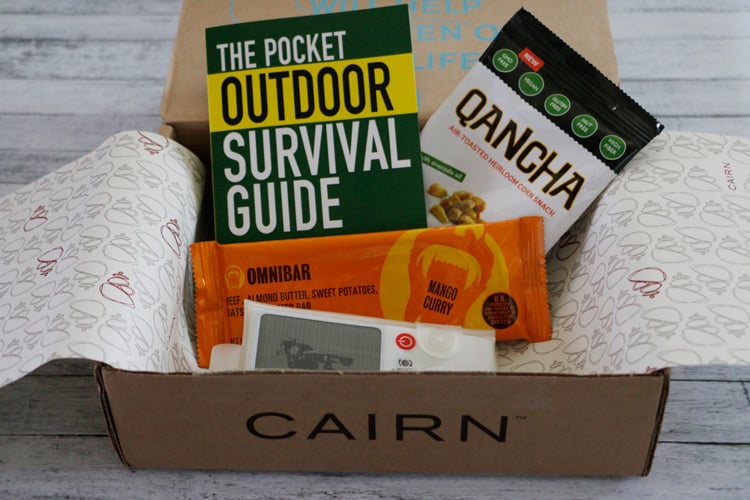 Not familiar with Cairn? Here's a little about them from their website: Every month, you'll receive a box of products that cater to an outdoor lifestyle. We work hard to curate products that recreational enthusiasts will love.
Sample categories that may be included in box:
Gear
Apparel
Food/Energy
Skincare
Emergency/Medical
Awesome, right? Perfect for those of us that love the outdoors and getting awesome products to enjoy in nature. The cost of the box is comparable to other subscription services, ranging from $22 to $25 a month depending on how many months you subscribe for at a time.
Based off the subscription I got, this month's box would have been $22.50. The value of the contents inside were $40.50 which is a nice discount on these goodies!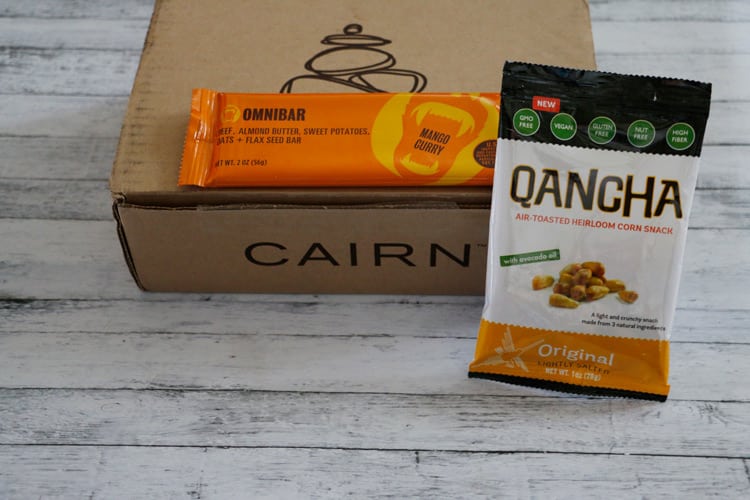 OMNIBAR MANGO CURRY BEEF BAR | I don't eat a whole lot of meat, but when I do – it's usually chicken. I'm not much of a beef eater at all. That being said, it was actually pretty decent. It's made with grass fed beef, almond butter, sweet potatoes, oats, and flax seed so I was a big fan of the rest of the ingredients. The curry adds a bit of a kick, but nothing too spicy.
QANCHA | I love corn everything. Popcorn, regular corn, cream corn, cornbread – if it has corn in it, there's a good chance I'll eat it. So I was really excited about trying these! Luckily, they didn't disappoint at all. They're lightly salted, GMO free, gluten free, vegan, nut free and are high in fiber. The perfect snack for our travels!\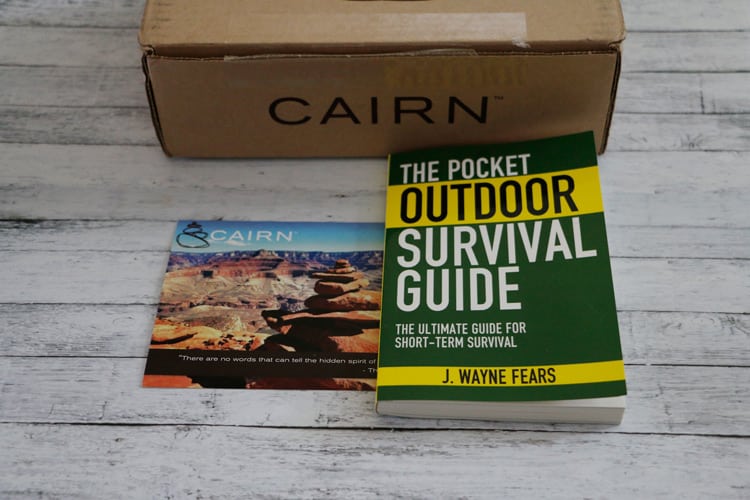 THE POCKET OUTDOOR SURVIVAL GUIDE | I actually don't have any survival books outside of one massive one that I would never ever carry with me while we're hiking or any trip where we're trying to pack light. So I'm super excited to have a small book that can be packed in our gear very easily. It covers things like trip planning, survival kits, search & rescue, staying warm, fire, water, food, and so much more. Looks like I may have some tips to add to my preparing for your next outdoor adventure post soon!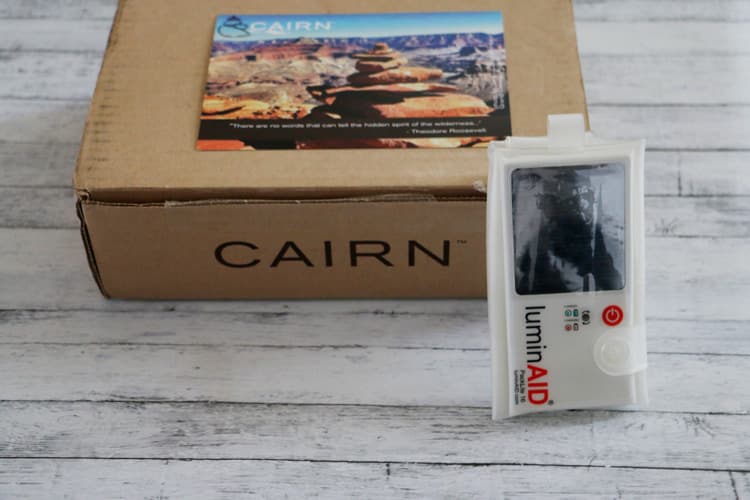 LUMINAID PACKLITE 16 | This is by far the coolest thing in the box! It's a waterproof, inflatable, lightweight lantern that gives you up to 16 hours of LED light. Use it at night and then recharge it during the day in the sun. I can't even count how many times this lantern would have come in handy. It's so portable, making it perfect for all kinds of trips and adventures. And not needing gas, batteries, or electricity for light makes it even better.
Overall, I'd say this month's box was a big win! I'm excited to test out the lantern on our next hike or camping trip.
If you'd like to sign up for Cairn, I'd SO appreciate if you added my name as your referral as it'll give me some extra points towards getting more boxes. Just sign-up like you normally would and enter in my information for the referral: Ashley at [email protected]. Thank you!
I'd love to know: what's your favorite subscription box?