Ever wondered how to start a blog? In less than five steps and a few hours, you can create a blog for less than $10 a month. It's super easy to set up a blog and this guide will help show you the basics!
This is part 1 of 3. See part 2 here and part 3 here.
For the longest time, I thought I would never write one of these posts. I thought I'd be a fraud if I did. I thought that only the blogging pros should write them, you know? Those that were experts in the field, making thousands upon thousands of dollars each month. Those were the only people qualified to write these posts, right?
It wasn't until recently when I thought of it a little differently.
I thought back to a time when my blog was brand new. And how exciting it was to make even $1.00. Or even how exciting it was to hit 100, 200, or even 500 page views.
I started there.
And if you're reading this, there's a chance you're currently there or not too far away from there. Or maybe you haven't even started blogging yet, but have considered it. Or maybe you're further along and you're just wondering how this specific blog makes money. Whatever the case, I hope that some of the knowledge I have to share helps you!
And before I begin this how to start a blog guide, a word of advice:
Don't worry about finding perfection before you begin or even as you start. Done is truly better than perfect. You can always change things as you go!
How I started
I've been blogging for a loooong time. AOL and Livejournal long time. I blogged when ad swaps were a big deal and before being paid to work with brands was the norm. I started as a teenager and I poured my angsty emotions into blog post after blog post.
As I grew up some, I moved on to WordPress and pursued it as more of a hobby than a diary. I shared recipes and crafts and updates on family life with less than stellar photography. I made friends, swapped ads with them for our blogs and had no idea that bloggers actually made money.
Eventually, I saw the earnings potential and thought "well, maybe I should try that." So I did. And now I'm here – not earning nearly as much as I'd like to, but on the right track to eventually earn more than I ever did in a corporate job.
Why blogging?
Blogging can just be a creative outlet for some. For me, that's how it started. And that was fine until I wanted a little more.
It eventually became a way to promote other businesses and also earn money. And not just a little money – it can be a way to earn a full-time income if you want it to.
The great thing about blogging is that you can make it work for you. It's flexible, personalized and has low financial risks involved with getting started.
How To Start a Blog: The Three Things You Need
One of the best things about blogging is that is requires so little to get started. Compared to a few of the other businesses I have started, this is a HUGE pro.
To get started, you need three things:
A domain (the URL for your blog. my domain is https://birdseyemeeple.com)
Blog Hosting (my web host eSkyCity provides hosting so you can view my blog)
WordPress or Blogger (the platform that makes this readable and allows me to write posts for you to view)
Domains/Hosting
I first started with Bluehost for my domain and hosting. I had very few issues and was so glad I started with something so inexpensive before I decided to pursue blogging as more of a job than a hobby.
Eventually though, I moved the blog to eSkyCity after a friend a recommended them when I needed more features. It came at a cost as they actually manage WordPress for me. Security, plugins, backups, updates – you name it, they do it. It was SO nice to get some of the technical stuff off my to-do list by making this move so the cost was worth it to me. (If you sign up, be sure to let them know that Ashley of hellonatureblog.com sent you!)
Setting up Bluehost
I'd also recommend Bluehost because of how easy it is to get set up: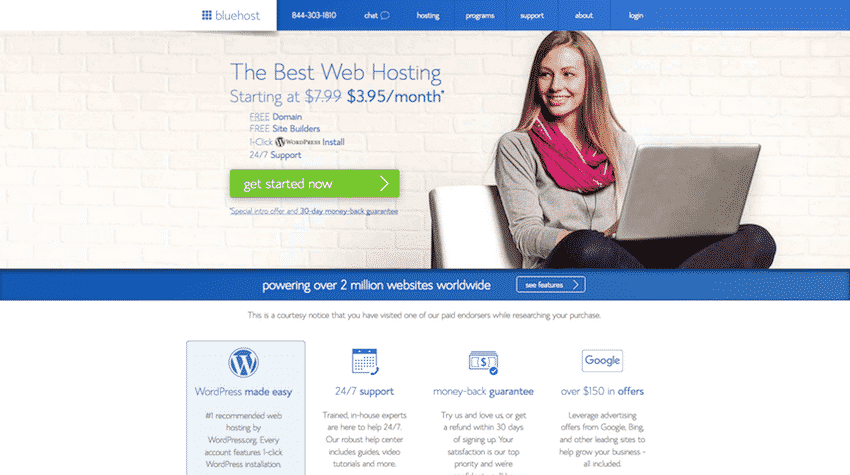 Go to Bluehost and select "Get Started Now."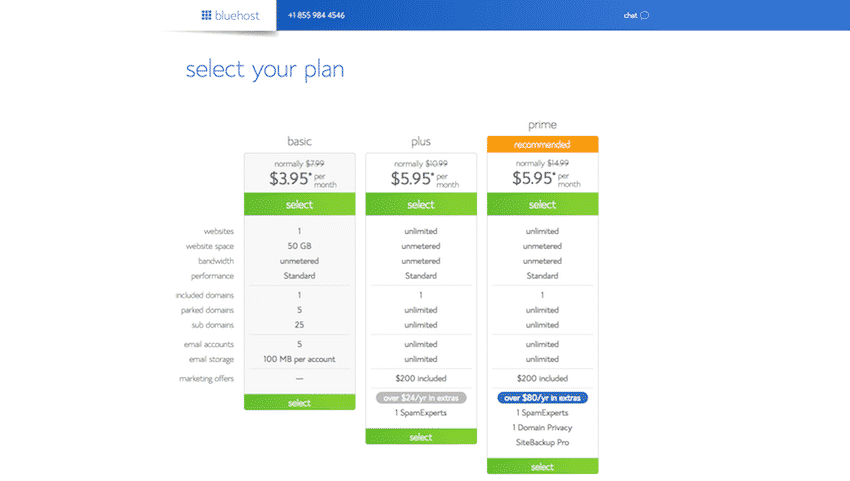 Select your plan. I went with the recommended/prime one – choose whichever one is best for you.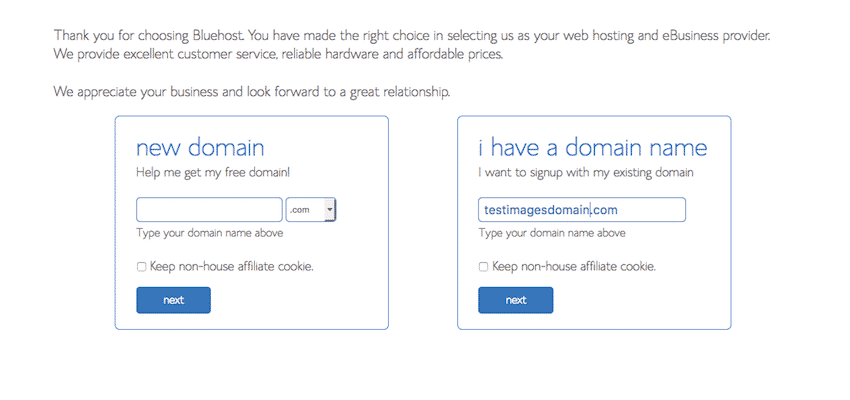 Enter your domain and select next.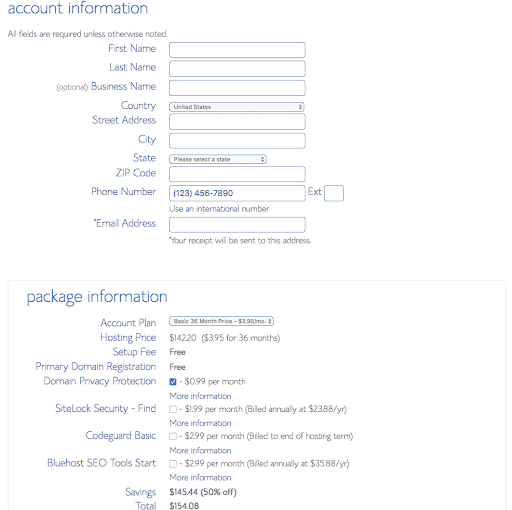 Enter your account information. Select your options, if any.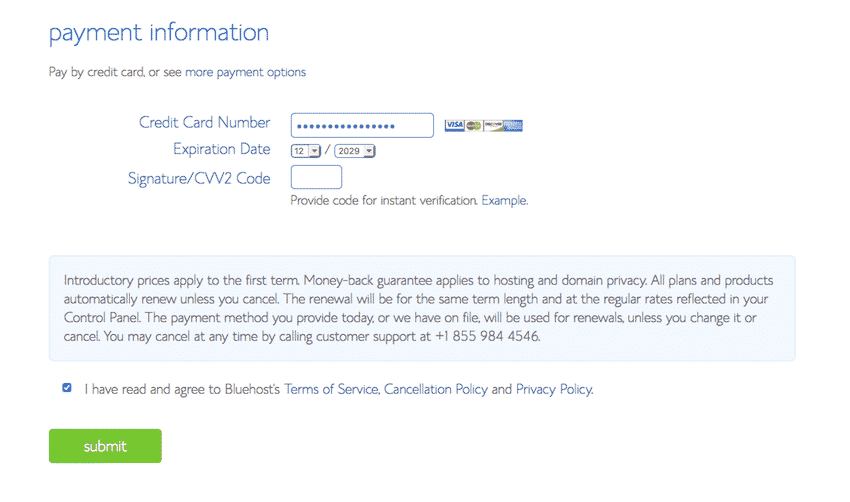 Make your payment and then create the password for your account.
After you're all signed up and are able to login, you can install WordPress.
As much as that sounds super intimidating, it's not! It's super easy.
When it asks about the theme, I personally skipped this section as you can find WAY better themes (free and paid) elsewhere.
And that's it!
Overview
I would absolutely recommend starting with Bluehost. You may run into issues sooner than I did, or you may never run into issues – I don't know. What I do know is that the price to pay per month was minimal so it allowed me to decide if this blogging thing was right for me. It also kept my costs pretty low while I was investing in courses or software or whatever else I needed. And if I took some time off for awhile when it was more hobby than business – $4 wasn't too much to "waste."
WordPress Vs Blogger
I used Blogger for a few side blogs and when I did design work. I didn't like the interface nearly as much as I liked the WordPress dashboard and felt very limited by it, but more importantly, I hated the fact that the content was not my own.
What I mean by that is that you don't own your content on Blogger. Your site could be shut down at any moment, without any notice. It's unlikely, but still possible. For me, that was enough to guarantee I use WordPress.
WordPress.com Vs WordPress.org
You can get the breakdown of the various differences between the two here, but I'd recommend going with WordPress.org (which is when you'd need a host.) The biggest reasons for me is that there are way more options and you can create a much more "professional" looking blog.
Overview
Real simple: go with WordPress.org.
How To Start a Blog: Picking a Theme/Design
Once you've got your hosting, domain and platform all set up – you need a theme. That's what makes all blogs look pretty and readable and easy to look at. Luckily, there are plenty of free themes along with plenty of paid themes.
Lots of people recommend Genesis or Elegant and both are great. I currently use a different one, but I personally don't think the theme matters as much as people make it sound.
A theme needs readable content, easy navigation, and the ability to format posts the way you want them formatted. That's it, at least in my opinion. I very rarely look at a blog and think twice about the design unless I can't read the post or it's hard to navigate.
Overview
Do not get hung up on a theme. Pick a free one, pay for one – it doesn't matter. Just make sure it's easy to navigate, the posts are readable, and that you can make your blog stand out amongst the crowd in some way.
How To Start a Blog: Your First Post
So my first post (of every blog I had) was an introductory post. And every time it was SUPER STRESSFUL. I wondered if I had truly found my voice (side note: you already found your voice, even if you don't think you have… but that's for another post), how I could make myself sound super interesting, what to say about myself, what not to say about myself… the list was endless.
I hated it every time.
But guess what?
No one reads that damn post.
Sure, it might be looked at a few times. But people don't really care about that first post milestone like you do. People probably aren't going to pin it. And people probably aren't going to find it via Google.
So I say skip it.
Overview
My recommendation is to write something you're really passionate about instead. Act like you've been blogging for weeks or months and just dive into a subject your blog is going to be about anyway.
And if you want to give people more insight to you, do it in one or a few of these ways instead:
Send them to your Instagram page where they're more likely to learn about you
Use your youness to draw them in (humor, sarcasm, weird knowledge, etc.)
Share a personal story that gives insight into a moment in your life
What's Next?
That's it!
That's all it takes to get started blogging for less than $10 a month. There's so much more you can do after you begin, but I don't want to overwhelm you with how to start a blog. Instead, I want you to get started blogging and see why so many people do it as a hobby or a career.
Common Questions on How To Start a Blog
How much can I expect to spend?
To do it right, a minimum of about $10 a month. You can start a blog for free, but that's not what I'd recommend based off of everything I mentioned above.
How much can I expect to earn?
The most common question I get when asked how to start a blog is how much I earn from blogging. And the truth is it varies. A LOT. Even for me, it varies month to month. It depends on the income sources you pursue (ads, sponsored posts, affiliates, products, etc), your niche, your time, your dedication and motivation, etc.
The honest answer is you could earn zero, or you could earn a full-time salary and then some. I'll cover this more in part 3 of this series though.
How do I decide what to blog about?
My advice for this is pretty simple:
Blog about what you're passionate about. 
That's it. Super simple and mind-blowing advice, right?
The thing about blogging is that there's a good chance someone has already talked about what you want to talk about before. Maybe you've somehow managed to find a topic that's gone untapped and no one has ever written about it, but I bet that's not likely.
So you're already going to be competing with others. But no one can bring to the table what you can. No one. So you need to find the best way to bring your youness to your blog and, in my opinion, the best way to do that is to pick a blog topic (or topics) that you can talk about for hours and hours and hours.
I don't believe that you have to be an expert or find a really niche topic to talk about in order to make money or be successful with blogging. I just fully believe that you have to be passionate about it.
Overview
Start with anything and everything you're passionate about. Find a way, if you can, to fit them all under a main topic "umbrella" so you at least kind of look organized and then just write. And write some more.
Eventually, you'll figure out what you do and don't like writing about. Or what really connects with your audience. And then you can worry about narrowing it down or finding a way to make it all work together.
And if you're looking to generate an income, find a way to help people with that passion. If you can share something you love AND help solve a problem for someone – you're golden.
If you are looking for more guidance on how to start a blog, check out 25 of the Best Blogging Tools That Will Help Grow Your Blog. Essentially these are things to add to your blog to help make it more likely to earn money. Part 3 is all about how to make money with your blog
Be sure to check out my recommended products for blogging as well.
If you create a blog or are a new blogger, please share the URL in the comments! I'd love to check out your blog
And if you're stuck with one of my steps on how to start a blog, just leave a comment or even reach out to me via email.
PIN ME↓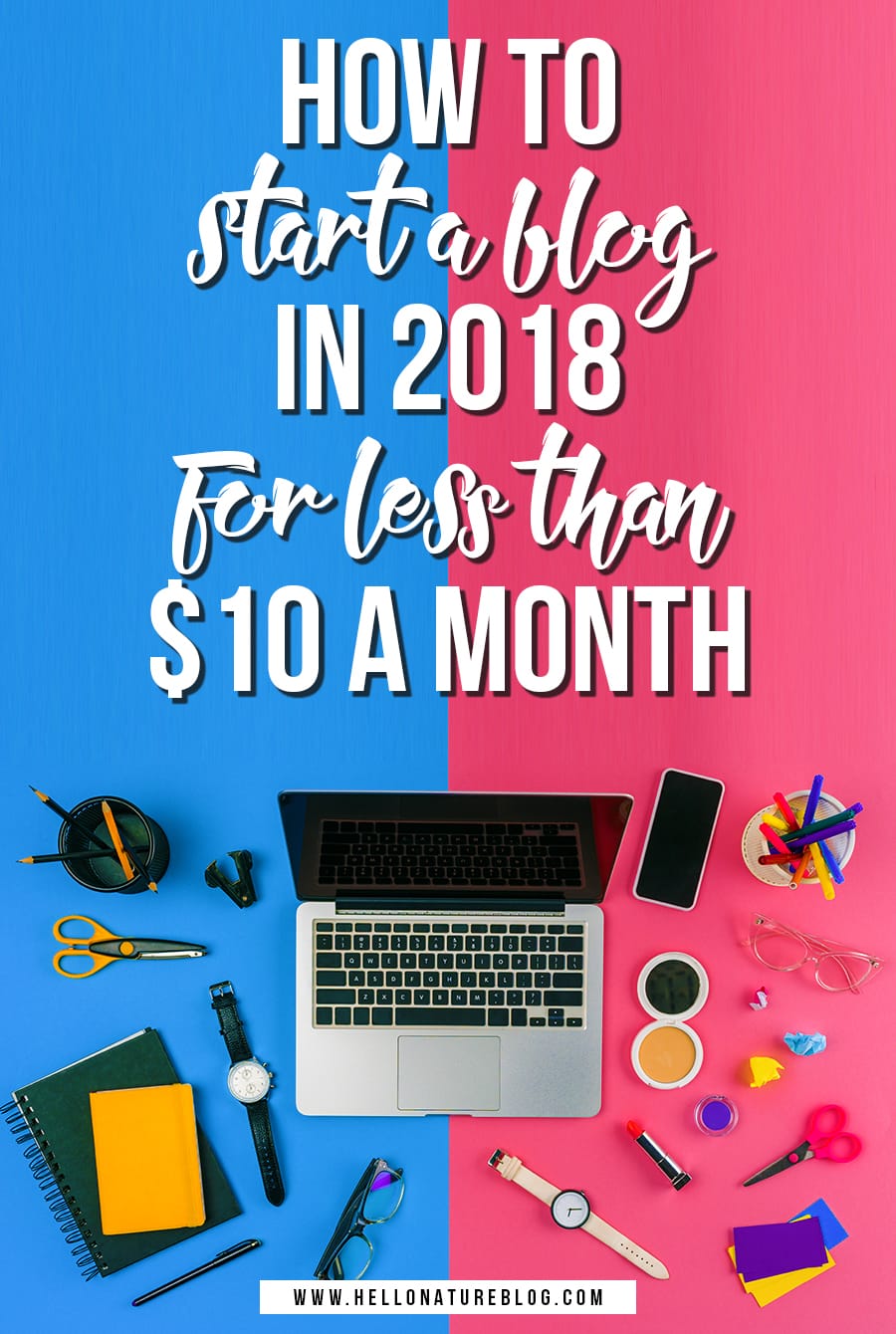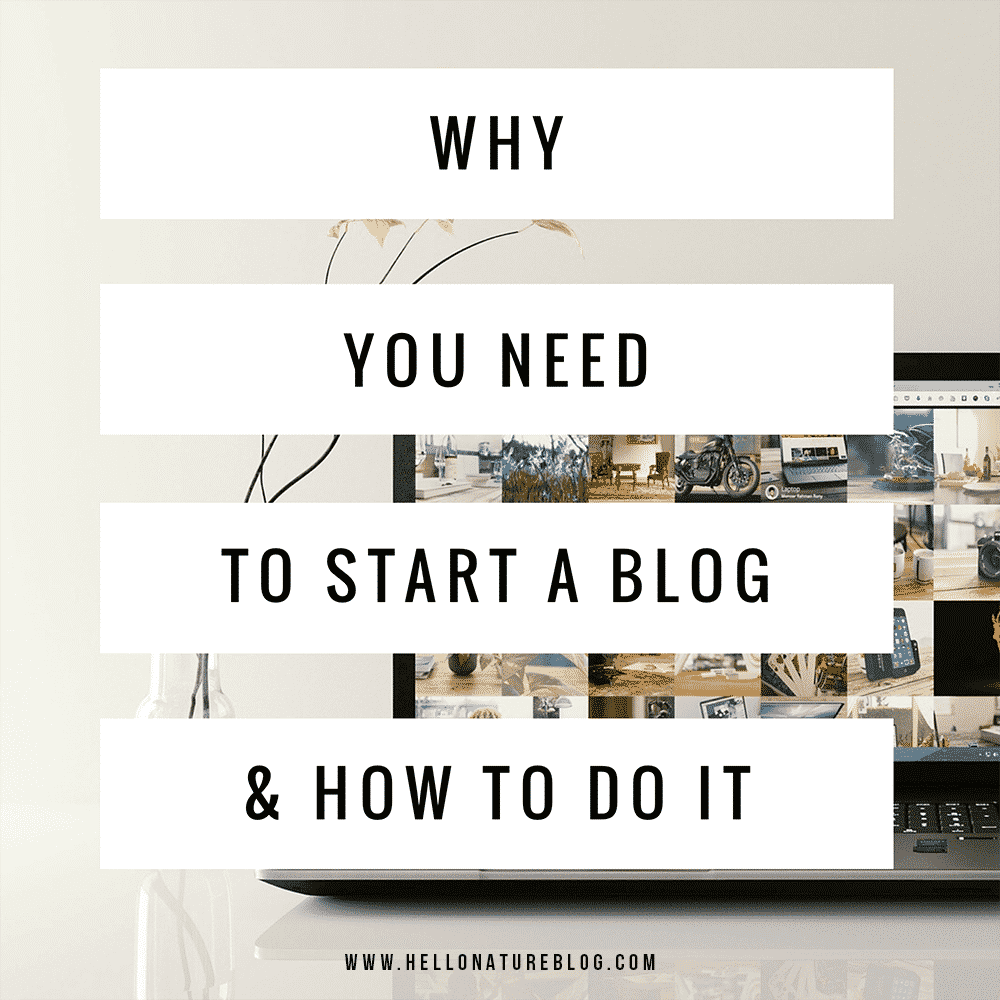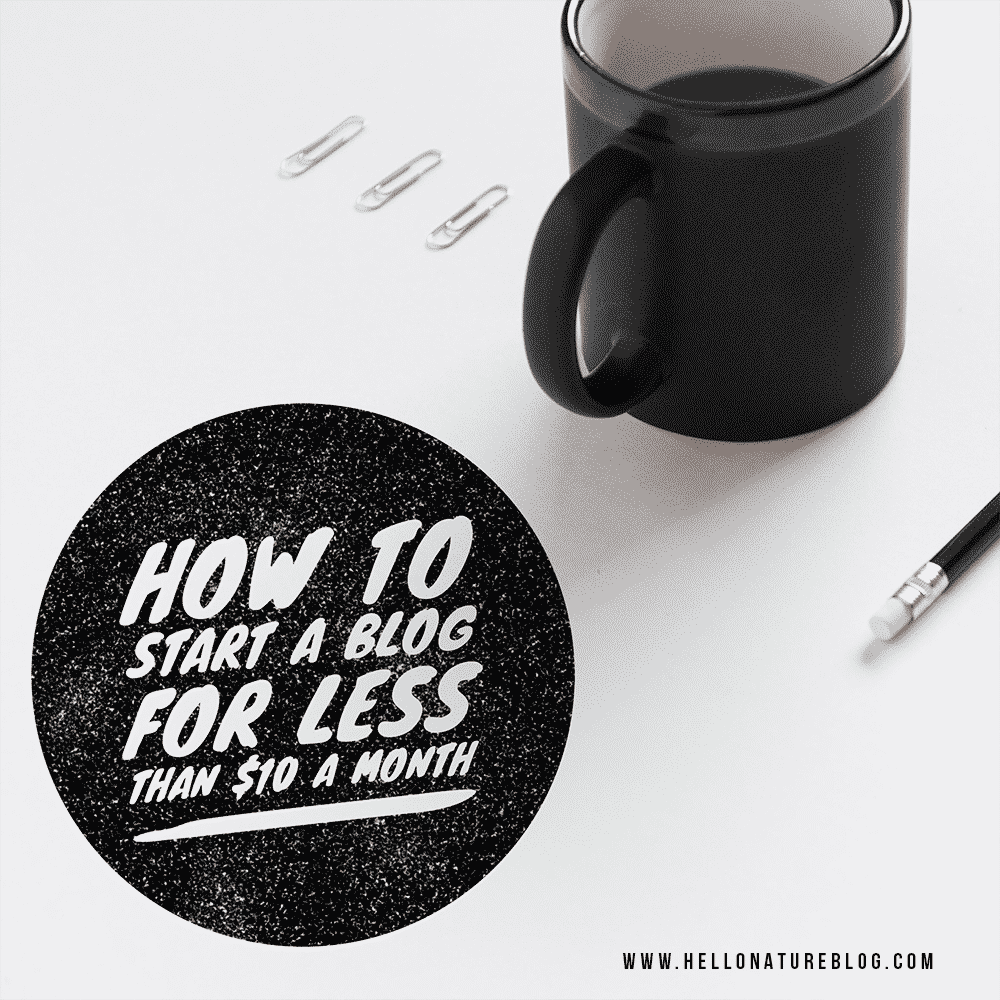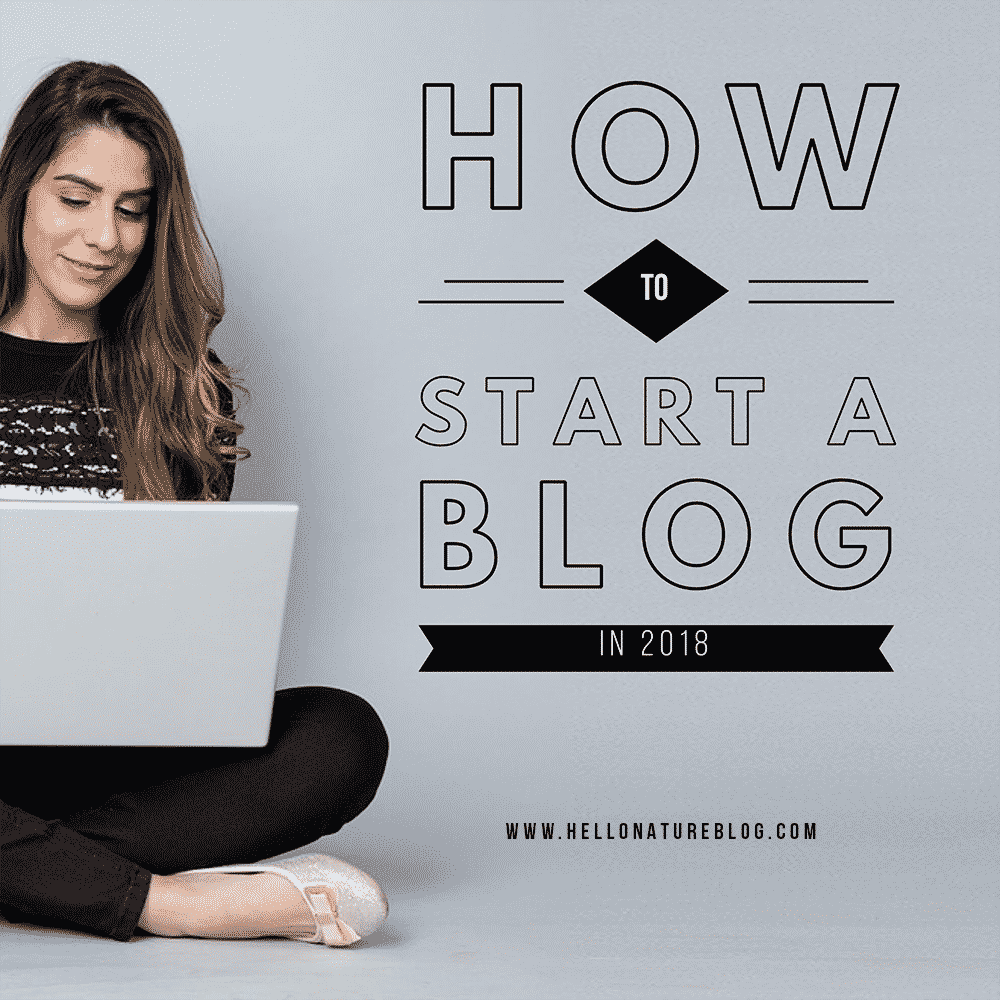 You might also like: