Need a fun dessert that's kid and adult approved? You've got to try these Halloween Banana Pudding Parfaits! So good and so simple!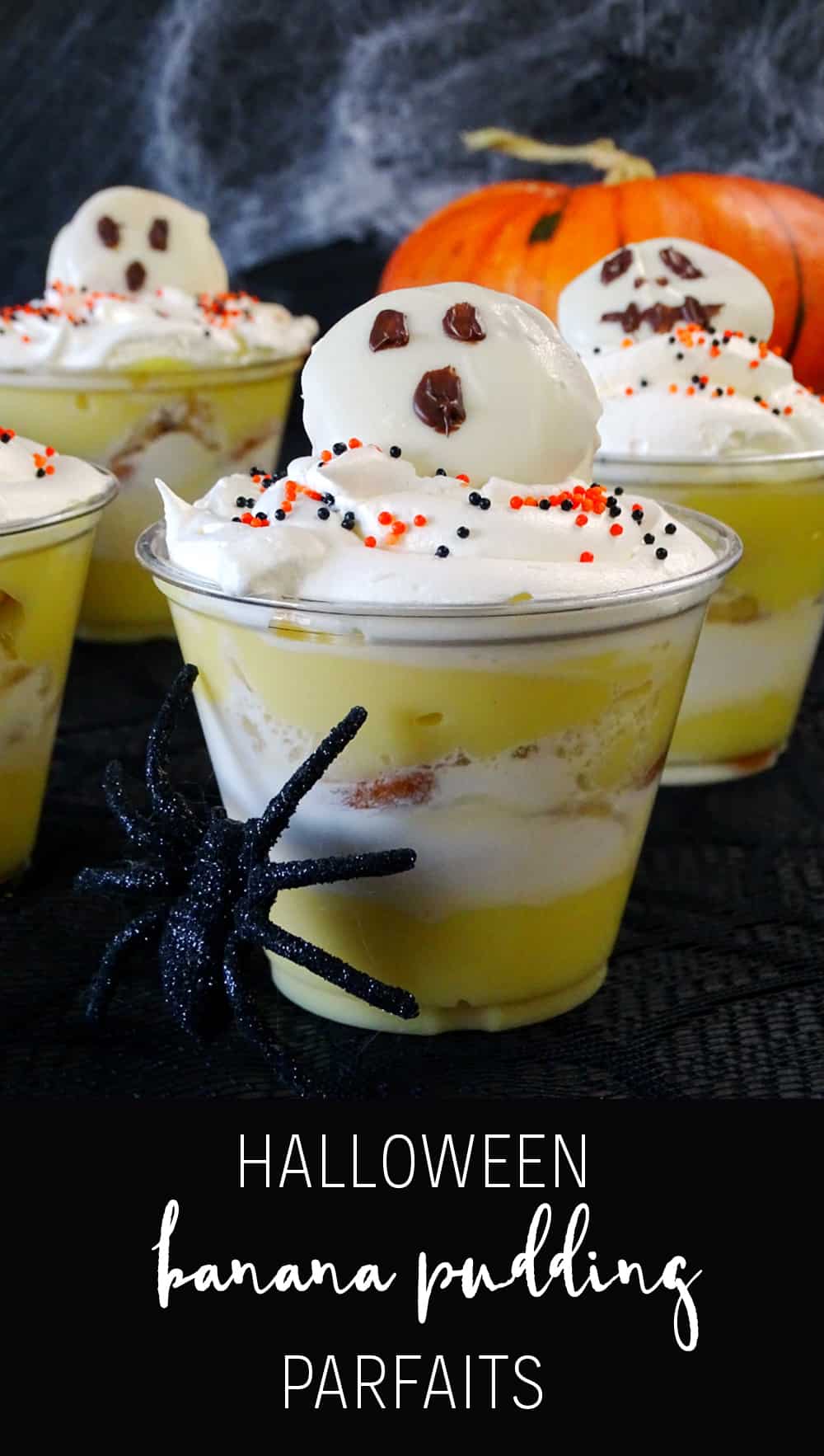 When I was a kid, I used to go to a lot of Halloween parties. Some of the parents really used to go all out with creepy food – like skeleton ribs made out of hot dogs and puff pastry witch fingers. Other parents would turn their basement into a haunted house complete with strobe lights and a fog machine. Their effort was always appreciated and we always had such a great time!
My husband and I don't have kids of our own to creep out, but I still love to get creative when it comes to the Halloween season. After all, Halloween is a holiday when you get to be a kid at heart! It's a time to be playful, no matter what age you are. It's a time that really lets my creative juices go wild!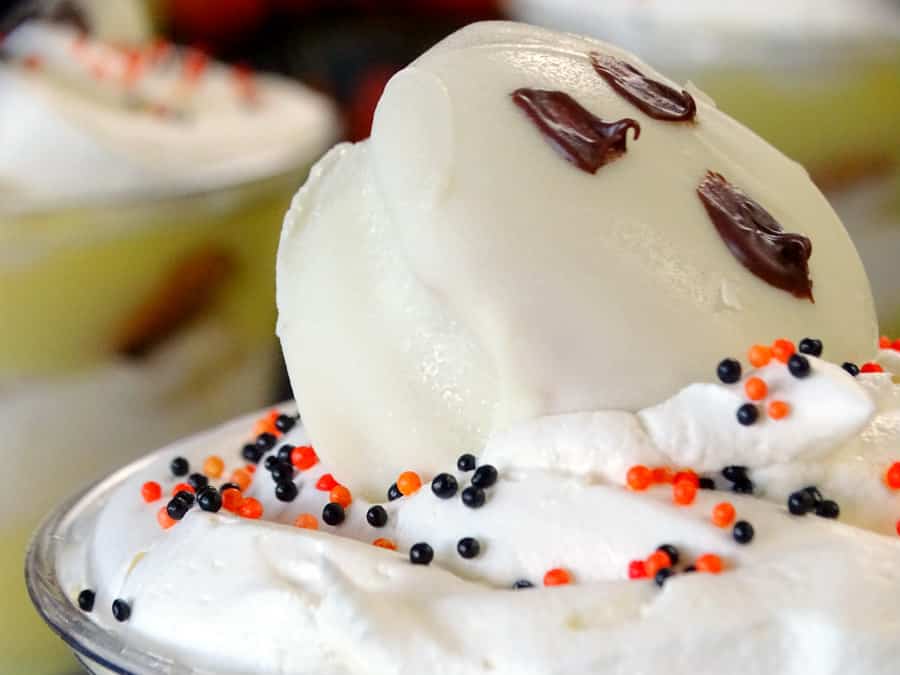 I usually spend cool, Fall weekends cooking up a storm. With Halloween coming up, I wanted to put a spooky spin on a dessert (or snack) that kids and adults will love! Banana pudding is one of my husband's favorites and I've always been a fan of Nilla Wafers. During one weekend afternoon recently, I decided to make Halloween Banana Pudding Parfaits for us.
My original idea for this Halloween recipe was to top the banana pudding parfaits with Nilla Wafers that looked like eyeballs. I thought I would accomplish that by dipping them into white chocolate and decorating them with edible markers. Turns out, edible markers don't work so well on a glossy surface like chocolate. It was time for Plan B.
Thankfully, I seem to keep a bag of semi-sweet chocolate chips on hand at all times! I used a small decorating brush to paint chocolate ghost and Jack Skellington faces on the chocolate-covered cookie sandwiches I made. These cookie sandwiches are made by pressing a banana slice in between two Nilla Wafers and dipping them in white chocolate. Seriously so good!
Halloween Banana Pudding Parfaits
Ingredients
1

3 oz. box Cook & Serve vanilla pudding

2

bananas, sliced

28

Nilla Wafer cookies

1

8 oz. tub Extra Creamy Cool Whip

1

11 oz. bag white chocolate chips

1/2

cup

semi-sweet chocolate chips

4

9 oz. clear tumbler plastic cups

Halloween sprinkles
Instructions
Prepare pudding according to package. Allow to cool and thicken.


Begin layering parfaits. Add two Nilla Wafers to the bottom of each cup.

Next, add a layer of vanilla pudding, followed by a layer of Cool Whip, and banana slices.

Repeat with another layer of vanilla pudding and pipe a layer of Cool Whip on top.

Chill parfaits in the fridge while you prepare the Halloween cookie toppers.

In a small pot, melt the white chocolate chips over low heat. Stir until melted completely.

Sandwich a banana slice between two Nilla Wafers. Gently push each cookie together to squish the banana a little bit. That will help it stick to each side of the cookie.

Then, carefully dip the cookie sandwich into the white chocolate. Use a spoon to flip the cookie sandwich in the chocolate. Once fully coated, remove and place on wax paper.

Place the chocolate-covered cookie sandwich in the fridge until hardened.

Meanwhile, melt semi-sweet chocolate over low heat. Stir until melted.

Remove chocolate-covered cookie sandwiches. With a small decorating brush, use semi-sweet chocolate to decorate the chocolate-covered cookie sandwiches with ghost and skeleton faces.

Place cookies back in the fridge to harden.

Sprinkle parfaits with Halloween sprinkles. Then, place a chocolate-covered sandwich cookie on top.

Chill in fridge until serving.

This recipe makes four parfait cups, but you'll probably have extra banana slices on hand. I definitely suggest making extra chocolate-covered cookie sandwiches. My husband enjoyed his banana pudding, but I really enjoyed those chocolate-covered cookie sandwiches! They're a fun treat all on their own, but add a special Halloween touch to this spooktacular dessert!
These Halloween Banana Pudding Parfaits would make a great Halloween afternoon treat or a fun dessert for your next Halloween party!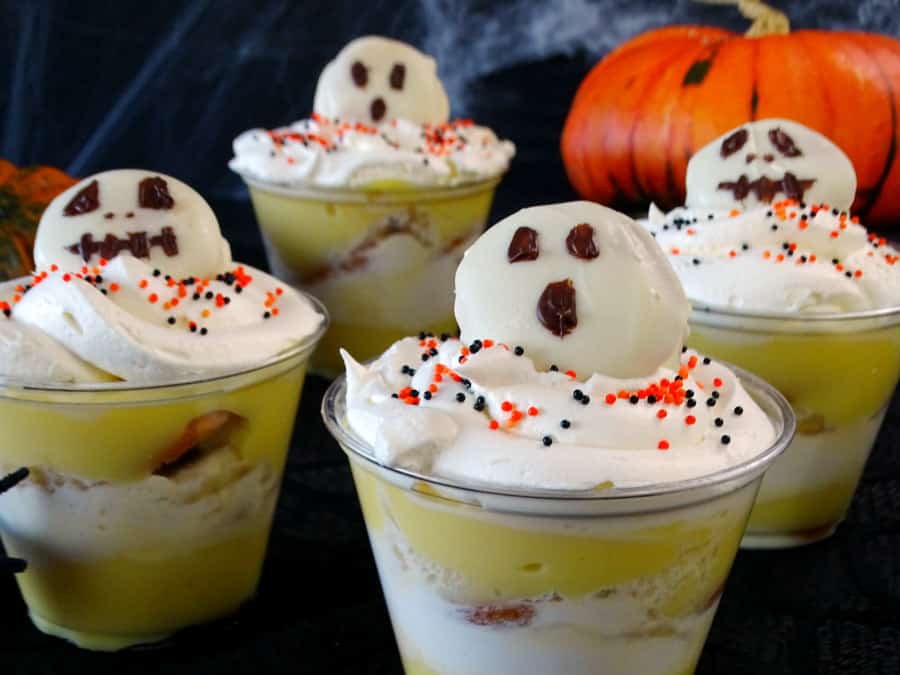 What is your favorite Halloween themed dessert?