This shop has been compensated by Collective Bias, Inc. and its advertiser. All opinions are mine alone. #PowerYourHoliday #CollectiveBias.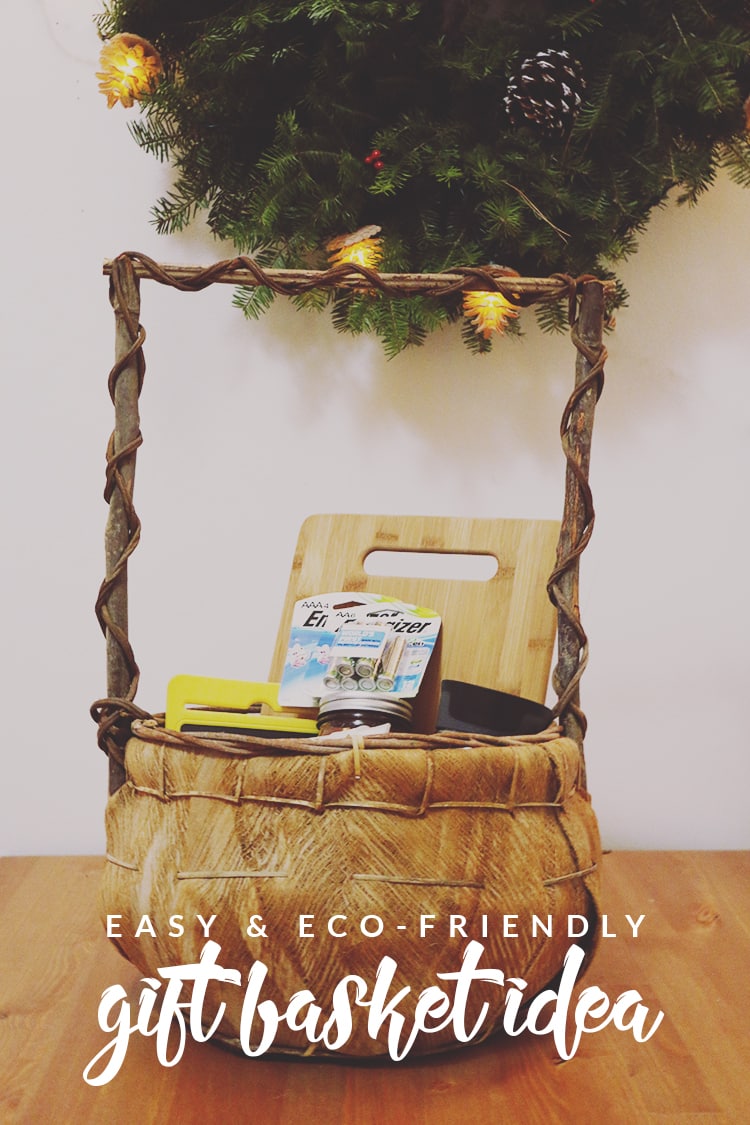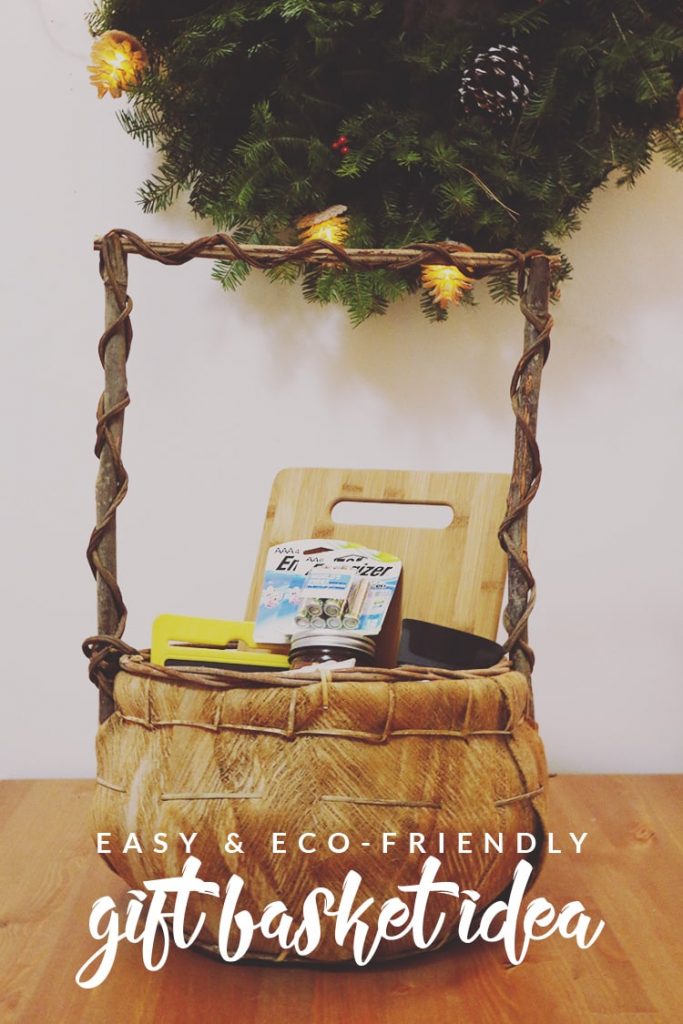 How is Christmas already less than two weeks away?! I don't know where this month went, much less this year. And it definitely doesn't feel like mid-December. We still don't have snow on the ground and yesterday it just rained. And rained. And rained. That is not the Wisconsin Winter I was excited for mid-November!
With this year passing me by quicker than I anticipated, I'm a little behind on my Christmas shopping. And decorating. And by a little, I mean a lot. We just finished decorating this past weekend even though we started Thanksgiving weekend. Whoops!
Since this month shows little to no signs of slowing down, I came up with the perfect idea for a gift that I can easily personalize for a few different people: a green gift basket!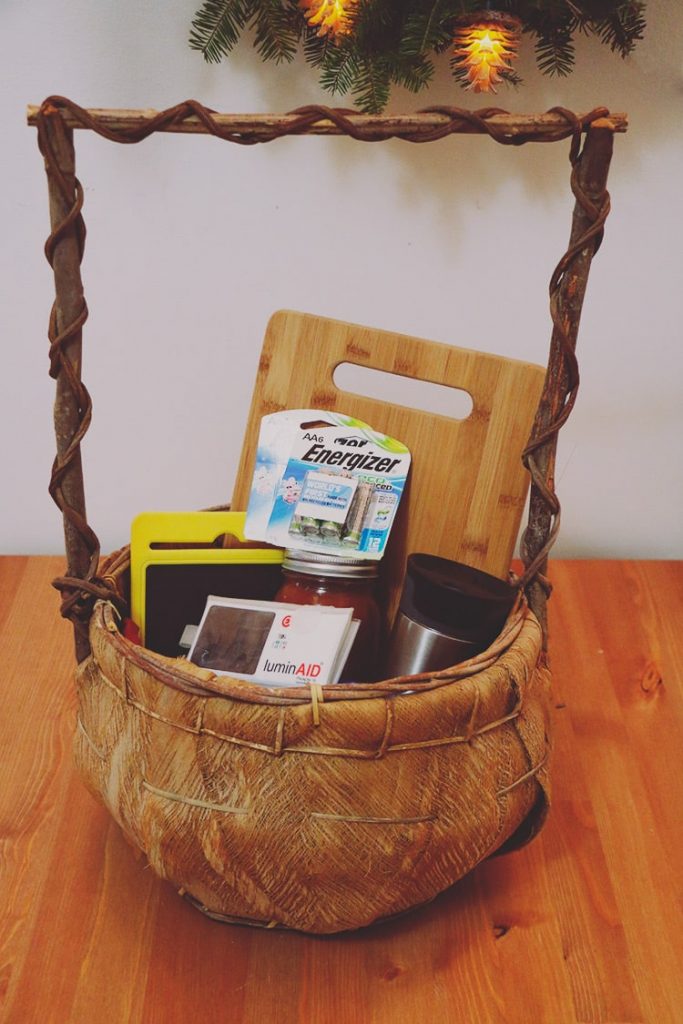 Green gift baskets are a fantastic way to put together gifts of love for your special recipient and the planet. You'll help them save money and you'll lower your impact on the Earth. Plus, there are tons of options for homemade goodies that you can make specially for your loved ones tastes. If you're stumped for ideas, I've talked about green gift ideas and handmade gift ideas before and this is the perfect way to combine them all!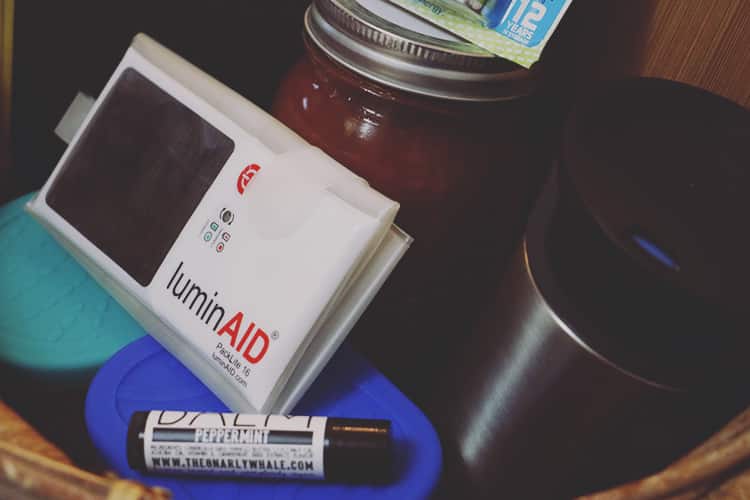 Aside from a fun basket, there's tons of options to include in the basket! The recipient of this basket is a little outdoorsy and loves to travel so I put together some of my favorite goodies that are perfect for their travels:
Travel Mug: no need for disposable cups!
ECOLunchbox: good for the environment + the perfect storage for snacks
Solar Charger: perfect for charging your phone or iPad while you're enjoying the great outdoors
LuminAID Lantern: this solar, waterproof lantern provides hours of light after charging in the sun
Gnarly Whale Lip Balm: we gift our products to all of our friends and family this time of the year, but it's a great vegan, minimal ingredient option to add in
Homemade Salsa: because homemade just tastes so much better
Energizer® EcoAdvanced™ Batteries: the first AA battery to be made with recycled batteries. Finally – there's something more we can do with old batteries!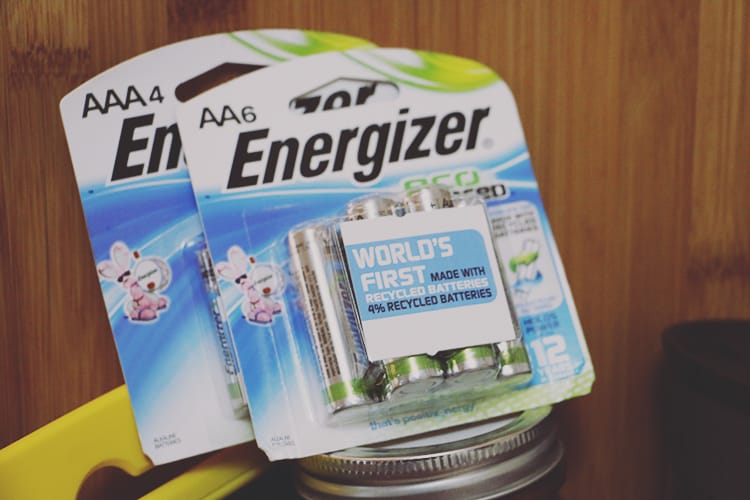 There are a lot of reasons why I love the new Energizer® EcoAdvanced™ Batteries. First, they are the world's first AA battery made with 4% recycled batteries. Second, Energizer is fully committed to creating less waste and working towards a future where all Energizer batteries are made with some recycled battery material. Not only that, but their vision for Energizer® EcoAdvanced™ is to increase the amount of recycled battery material to 40% by 2025. SO cool!
The Energizer® EcoAdvanced™ Batteries are the perfect batteries for your Christmas list, ensuring that you'll power your products with less impact on the planet. Plus you should be able to find them at local supermarkets or convenience stores (Walmart, Target, Home Depot, Lowes, etc.) so they aren't hard to find!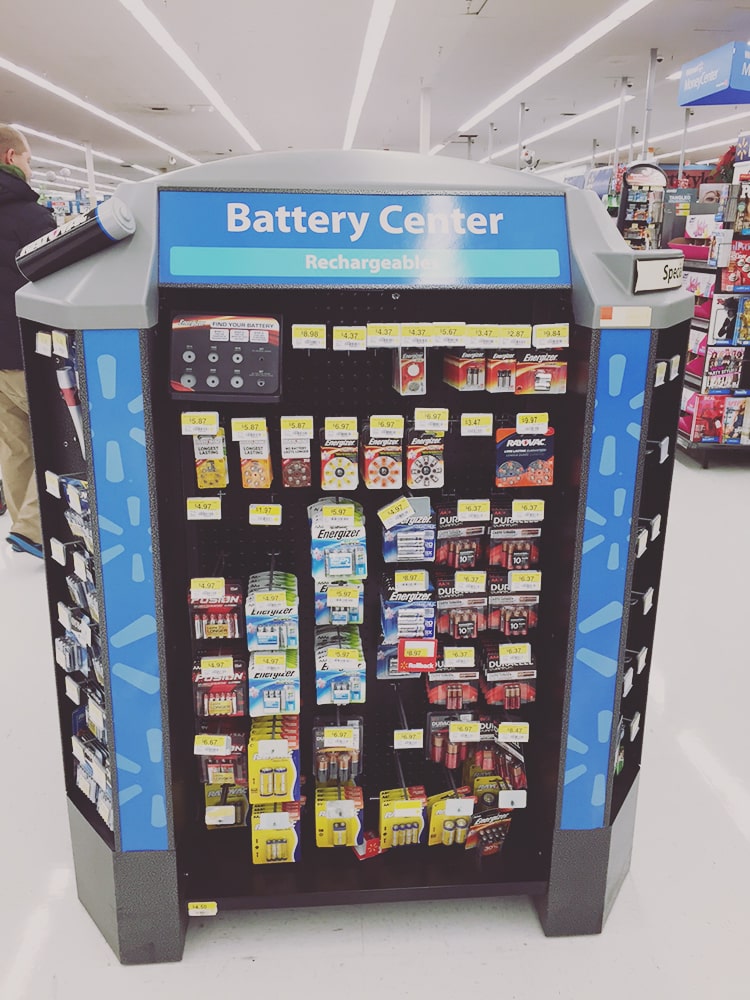 And if you're looking for another way to enjoy the holidays with less impact on the planet, I have a super easy DIY for you: a recycled paper tree! It's the perfect up-cycled gift or decor for your home made with just three supplies that you probably already have at home. I used our paper with the Thanksgiving Day ads so we had tons of paper that was just going to be recycled – this is a much better use for it!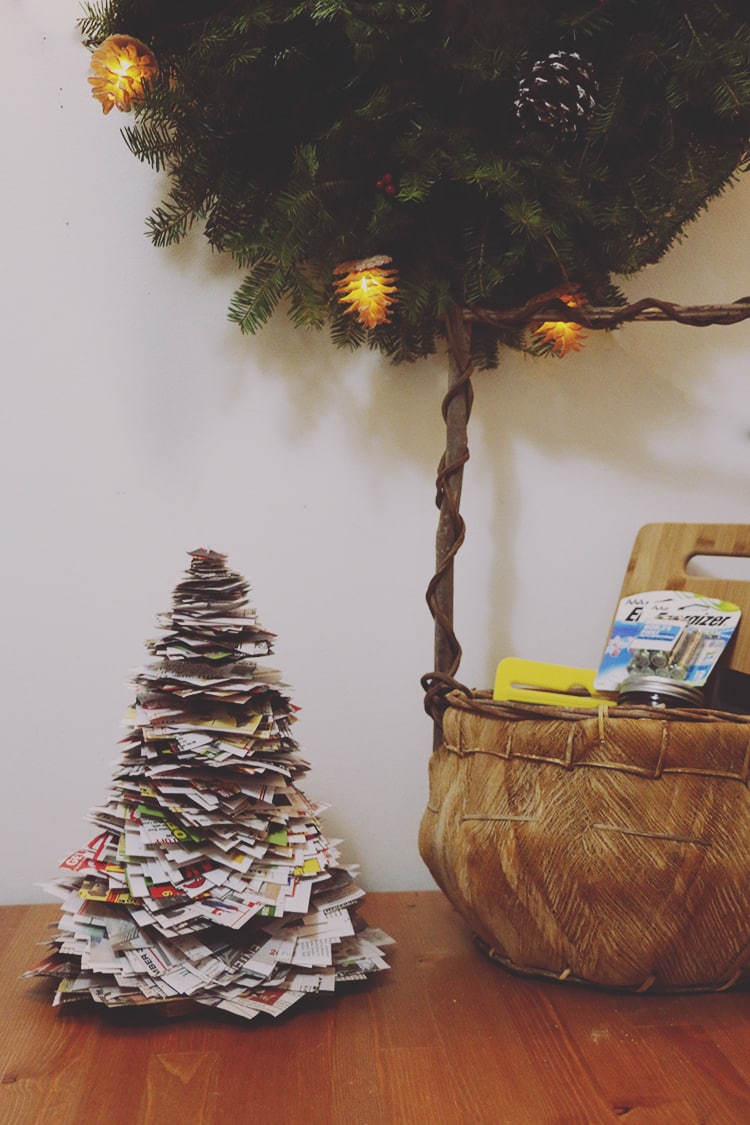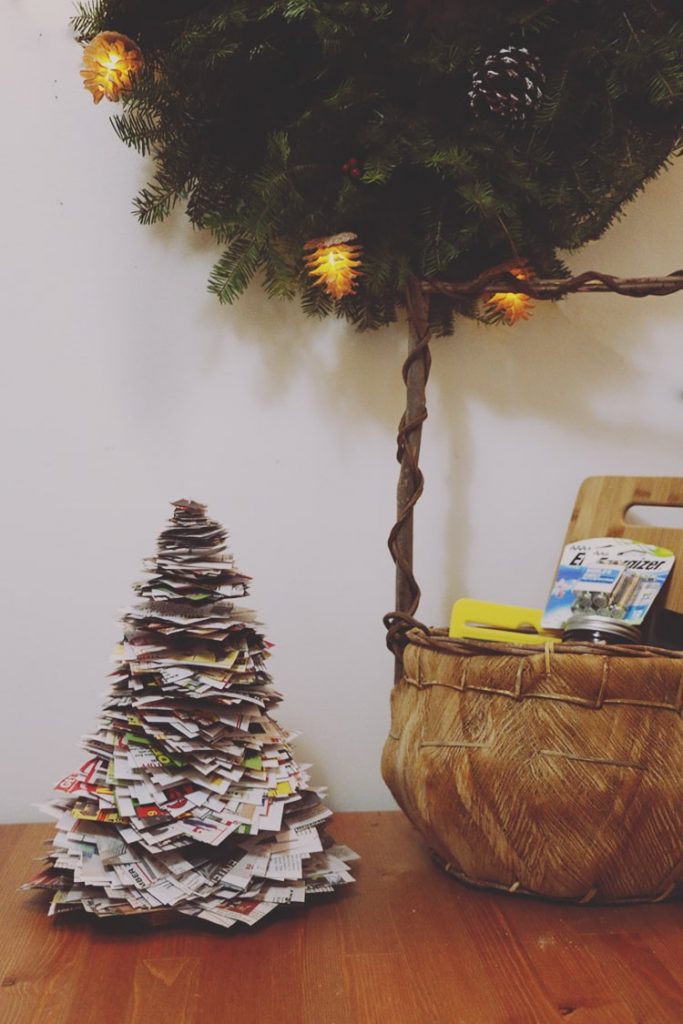 supplies for the recycled paper tree diy
6″x6″ Piece of Wood
Wire Hanger
Newspaper or other paper you no longer need
Scissors or Paper Cutter
Wire Cutters
Mod Podge or Wood Glue
Drill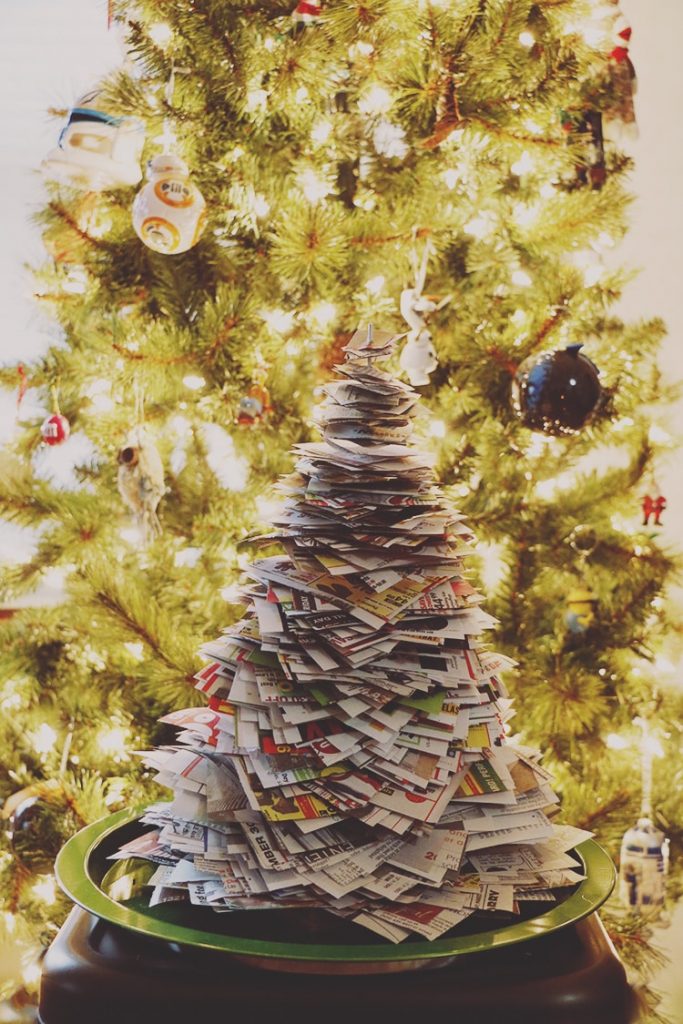 steps for the recycled paper tree diy
Cut the ends of the long part of the wire hanger (where you'd hang pants) so you have a straight piece of wire.
Drill a hole in the center of the wood the size of the wire.
Put some glue on the end of the wire where it will go through the wood and place it in the hole. Let dry.
Start cutting 7″ squares of paper (or wider if you'd prefer a wider tree.) Depending on how quickly you want the tree to narrow, you'll want to cut between 20-50 squares this size.
Press the center of the paper down on the wire and slide to the bottom to create the base of the tree. Try to space the paper out a bit and don't press it all down unless you want to spend longer filling the tree from bottom to top.
Gradually cut smaller squares, cutting a half inch smaller each time. So the next one (if starting at 7″) would be 6 1/2″ then 6″ then 5 1/2″ and so on.
Continue to the top of the tree until you get to 1″ squares. Trim the top if necessary.
It takes a little bit to do, but it's super easy! And it's a great use of paper that would otherwise be discarded.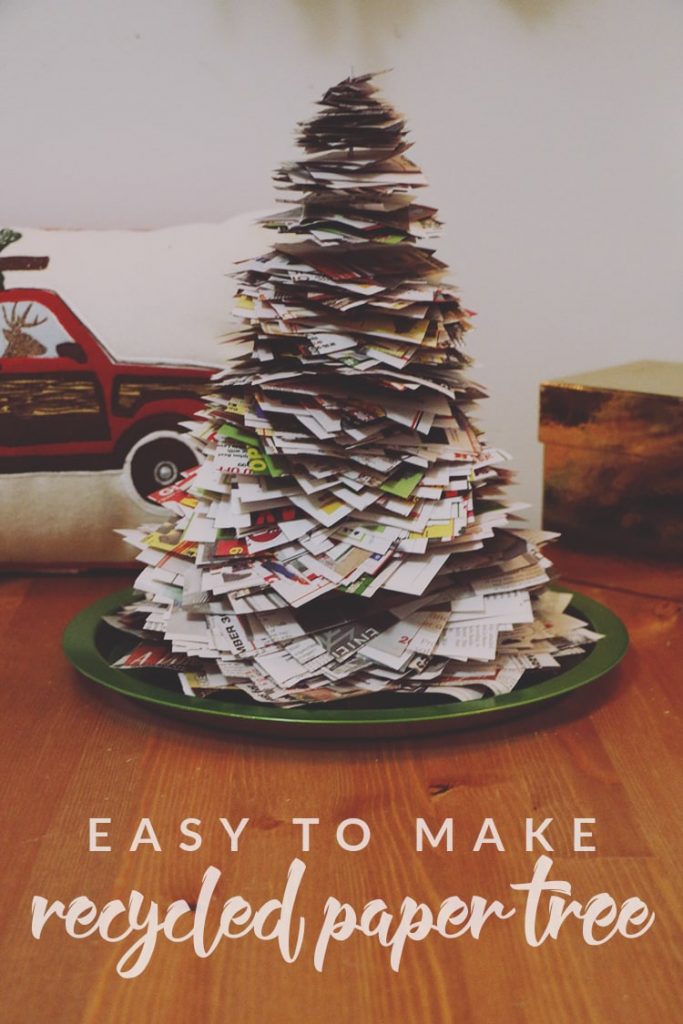 Be sure to stock up on the Energizer® EcoAdvanced™ Batteries for your green gifts this year! I'd love to hear how you're making your holidays more green as well :)