I received this box in exchange for an honest review. No other compensation was received. All opinions are 100% my own.
A review of November's Ecocentric Mom Box for Mom and Baby.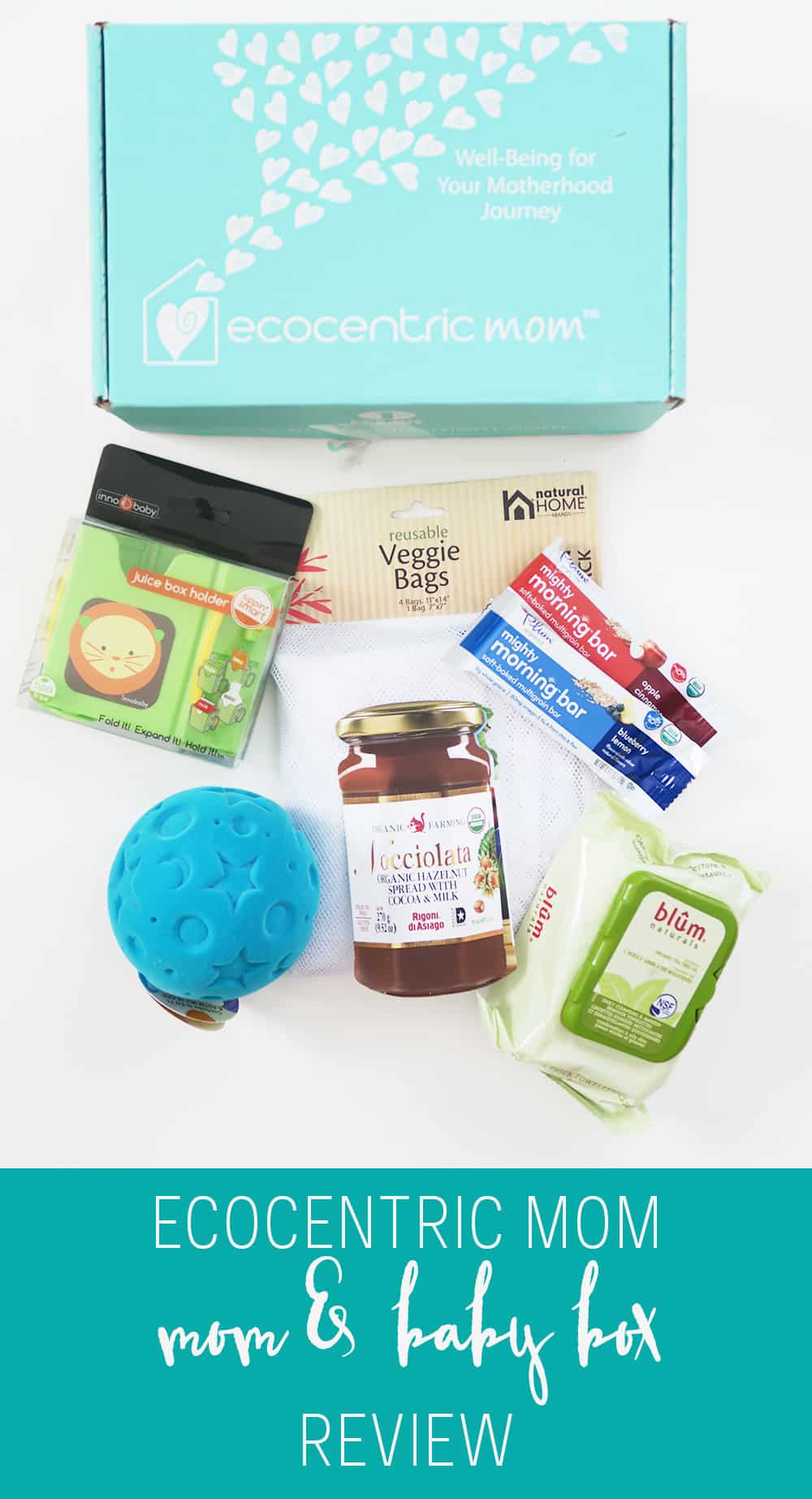 I'm excited to partner with Ecocentric Mom again to review changes to their Ecocentric Mom Box for Mom and Baby. I already shared my thoughts back on how great the August box was, but I'm loving the changes that they've made!
The biggest change that they made was product selection. Before your shipment, they share part of the box collection from which you'll select 2 of your box products. The rest is carefully chosen from their team of curators. While you still get the fun surprise in your mailbox, you know that some of the items are truly exactly what you wanted. Best of both worlds, right?
This month was their November "Holiday Feast" Collection. Each box was filled with products & gear worthy of a festive holiday celebration. Check out what I received in the box below!
Sippin Smart Juice Box Holder | Innobaby – $5.99
On-the-go families, this one is for you. No more spills from accidental squeezes with this juice box holder. Not only does it fold flat for compact storage, it also expands to hold different sized drinks.
Starry Night Ball | Rubbabu – $7.99
A soft, velvety ball that bounces well on floors and carpets. It's safe for babies and toddlers as it's made from foamed natural rubber.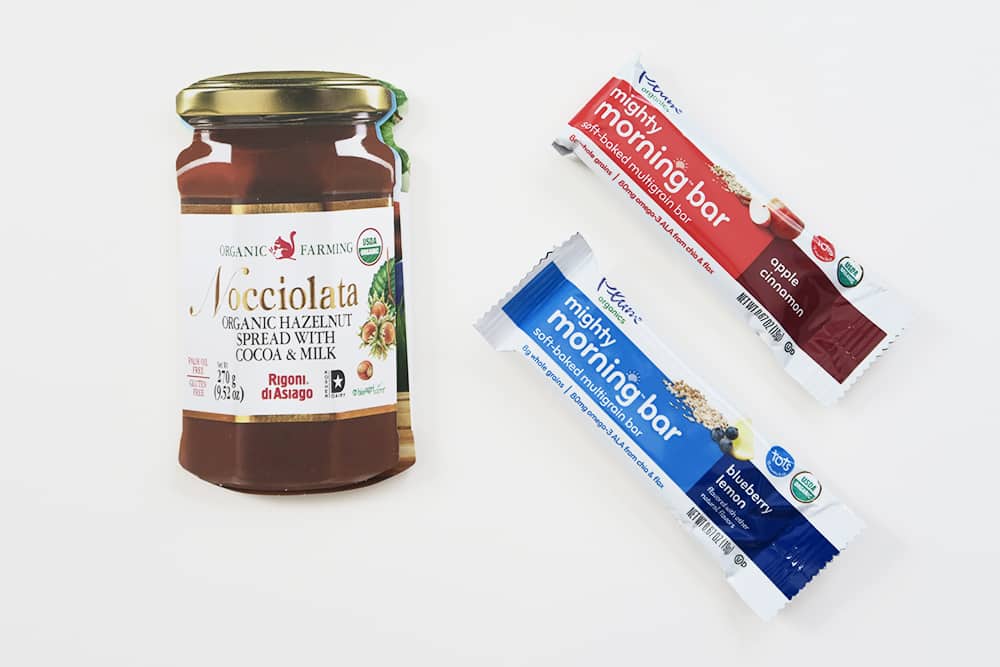 Nocciolata | Rigoni di Asiago – $2.00
An organic chocolate-hazelnut spread that is free of GMO's, preservatives, colors, additives, palm oil, or artificial sweeteners. SO tasty!
Might Morning Bar | Plum Organics – $3.99
With whole grains and omega-3s, I love this as a snack for Lily. It's perfect for self-feeding and the flavors are delicious, especially the Apple Cinnamon.
Daily Cleansing Towelettes | Blum Naturals – $7.99
Such an easy way to clean the skin and remove makeup. With it's natural and organic botanical infusion, it leaves your face feeling naturally clean as well. Great for combination/oily skin.
Veggie Bags | Natural Home Brands – $5.99
Cut down on plastic bag use with these veggie bags. Bring them to the store to shop and then store your produce in them at home. Such an eco-friendly way to make shopping even easier.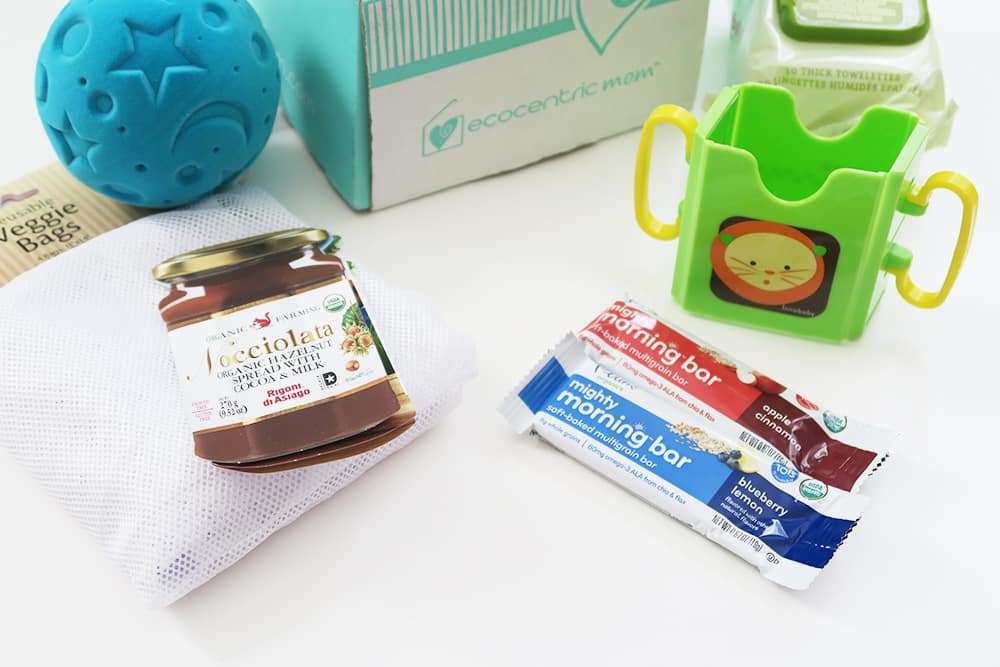 Ready for your own Ecocentric Mom box? I've got you covered with an awesome coupon for my readers. Use NATURE10 for $10 off the first box subscription!
You can get one whether you're pregnant, a mom of a baby, a mom of a toddler, or even if you're just a mom. No matter what stage of life you or your children are in, Ecocentric Mom has you covered.
What was your favorite item from this month's Ecocentric Mom Box for Mom and Baby?
You might also like: