I received this box in exchange for an honest review. No other compensation was received. All opinions are 100% my own.
Why I loved the Mom and Baby Box from Ecocentric Mom + why every mama (new and experienced) should receive this box!
Mamas – I've got something fantastic to share with you today!
I'm a big fan of subscription boxes. I love the little surprises that you get and I've found so many wonderful, new-to-me products this way.
And today's subscription box?
A must have for mamas – new or experienced – everywhere!
Ecocentric Mom is a box you have to try. Not only does it contain safe goodies for your tiny human, but mamas get some much-deserved love, too. Check out my review of their Mom and Baby box below!

About Ecocentric Mom:
Ecocentric Mom is a subscription box inspired by green living. Thoughtfully curated boxes geared towards busy mamas are delivered each month with safe, eco-friendly products for themselves and their babies up to age two.
Related Reading: Five Tips for Raising an Eco-Friendly Baby
These aren't products you'll find at a local big box store, either. These boxes contain a mix of 5-7 products that range from practical to pampering – for both mama and baby. Every box contains at least $40 in retail value.
What I Got in the Ecocentric Mom Box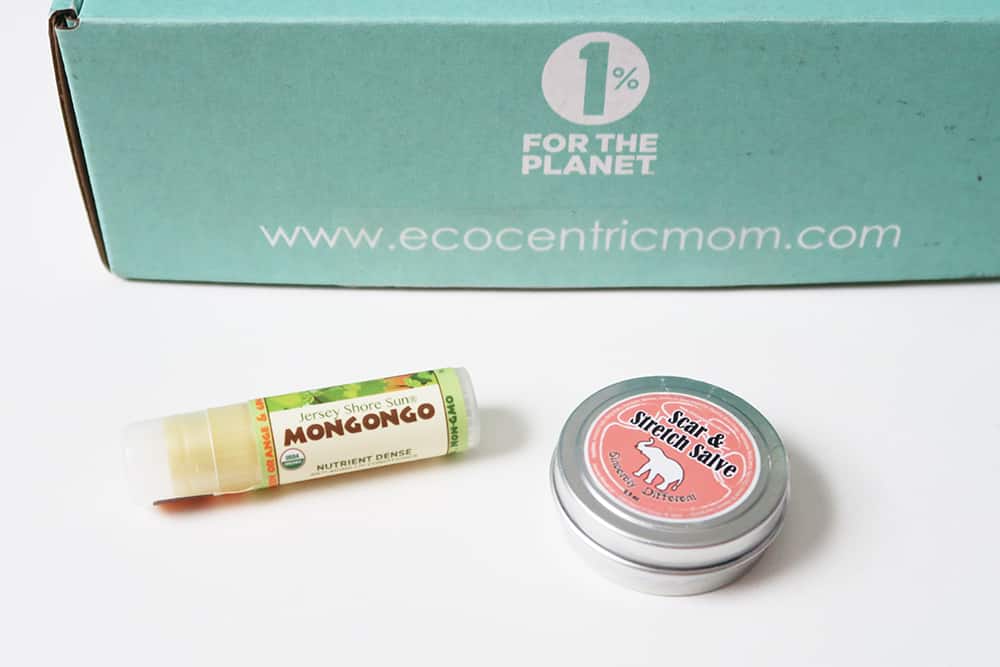 These are perfect for a new mama to help with keeping her lips hydrated and helping with the stretch marks.

This soap smelled AMAZING even before I got it out of its package. The lime is super strong and it's handmade which is awesome. One of my favorite flavor combinations is lemon and strawberry or raspberry so this cookie was a major win for me.
How cute are these socks?! I love the intentionally mismatched pair. These will fit her for years to come which is even better.
We are always on the lookout for new snacks because Lily is finally out of her "everything tastes awesome" phase. Sob. These are pretty tasty and are great to throw in her diaper bag.
These are super handy for when we're on the go! We try bring our own snacks whenever we're traveling and these are the perfect size for Lily's snacks. I love the set aspect, too!
Why I Love Ecocentric Mom
One of my favorite things about Ecocentric Mom is that it was created by a mother. Casey knows what it's like to be inundated with choices and the time constraints to research every single product as a new mom. Going green is not always the easiest option when life gets hectic and Ecocentric Mom helps make it easier to make eco-friendly choices for mama and baby.
Related Reading: Five Money Saving Tips on Buying Baby Clothes
Now you've read everything and you're smitten, right? Go grab a subscription for yourself or casually pass the link to your husband so he knows what gift certificate to get you. winkwink. You can even save with the following coupons!
15% off clean beauty bundle or pregnancy bundle
code BYOBUNDLE
30% off first month's Mom & Baby Box
code GETSTARTED
These coupons expire 8/31/17 so head on over and grab yourself an Ecocentric Mom bundle or box. You deserve it!have you tried ecocentric mom? what is your favorite type of subscription box?