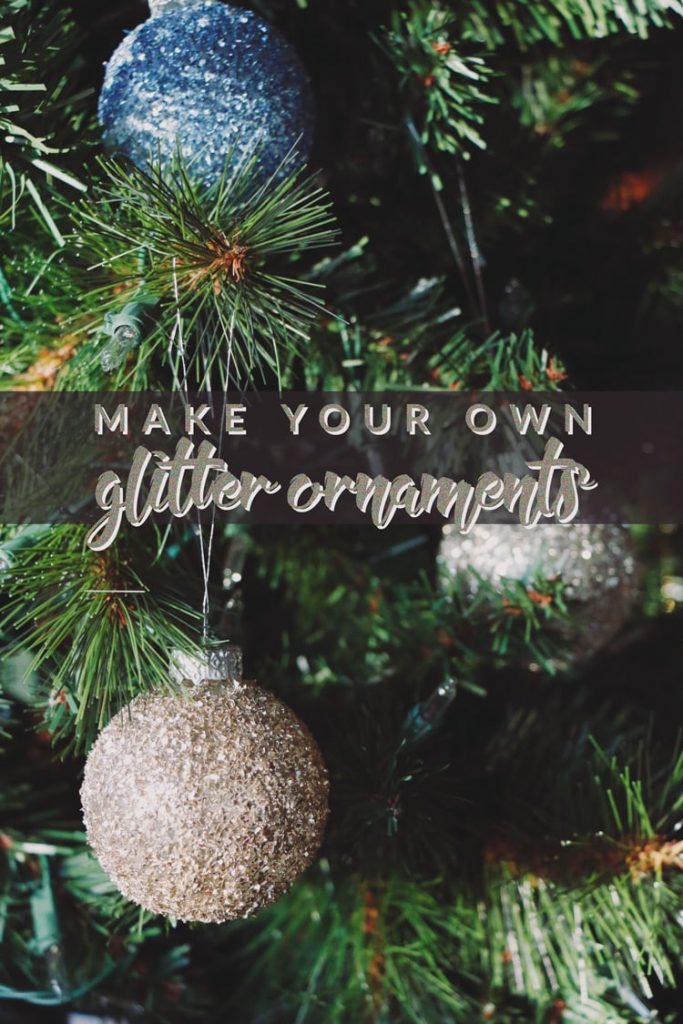 You know those big sets of the ball ornaments where they have all kinds of colors for your tree? And yet none of them are the color you want? That's a thing, right? Because it can't be just me. I always get super excited when I see them at the store because I'm convinced I'll find ones I like every year and nope – never do.
So for the most part, we actually have very few ball ornaments on our tree. Until now. Because I realized that an easy glitter ornament DIY was exactly what our tree needed. And that way, I can change it up every year if I want because it's really inexpensive. And I always want an excuse to pull out the glitter.
Also? These are plastic. So you know, when your dog decides it's time to knock off half the lower ornaments with their tail, no big deal. Again – can't be just me and our pups.
Supplies for the glitter ornament diy
---
Glitter – colors of your choosing
Most of the supplies can easily be found at Oriental Trading, including the glitter. I just happened to have some of that lying around from a separate project. But Oriental Trading is definitely a great place to visit if you're looking to make enough of these to fill your tree!
Steps for the glitter ornament diy
---
Pull the top off and grip by the neck/opening of the bulb.
Using a paintbrush, spread the Mod Podge on around the entire bulb – all the way up to the neck.
Sprinkle the glitter on and shake off the excess into a bowl so you don't waste it. Shake the bowl over the ornament once there is enough glitter in it.
Cover a majority of the bulb with glitter. Don't leave large chunks of open Mod Podge, but also cover it to the point that no Mod Podge is showing. By leaving some space open in between the glitter, you'll get the reflection of the tree lights throughout the entire bulb which makes it sparkle even more! The Mod Podge dries clear so you won't see the white either.
Reattach the top and hang to dry (approximately 15 minutes.) I hung it separately from the tree as to not get glitter all over it, but the tree works just fine too!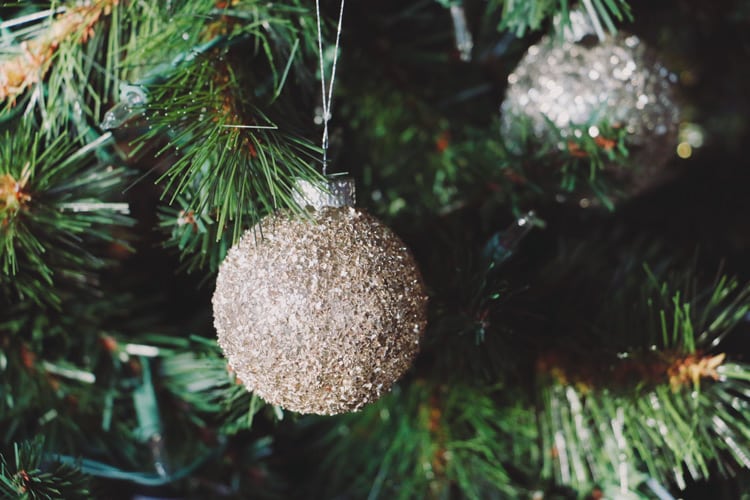 Super easy!
And I can say for sure that I've found glitter I love in just about every shade. So this customized glitter ornament DIY is perfect for every kind of tree decor! I'm thinking I may even make banner of sorts with these to decorate more than the tree, too. Ooh, the ideas are endless!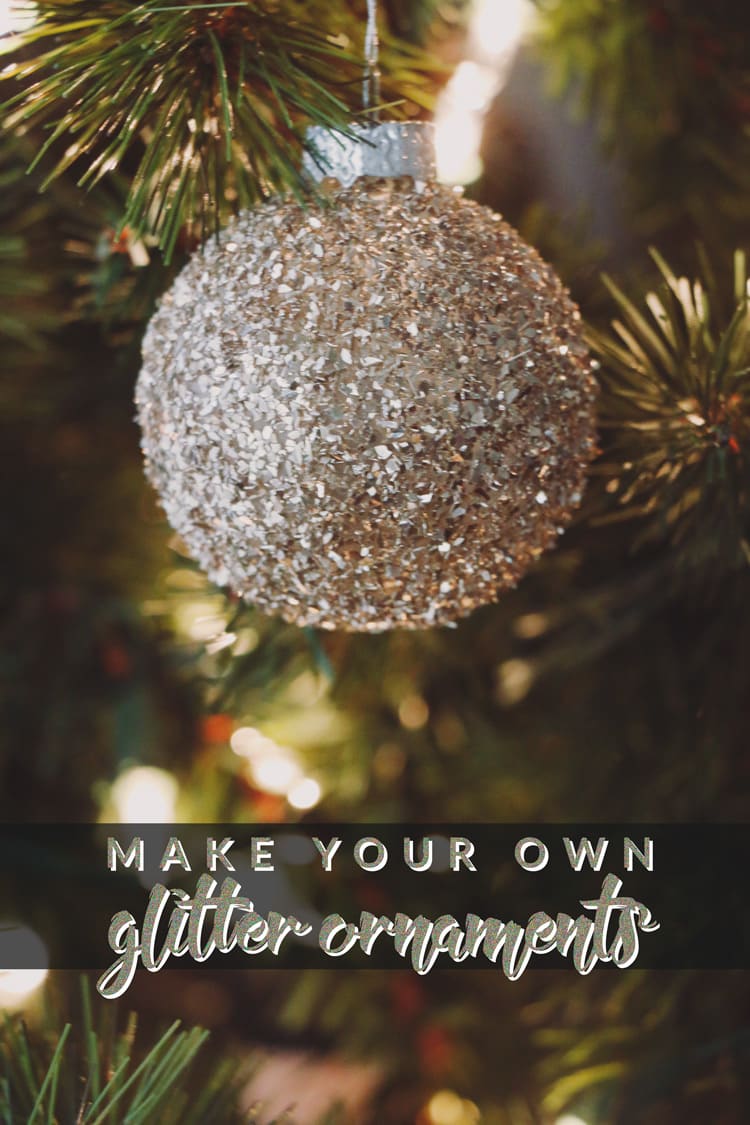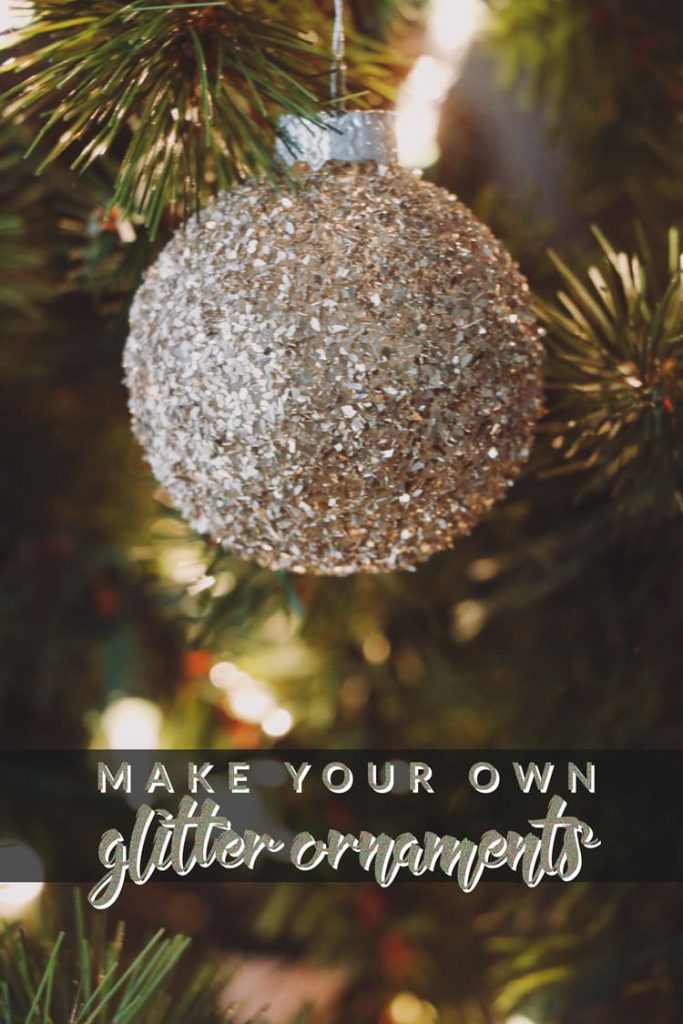 I'd love to know: do you make your own ornaments?