Thank you to Lindt for sponsoring today's post, but my love for their HELLO sticks began a long time ago. All opinions are 100% my own. Please read my disclosure policy here.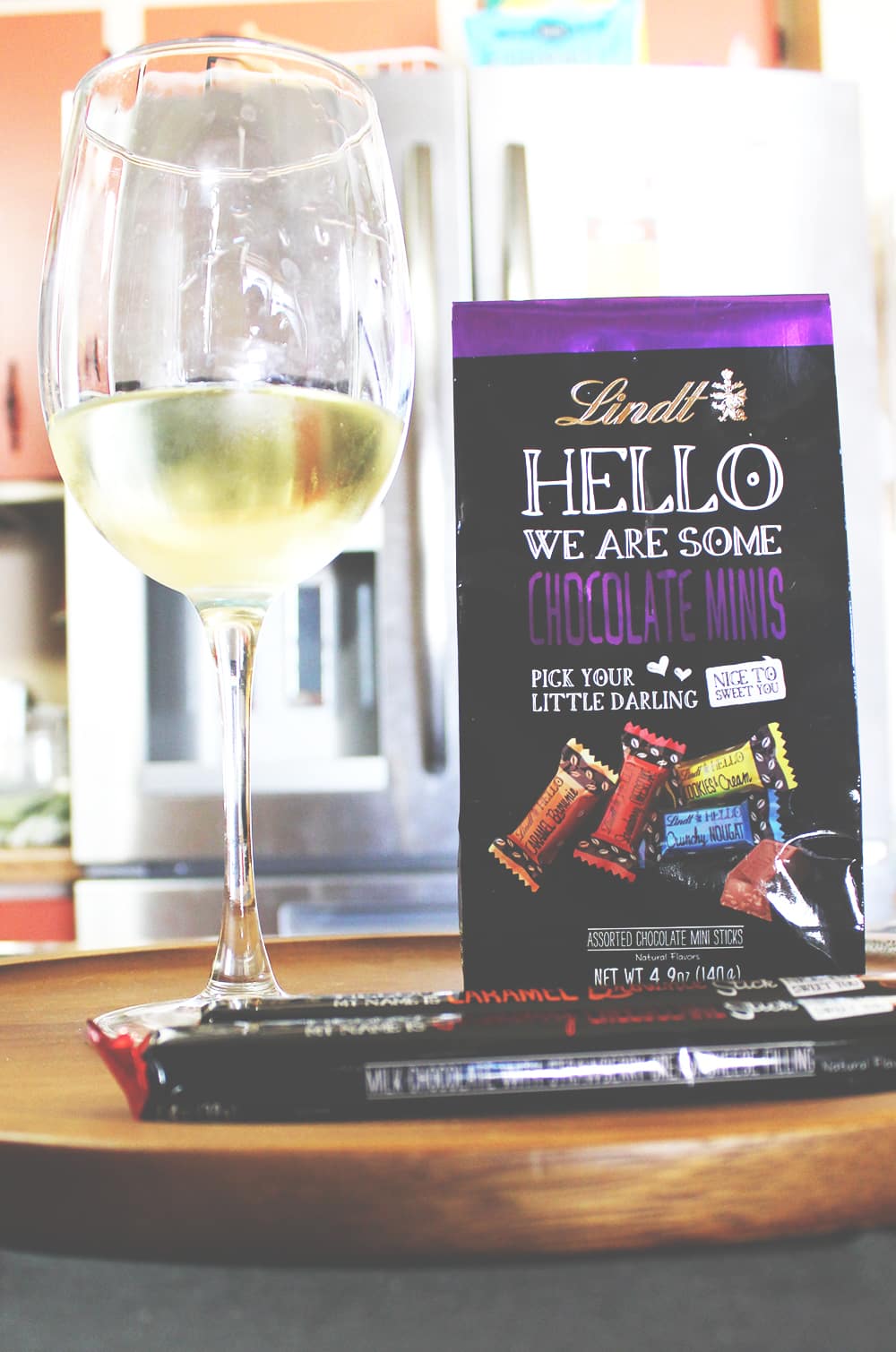 You know what my favorite connections with people are? The ones that are effortless, bonding over a mutual passion or love for something or someone. Connections that happen just because the world has something in mind, even if you don't quite understand it. For me, this is my relationship with my husband. I swear I was convinced Nathan and I would not see each other ever again after our first date, and yet somehow we ended up married. (Happily married, too – BONUS!)
Maybe I should have seen it coming though. We met online and bonded over pretty much everything that meant something to me at the time. And while I've changed over the years, there are things that still mean a lot to me: good food and the little things in life.
Like wine and chocolate on a date night spent at our home.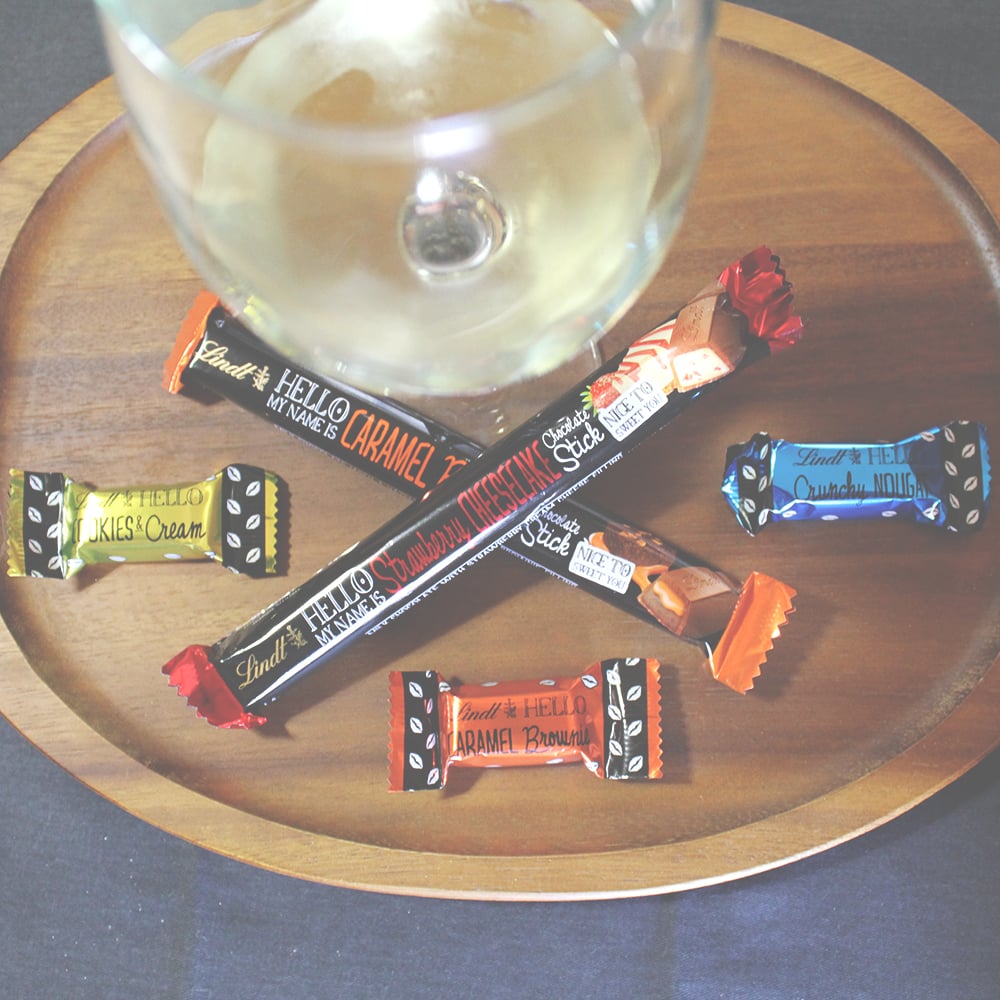 And today, I want to introduce you to one of those things that I have been inhaling like the end of the world is coming for the past few months now: Lindt HELLO Chocolate.
First, I have a confession. When I was asked to take part in this awesome campaign, I had already been introduced to the deliciousness that is Lindt HELLO Chocolate. The Strawberry Cheesecake and Cookies and Cream Flavors had already made their rounds into my dessert drawer numerous times because they are so. damn. good. So when I was offered the opportunity, I couldn't accept it quick enough. I could talk about these chocolatey goodies in my sleep! (Ask Nathan – I probably already have.)
But if you haven't been graced by their scrumptious flavors yet, here's a little introduction. Lindt HELLO, the hip, trendy brand in premium chocolate, is a new collection from Lindt of sinfully delicious premium chocolate inspired by classic American treats. Lindt HELLO is available in stores nationwide, Lindt Chocolate Shops and Lindt.com.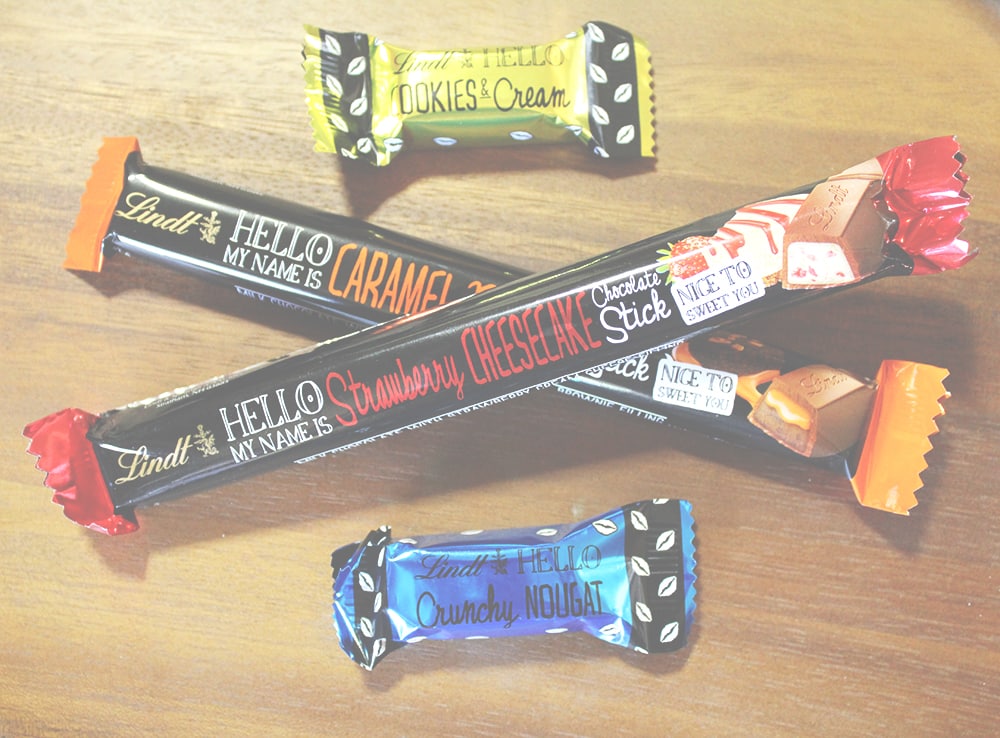 These new chocolates from Lindt are perfect pretty much every occasion. Small, delectable desserts. Date nights in with a bottle of wine. On the go desserts that can be shared with friends. You name it, they have a place in your shopping basket the next time you go to the store because there are so many options!
HOW MANY WAYS CAN YOU ENJOY THESE DELICIOUS MORSELS:
Sticks – The Lindt HELLO sticks are trendy treats designed for chocolate lovers on-the-go. With six tasty squares, you can savor one by one or enjoy all at once, the sticks are just the right size for satisfying those afternoon cravings.
Bars (Not pictured) – Lindt HELLO Bars are not your ordinary candy bars. The ten luxuriously filled squares that make up a HELLO bar – each covered in irresistibly smooth premium chocolate – are bite-sized packages of delight for your taste buds.
Mini-Stick Bags (My favorite!) – Taste, share and love! Each bag is filled with bite size Mini Sticks – perfect for sharing with friends or spoiling yourself with the occasional (or daily) chocolate treat.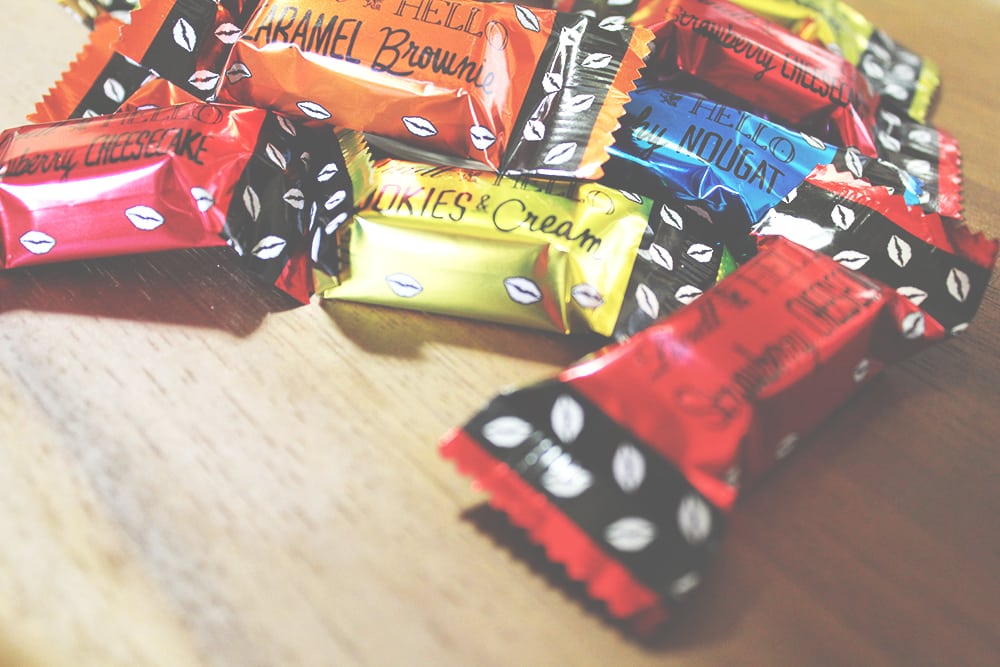 What flavors can I get these little slices of heaven in?
Caramel Brownie – Discover the irresistible combination of smooth milk chocolate, hazelnut and caramel brownie filling
Strawberry Cheesecake (This is by far the best!) – Satisfy your cheesecake craving with rich milk chocolate and a light, fluffy strawberry cream cheese filling.
Crunchy Nougat – Smooth milk chocolate – now that's yummy!
Cookies & Cream – Chocolate, cookies – and a crunch! Savor a chocolaty experience like no other, with chocolate chip cookie pieces and cream filling.
Some extra goodies: Web Series + Sweepstakes!
Lindt Chocolate has partnered with Ashley Tisdale to co-produce "It Started with HELLO" – it premiered on September 12th on the "It Started with HELLO" YouTube page. The first episode, produced by Tisdale, premiered on September 18, 2014. Three additional new episodes will debut weekly through October 9, 2014. It is a fun, new romantic comedy digital series capturing couples as they make their first connections, and is inspired by the cheeky personalities of the new Lindt HELLO products.
From now through October 9th, YOU can visit the "It Started with HELLO" YouTube page to view new episodes of "It Started with HELLO" each week and share your opinions on who you'd like to see paired up next. The first teaser video introduces the cast, and previews the series, and then each week a new episode will premiere, showcasing the romantic stories between different couples.
PLUS
They have a sweepstakes going on that's going to knock your socks off! To enter the sweepstakes, visit the Lindt HELLO Sweet Connections Sweepstakes Landing Page and enter your email address. Entries can be made daily for additional chances to win.
* No purchase necessary. Open to legal residents of the 50 U.S. & D.C., 18 years or older (19 in AL or NE and 21 in MS). Void where prohibited. See Rules at for weekly sweepstakes entry periods, prize descriptions, odds and other details. Ends Noon on 10/14/14. Void where prohibited. Sponsor: Lindt & Sprüngli (USA) Inc., One Fine Chocolate Place, Stratham, NH 03885.
what are your favorite types of connections?
have you tried these yet? if so, what's your favorite flavor?
Think this post is worth a read? Please share – I'd greatly appreciate it! :)
[Tweet "Introducing Lindt HELLO Chocolate"]