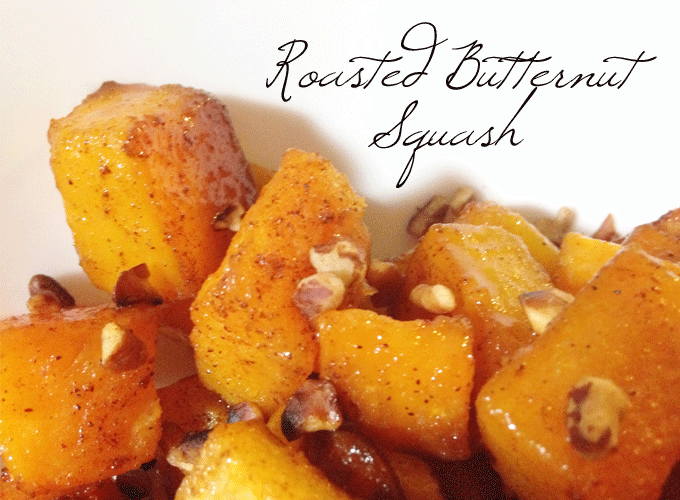 A new season is upon us, and with that comes a whole ton of flavor profiles that we haven't really visited since last November. I was so excited to see butternut squash grace its way into my local Safeway I couldn't wait to start using all the seasonal produce and incorporating those classic fall flavors.
If butternut squash doesn't scream Fall to you, I don't know what will! Ok, ok, maybe a pumpkin spice latte – but that is so not my jam, so let's carry on shall we? Back to the fab butternut squash. It's an excellent source of Vitamin A, which supports vision and cell growth, and good source of Vitamin C, Potassium and Fiber. This lovely winter squash is a versatile fruit (yes, one of those tricksters – I tell you!) that can be prepared in many different ways. One of my favorites is to roast them in the oven!
Classic fall seasonings marrying together to create the most delicious roasted butternut squash – um yes! And let's not even talk about the happiness in my soul from the aroma that fills my kitchen when these babies are roasting in the oven. Perfectly caramelized and crisp on the outside, melt in your mouth creamy goodness on the inside with a touch of toasted crunch that will make you want to hoard these bad boys all to yourself (I might be talking from experience) – COUNT ME IN!
Let's get that party in your mouth started!
Roasted Butternut Squash
Ingredients
3

T

olive oil

1 ½

tsp

sea salt

1

T

dark brown sugar

½

tsp

ground cinnamon

1/8 -1/4

tsp

cayenne pepper

2-3

cups

butternut squash

cubed

1

cup

chopped pecans
Instructions
Combine olive oil, salt, sugar, cinnamon and cayenne pepper then toss squash with seasoning mixture in a bowl.

Spread on a foil lined roasting sheet.

Bake at 375 degrees Farenheit for 20 minutes.

Toast pecans in a dry pan over medium heat while squash is cooking. Move pecans around in the pan every couple of minutes for even toasting. You'll know they are done when you can smell them.

Turn up the oven to 400 degrees Farenheit for 15 more minutes and then pull the squash out.

Combine pecans and squash then serve and enjoy!
Think this post is worth a read? Please share – I'd greatly appreciate it! :)
[Tweet "Roasted Butternut Squash Recipe"]
Save
Save