I was provided the tea to review, but all opinions are 100% my own.
It's no secret that I'm a tea-aholic. Spice and tea stores = my little version of heaven on Earth. And I love trying new teas because I'm always on the search for something unique or different to what I normally have.
I won't lie about this though – I've seen Traditional Medicinals tea in the store and every time, I'm drawn to the box. But I never got it because of one of the main ingredients in a lot of their teas: dandelion. As far as I was concerned, they were just a weed that invaded our lawn every year. I was SO wrong.
The Dandelion Leaf and Root tea was the first one I tried and was pleasantly surprised with the taste. Even though I was committed to trying it, I still went into it thinking that it'd taste like grass or something similar. Luckily, that was not the case at all! The closest thing I can compare it to is almost a mixture of black tea and green tea, but better. Each box of tea has what the herbs within it are used for and this one is meant for supporting the kidney functions and healthy digestion. The taste is very mild and even a bit sweet.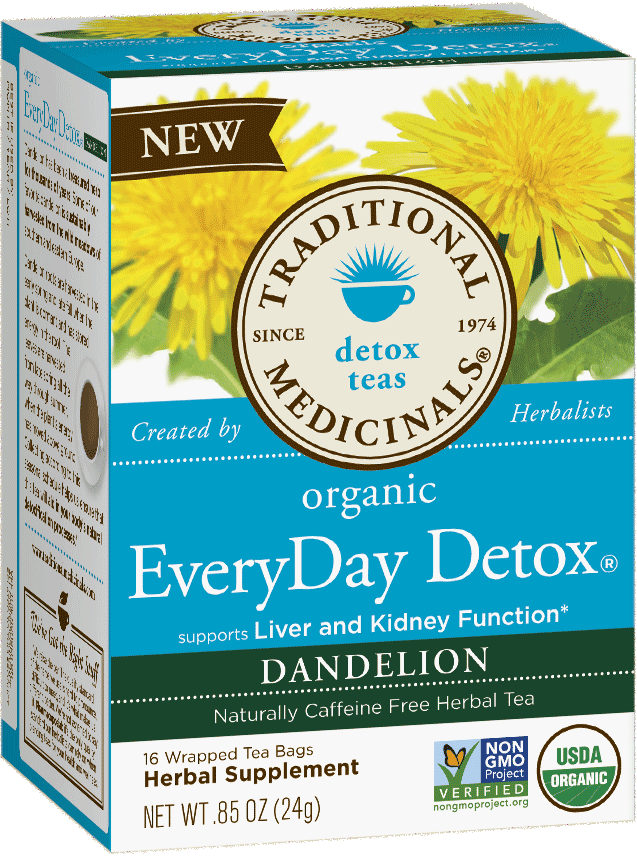 Now this one – the Every Day Detox tea – is hands down one of my new favorite teas. The taste of this tea is on the sweeter side as well, but it's a little bit minty as well which I LOVE. This flavor is also meant to help support the kidney functions and also stimulates the liver. I would never be able to tell that this has ingredients like dandelion herb or bitter fennel fruit based off of the taste – it's delicious! If you're going to try this brand of tea, I would definitely recommend this one.
There are a couple of things that I really love about all of their teas and the brand in general, too.
They use compostable tea bags
Solar and wind power is used for a majority of their energy
Each box explains how the herbs in the tea can be used to promote healthy living
They use 100% organic ingredients
And if you aren't sure what type of tea to get, you can take their plant personality quiz!
It took me just a couple of minutes and asked some pretty basic questions, but it was pretty much dead on with the results. You'll get a list of the herbs they link to your personality, an explanation about the herb's healing powers, and their related products that have that herb. It's pretty much a personalized list of teas that fit you and your personality in a few minutes which is awesome.
I am definitely a new fan and Traditional Medicinals tea convert which makes me even more excited to offer a lucky reader the chance to win the same tea!