When it comes to St. Patrick's Day, corned beef and cabbage usually takes the main stage during mealtime. But what if you want to start celebrating before dinner? I have an egg-cellent recipe idea for a delicious St. Patrick's Day breakfast! The iconic shamrock gets a "top of the morning" update in this easy breakfast dish that mimics Eggs in a Basket. All you need is a green bell pepper, a couple of eggs and slices of rye toast to make Shamrock Eggs.

The beauty about this recipe is that even if your yolks break (like mine did), you get to mop it all up with your rye toast! The golden color of the yolk also adds a festive "pot of gold" touch! So don't feel bad if your yolk breaks when you flip your Shamrock Eggs. Because this dish doesn't take too long to cook, the peppers stay a bit on the crunchier side. Cook the peppers longer if you prefer them softer. If you aren't a fan of runny yolks, make this dish with egg whites instead for a healthier option. You could even serve this dish with toasted Irish Soda Bread and a dab of butter. Yummy!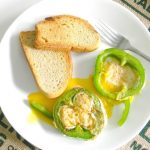 Shamrock Eggs with Rye Toast
A festive St. Patrick's Day breakfast.
Ingredients
- green bell pepper

- eggs

- rye toast

- cheddar cheese slices

optional

- cooking spray
Instructions
Spray a skillet with cooking spray and heat on medium.

Cut two thick slices out of the pepper and two extra strips to use as the shamrock stem. Set stem pieces aside.

Add pepper slices to skillet and crack an egg into each slice. There will probably be overflow, but you can clean that up later.

Allow the eggs to set on the bottom completely, then gently flip peppers over.

Cook until eggs are over-easy, but not runny.

Clean edges of peppers, plate and add pepper strips to make stems.

Serve with rye toast slices.
Recipe Notes
To make a sandwich, add a Shamrock Egg in between two rye toast slices. Add cheddar cheese and melt.

This is a breakfast the whole family will enjoy! If you want to make this dish on-the-go, make a St. Patty's Day breakfast sandwich for a portable breakfast. Just take a shamrock egg, place it between two pieces of rye toast and top with a slice of cheddar cheese. Enjoy!
What's your favorite St. Patrick's Day dish?