Thank you to eShakti for providing the dress for review. All thoughts + opinions are 100% my own.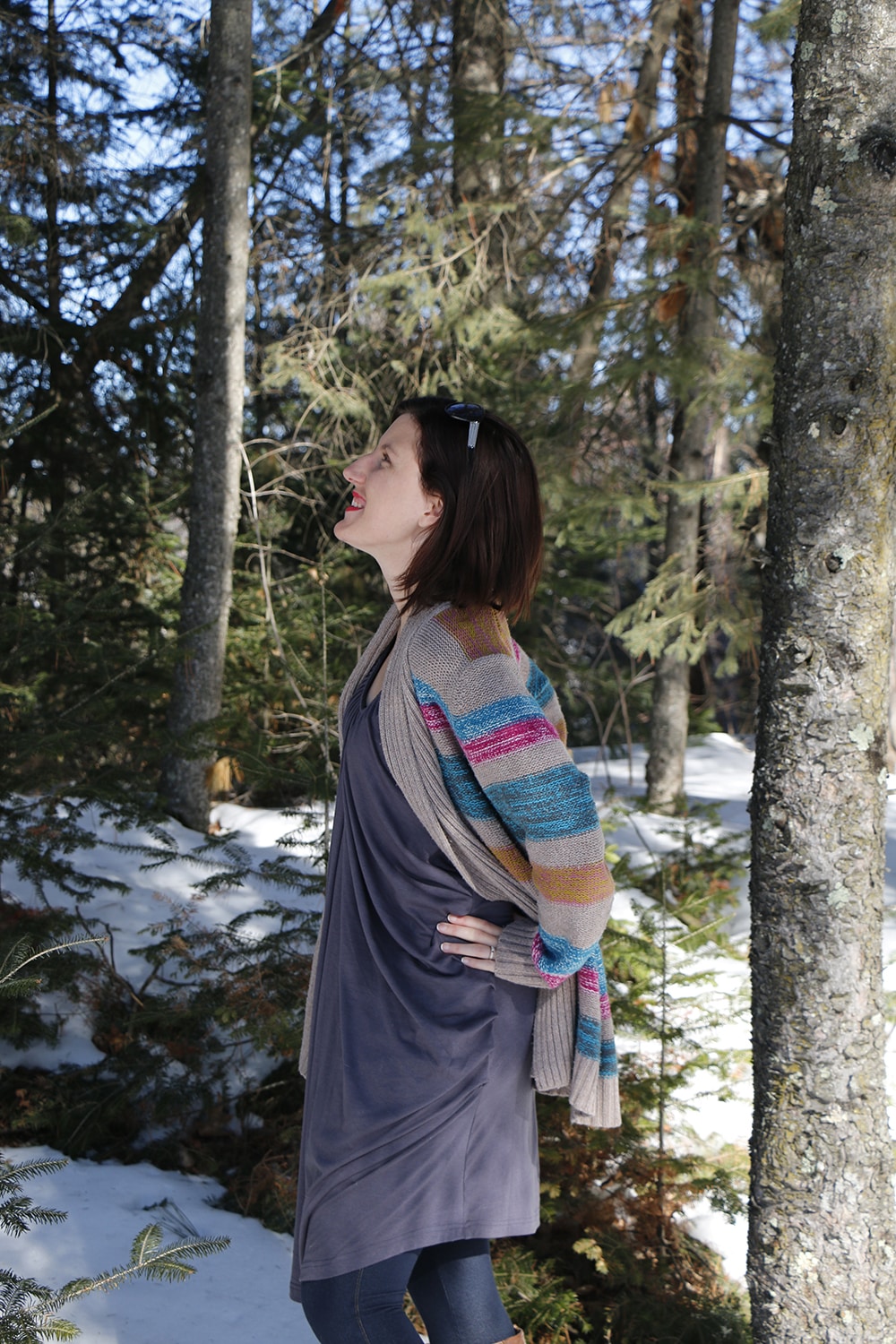 I ventured outside this weekend to snap some photos and I wasn't freezing my butt off which is such a nice change compared to the below zero temps and grey skies we've been having! Also, I can't even begin to tell you how much I love that this is our backyard. Sometimes I forget that we don't just live in the country, but we have actual land and beautiful trees right behind our house. I cannot wait for the snow to melt to explore it even more than we did last year!
But on to what this post is about.
I'm pretty picky when it comes to my clothes anymore. I absolutely hate things that aren't comfortable and anything that can't be paired with something else already in my closet to make it versatile. If it doesn't fit those two things, I won't buy it. But if I do find a brand that caters to my wider hips and long legs without making me feel like I just threw on a potato sack, I'm all in.
And that's no different with eShakti. So when they contacted me a few weeks ago about reviewing an item from their Spring line, I couldn't say yes fast enough. I'm not at all new to eShakti – I think I actually have four dresses from them already. And I love every dress as much as the next one. Well, until this one.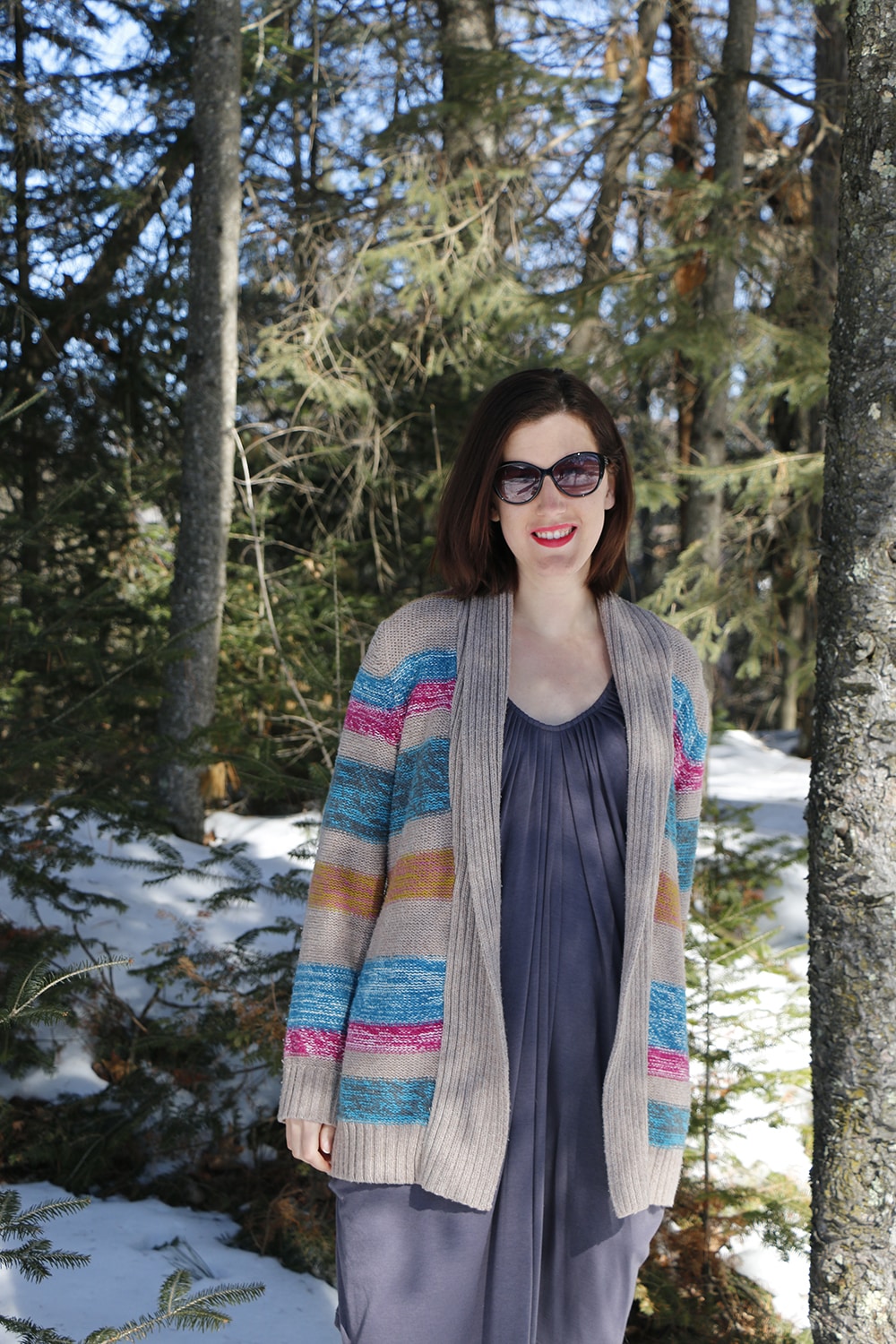 This dress is by far my favorite now. Not only is it form fitting and hugs in all the right places, but it's insanely comfortable. Like, I wear it all the time while I work comfortable and yet it can still be dressed up for date nights by swapping out the shoes or sweater and adding some accessories. And even though it's perfect for Winter with my multiple layers, it's light and airy enough for the Spring and Summer months. Versatility at it's finest!
If you aren't familiar with eShakti, let me introduce you (because I think you will love them as much as I do.)
eShakti basically creates custom clothing, tailored to your size and preferences, without the expensive costs. No sizes are stocked and there is truly no inventory on any of the pieces as each piece requires a heigh measurement to give a true-to-you fit.
Not only that, but you can change many aspects of the clothing itself. Don't want pockets? Want a longer or shorter skirt/dress? No problem! You get to select it for each and every piece you pick out from eShakti. It's affordable, beautiful and completely personalized for you – it doesn't get much better than that!


Every single dress I've received from them are my go-to date night dresses and my go-to resort dresses. They are all incredibly comfortable, perfect for layering, and light enough for the Summer months (or the beach-filled vacations!) I absolutely could not recommend them more. And luckily for you, eShakti was kind enough to provide an extra discount for Hello Nature readers!
save 10% with code FTERNNETFV
now through March 26, 2015
Code has to be entered in the 'promotional code' box. It is not case-sensitive. Code can be used any number of times until the validity period. It can be clubbed with any other promotional offer, gift coupon or gift card in the same order unless explicitly specified otherwise in the offer conditions. This discount code is not applicable on clearance / sale, gift cards & overstock categories. Not applicable on previous purchases.
Follow them online for even more deals: