This post was sponsored by S&W Beans as part of an Influencer Activation for Influence Central and all opinions expressed in my post are my own.
Love red beans and rice, but want a lower carb version? With the right ingredients, you can make a nearly identical dish with the perfect substitute: cauliflower! You won't miss the rice at all with this Red Beans and Riced Cauliflower recipe. Plus, see why we LOVE S&W Beans!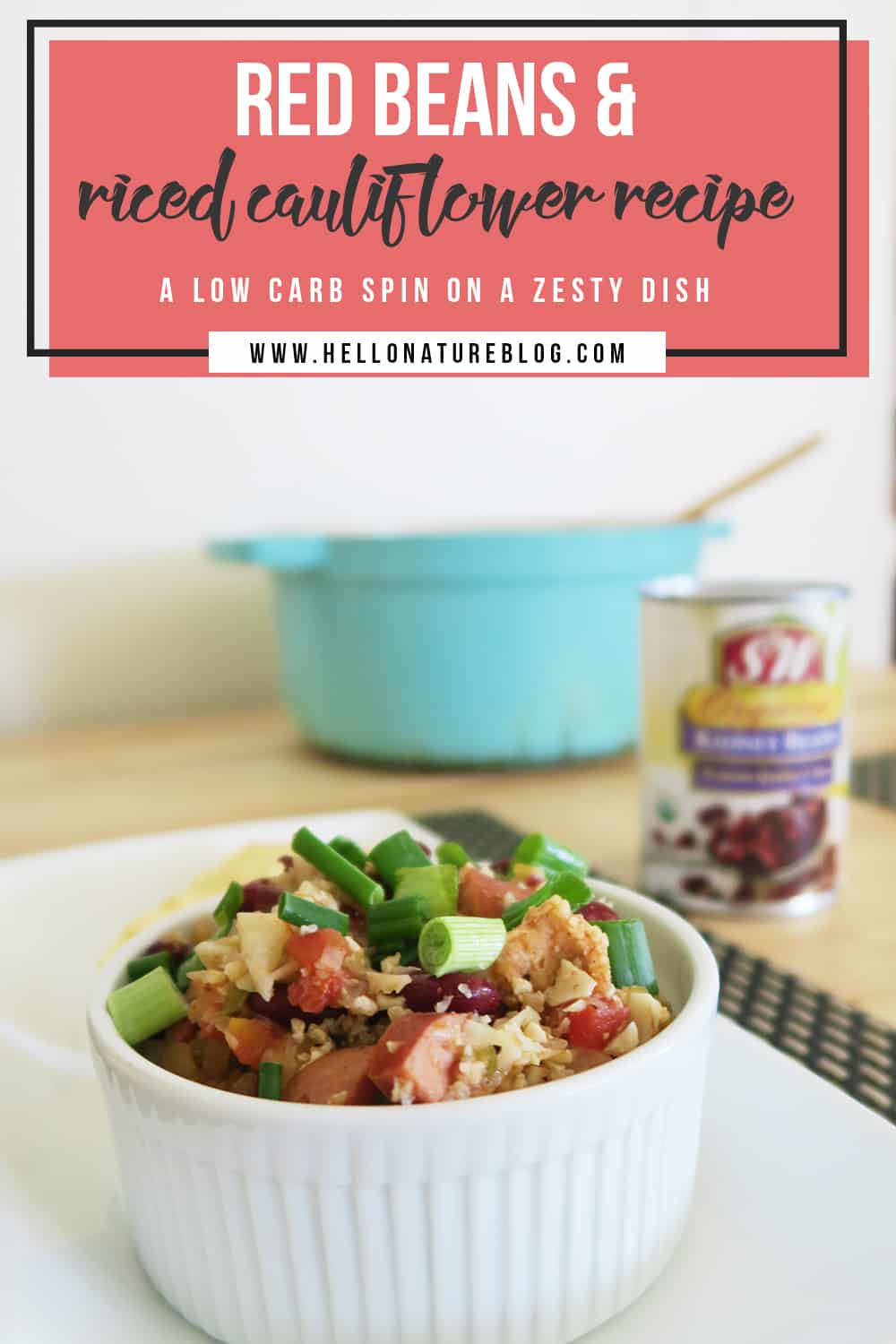 Over the past month or so, Nathan and I have been moving towards a more low-carb diet. It helps Nathan manage his diabetes, but it makes both of us feel better and have more energy throughout the day.
We've stuck by the 80/20 rule for the most part though. Try to eat healthy 80% of the time and indulge a little no more than 20% of the time. I don't feel deprived this way, otherwise there's no chance I'd stick with this.
Luckily, in our experimentation with cooking with more meat and veggies, we've found some pretty delicious recipes. Ones that still taste good and don't make me miss the extra carbs. And even better, recipes that make me forget all about the carbs because they're nearly identical.
Which is why I love this red beans and riced cauliflower recipe.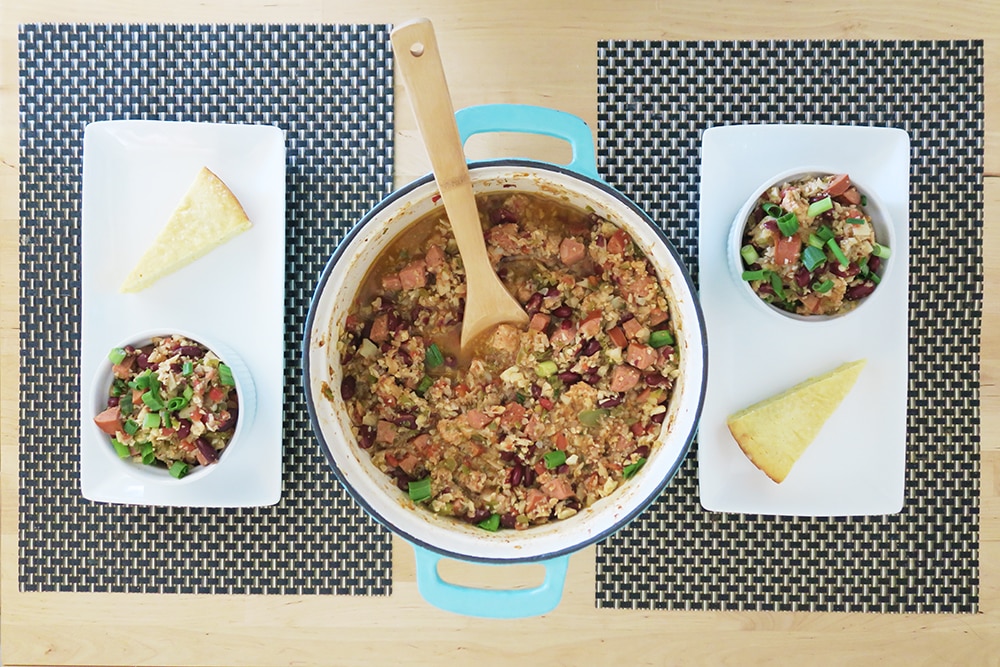 One of the things I love about riced cauliflower is that the texture (if cooked correctly) is nearly identical to rice. I'm a big texture person so this is huge for me. And flavor-wise, it's not too far off either.
But the one thing I really love about this recipe is how easy it is to make. And that's partially thanks to the delicious S&W Beans we used!
We made an hearty white bean turkey chili along with some spicy black bean burgers awhile ago using S&W Beans. We loved them then and we've continued to use them for our quick weeknight meals.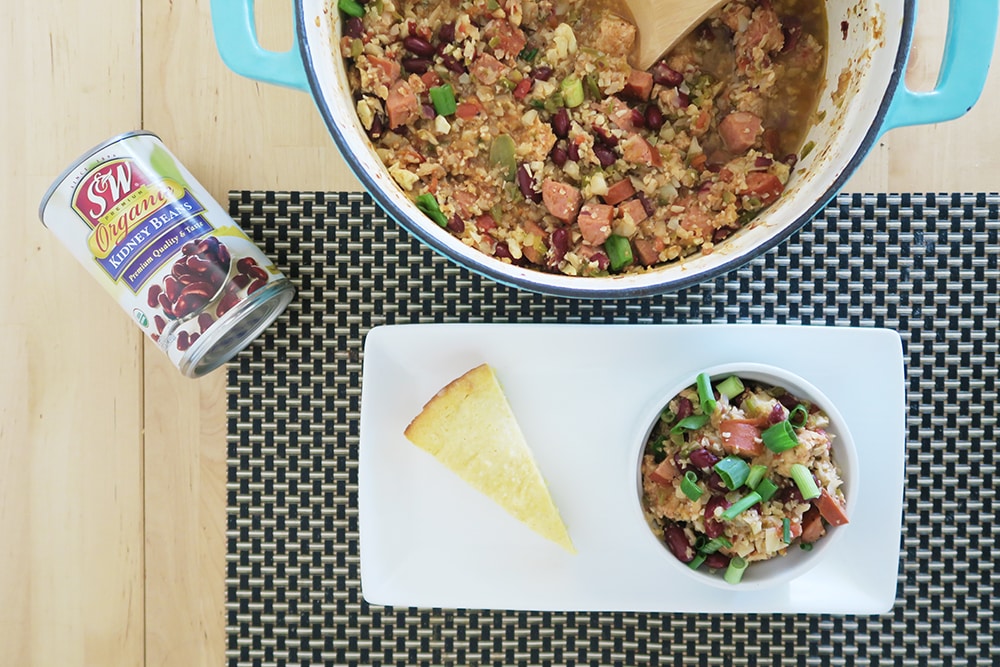 The main reason we love S&W Beans is because of their versatility. From chili to burgers to red beans and "rice" – we've found SO many uses for them for our meals. With all of their options from organic to less sodium and their core varieties – they have everyone covered.
And with how high their standards are, they've demonstrated their premium quality for over 120 years. S&W Beans enhance all of our dishes and make our busy lives better.
Coupon Alert!
Bonus: you can get a coupon for $1 off 2 cans of S&W Beans!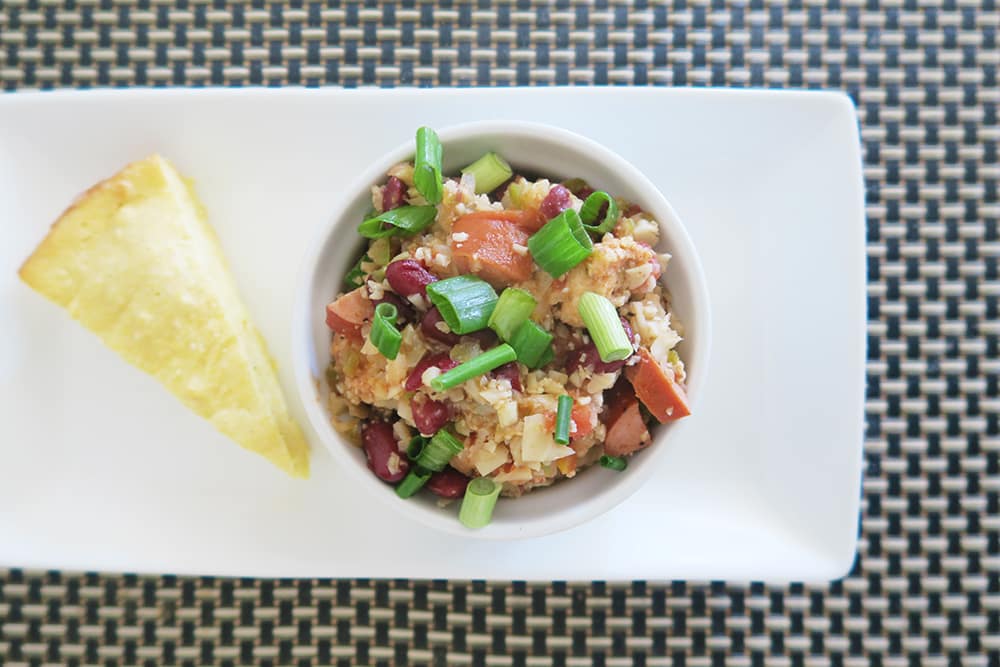 Red Beans and Riced Cauliflower
Ingredients
2

Bell Peppers

Diced

1

Large

Onion

Diced

6

Cloves

Garlic

Minced

2

Tbsp

Olive Oil

1

Pinch

Salt + Pepper

1

Medium

Cauliflower

Riced

1

14.5oz

Cans of S&W Kidney Beans

12

oz

Andouille Sausage

Cubed

1

lb

Boneless, Skinless Chicken Breast

Cubed

2

Tbsp

Cajun Seasoning

1

Cup

Chicken Broth

1

Scallion (Optional)
Instructions
Heat the oil in a pan over medium high heat. Preheat the oven to 375F. Sauté the onions, peppers and garlic with the pinch of salt and pepper for 3-4 minutes or until softened in the pan.

Combine all of the ingredients in a large mixing bowl, including the pepper and onion mixture. Mix thoroughly.

Pour everything into a dutch oven or 3 quart oven safe dish. Cover and bake for an hour or until the chicken is fully cooked through.
Recipe Notes
Not a fan of spice? Halve the cajun seasoning or remove it entirely.
Not sure how to rice cauliflower? Clean it, break it up into smaller chunks and run it through the food processor until it's the size of grains of rice.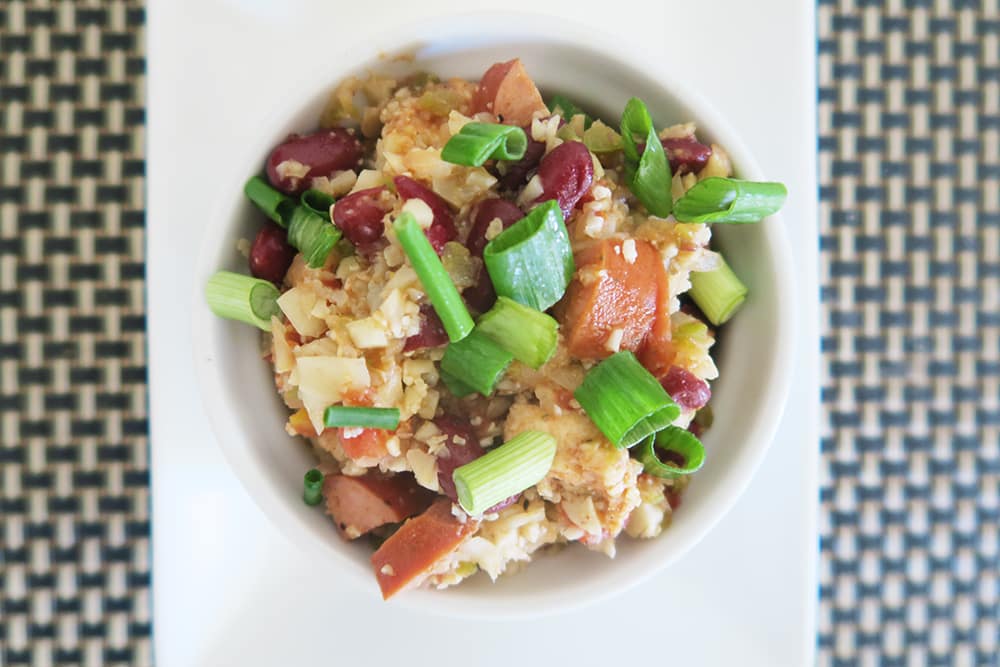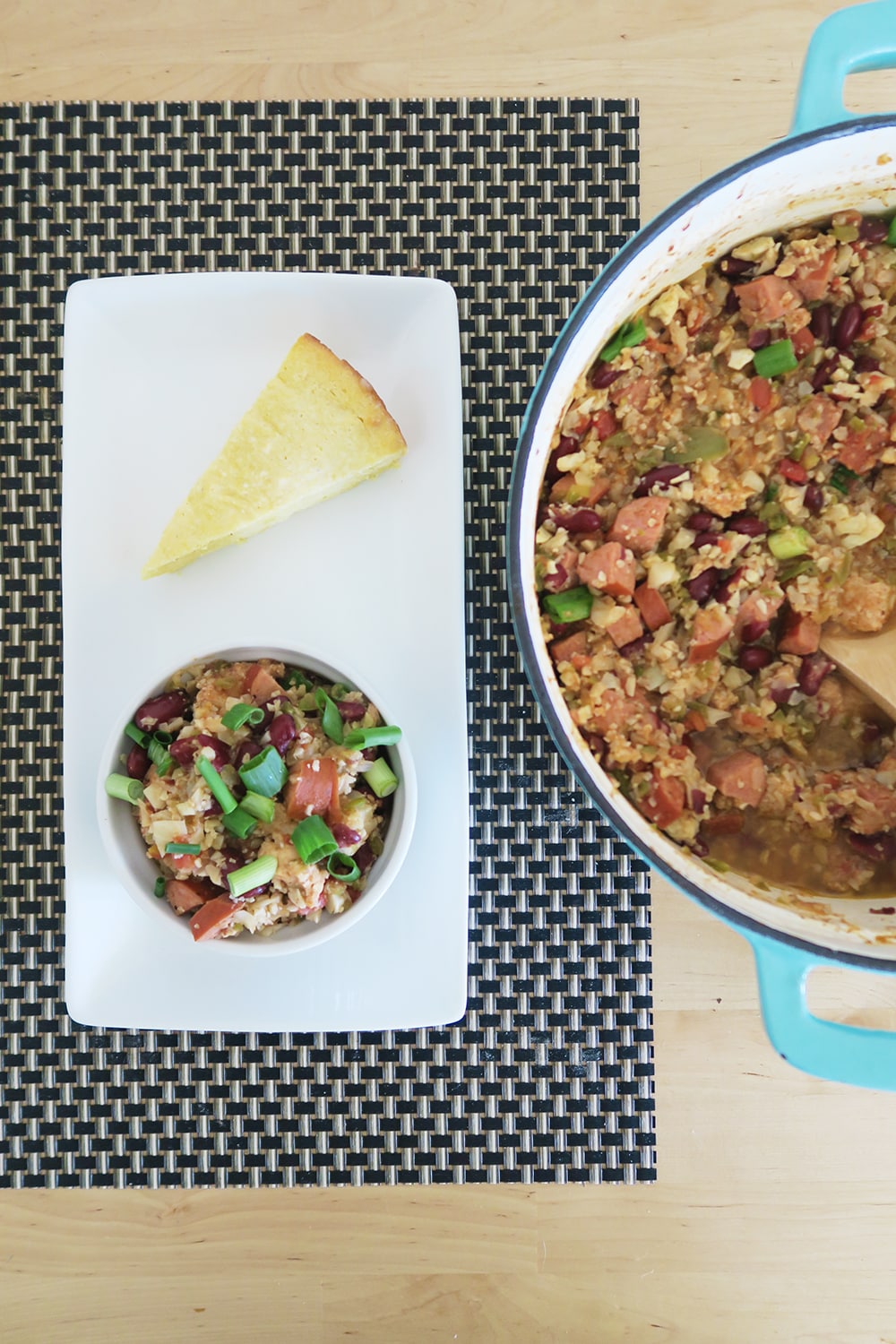 We made cornbread to go with the red beans and rice cauliflower recipe. They go together perfectly so I'd highly recommend it!
And if you want to keep the spice level up, but want to tone it down a little afterwards – add some cheese! We tried it with and without cheese. I prefer it without cheese, but it's a great way to change it up or make it easier for families with different spice preferences.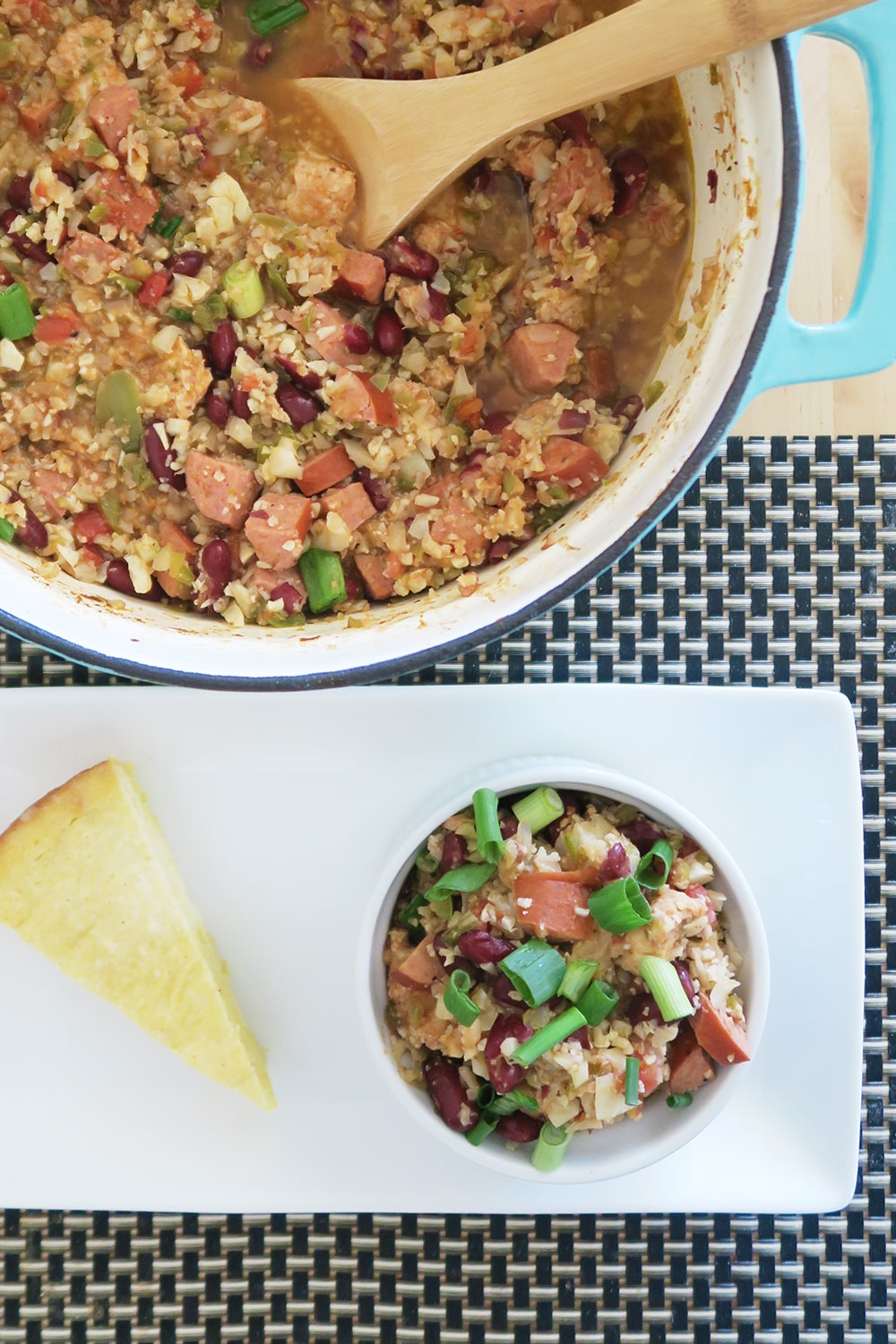 Ready to make this red beans and riced cauliflower recipe? Don't forget to grab your coupon for S&W Beans!
PIN ME↓