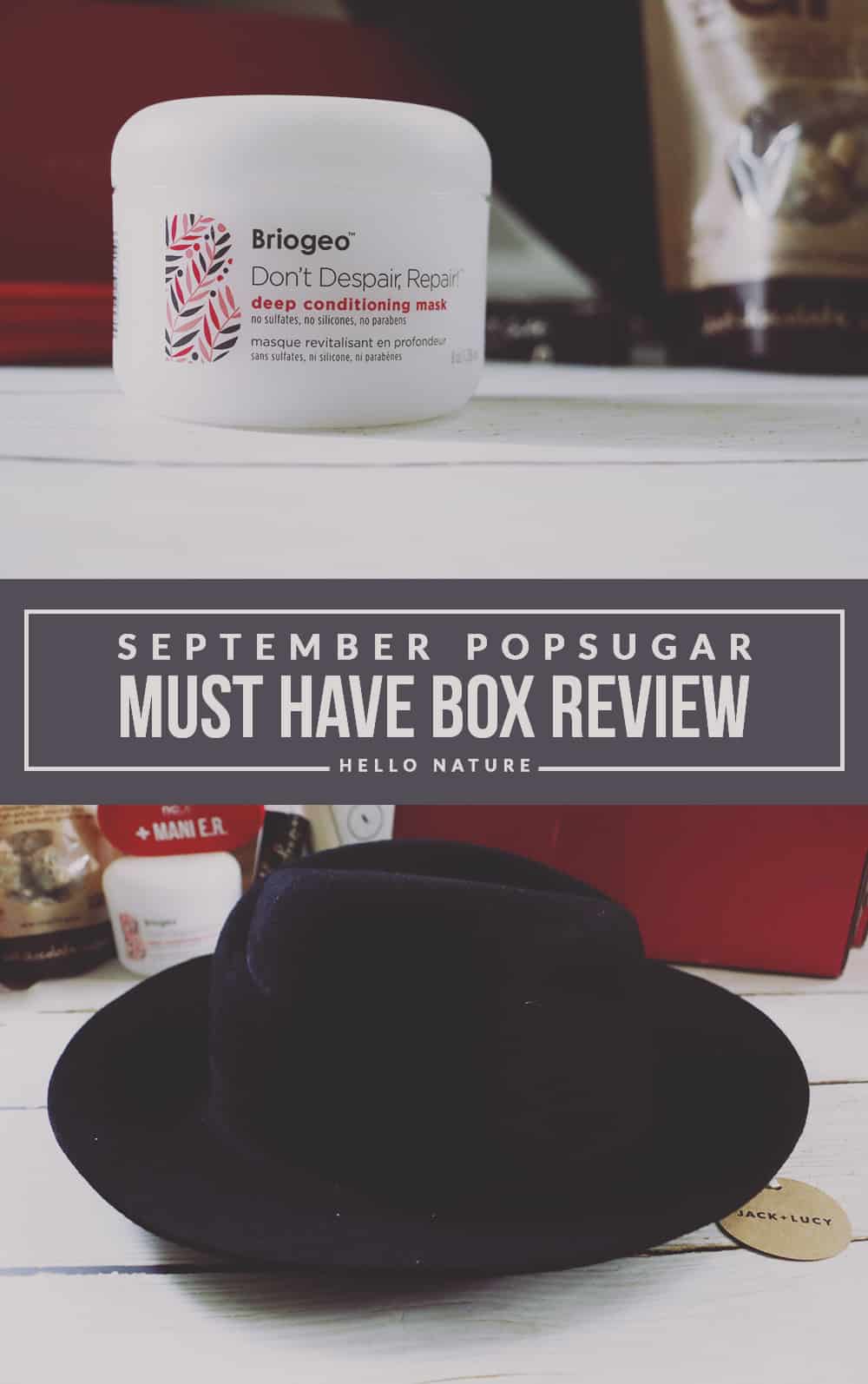 Today, I'm sharing what's in the September POPSUGAR Must Have Box! POPSUGAR sent me this Must Have Box to try and once again, I'm smitten! I shared June's Must Have Box and July's Must Have Box before. Both were big hits for me and this month is no different!
Check out what was in September's box below and then get your own with coupon SHOP5! It gives you $5 off your FIRST Must Have Box!
JACK & LUCY | Bicoastal Wide Brim Hat $58
This hat is SUCH an awesome accessory for me now that my hair is shorter. Glasses, jewelry and headwear have been my go-tos since I got it cut so short and wide-brimmed hat is super chic. Perfect for Fall!
NCLA | Mani-ER Tool Kit $16
This is such a great tool for us with how much we travel. It's the perfect size to just toss in my purse so I can ensure I'm able to keep up with my nails on the go.
BRIOGEO | Don't Despair, Repair! Deep Conditioning Mask $36
I straighten and blow dry my hair a ton so it always needs a little TLC. And this mask is the spa day it needs without having to even leave the house. The smell is fantastic, too!
FLINT | Lint Roller $9.99
No lie – this was the thing I was most excited about from the box! It's the little things, right? This little lint roller is perfect for tossing in my purse as well and with our pup, I need it on the go more than anything!
SMITH & CULT | Lip Lacquer in The Warning
First off, I love that this is paraben and gluten free. Second, I was a little uncertain if the bold color would be too much for me. But it wasn't! I love the color and can't wait to pair it with the hat for the perfect Fall outfit.
THE GLUTEN FREE BITES | Dark Chocolate Coconut Bites
Can you say YUM?! These little bites are SO good. I'm a sucker for dark chocolate and coconut so the combination of flavors is perfect. These are vegan, gluten, and dairy free which is great. I love how protein packed they are as well.
DON'T FORGET!
Use SHOP5 to get $5 off your first POPSUGAR Must Have Box!
LET'S CHAT!
Do you subscribe to the POPSUGAR Must Have Box? What's your favorite item from September's box? What's your favorite subscription box?