I have received information and materials from ©Johnson & Johnson Consumer Inc. 2017. The opinions stated are my own. This is a sponsored post. #ForWhatMattersMost #CollectiveBias
Need the perfect small snack to maintain your energy while you're on your adventures? You HAVE to try these No Bake Trail Mix Energy Bites!
June is almost here and that means two things for us: gardening and camping trips galore! This makes it one of my favorite months of the year. I love having the garden to manage (and reap the benefits of) when we're home and the camping trips that get me back to nature.
However, as I learned from this past week of camping, my body isn't what it used to be. With our hikes and setup of our new trailer, I woke up to a sore back and arms the next day. Luckily, we had TYLENOL® 8 HR Muscle Aches & Pain with us to help ease the muscle pain so we could enjoy the rest of the trip. But it reminded me that my post-pregnancy body is still in some need of major toning.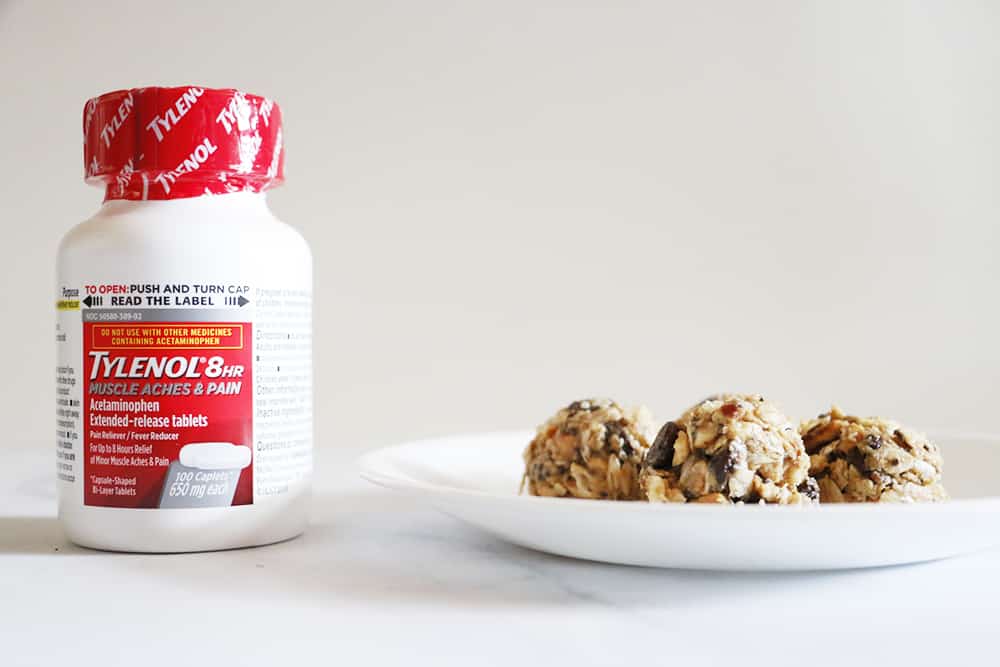 We started incorporating exercise into our routine a few weeks ago which has been awesome. But with all of our adventures planned, the yard work, and my exercise routine – I need a little help. I found TYLENOL® 8 HR Muscle Aches & Pain to help with my muscle aches, but I needed to find something to help me sustain my energy. That's where these No Bake Trail Mix Energy Bites come in!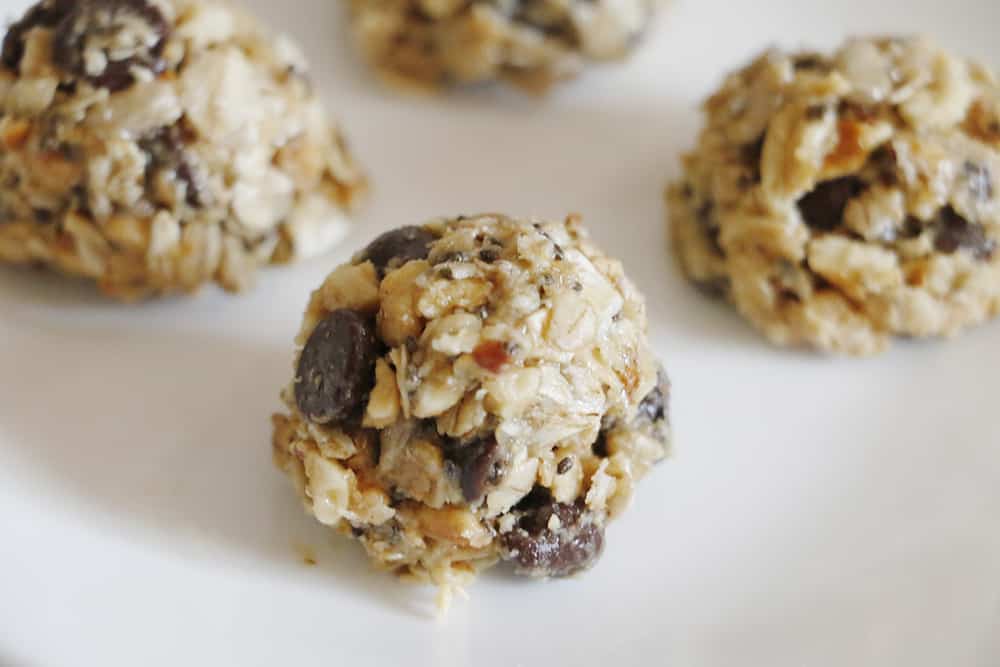 I'm a sucker for just about any trail mix. But I don't feel like they usually have the proper ratio of salty to sweet. Also, where is the peanut butter?! Peanut butter makes almost everything better. And I am SO not a raisin person. So I set out to make my own No Bake Trail Mix Energy Bites to incorporate the same delicious flavors in perfect, delicious bite-sized snacks.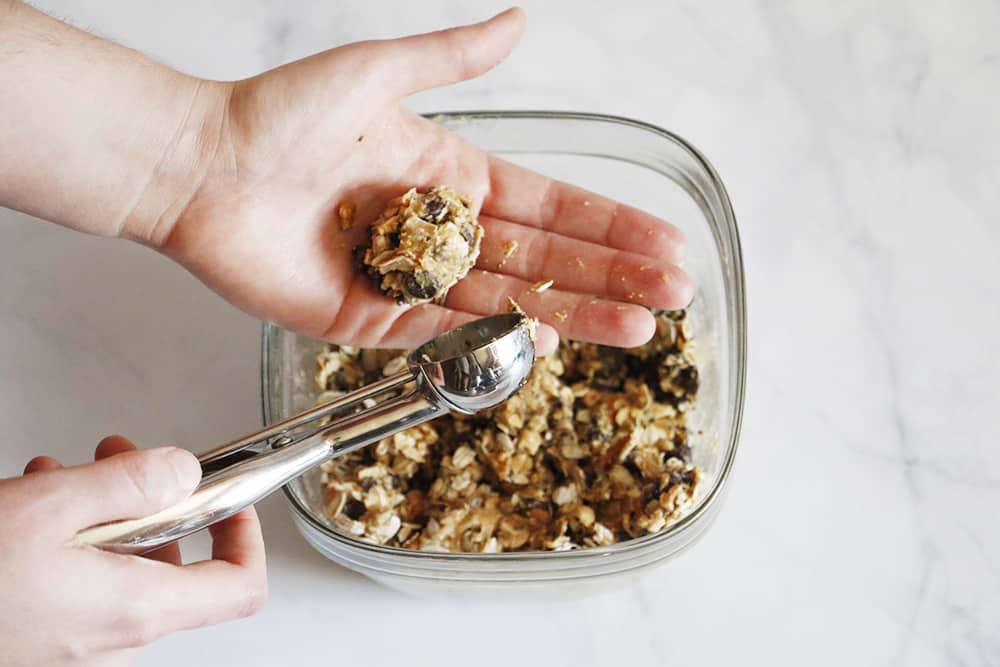 The really great thing about these No Bake Trail Mix Energy Bites is that they are totally customizable. So if you feel like trail mix is missing that one key ingredient like I was, add it in! Or omit things you dislike. Or add more of something you really love. Just make sure the ratios of the sticky ingredients are enough to maintain the right consistency to form the balls.
Related Reading: Delicious Homemade Granola
No Bake Trail Mix Energy Bites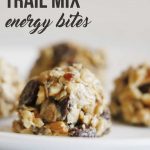 No Bake Trail Mix Energy Bites
Ingredients
1

Cup

Oatmeal

3/4

Cup

Chocolate Chips

1/3

Cup

Agave

1/2

Cup

Chunky Peanut Butter

1/4

Cup

Sunflower Seeds

1/4

Cup

Pretzels

Crushed or Chopped

1/4

Cup

Dry Roasted Peanuts

Chopped

1

Tbsp

Chia Seeds
Instructions
Mix all ingredients together in a bowl until thoroughly combined.

Set in the refrigerator for 1 - 1 1/2 hours to allow for easier ball formation.

Using a small scoop or your hands, form into bite-size balls.

Store in the refrigerator.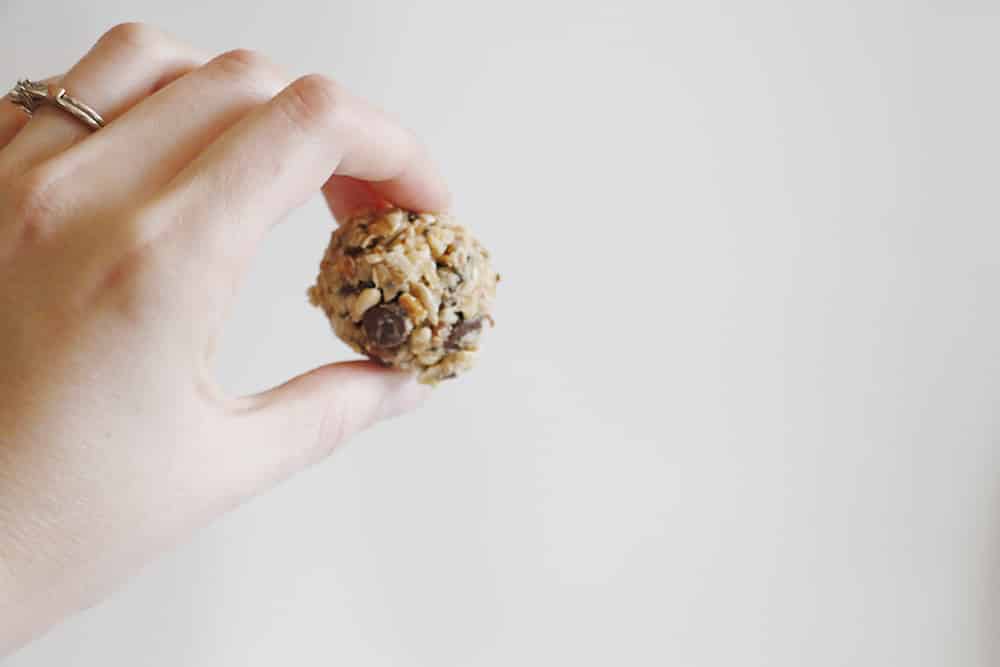 Other than the flavor of these No Bake Trail Mix Energy Bites, there's a couple of other things I love about them.
They can be made in bulk
They can be made in advance
They taste like I'm indulging
They travel really well
Doesn't get much better than that for adventure-related snacks!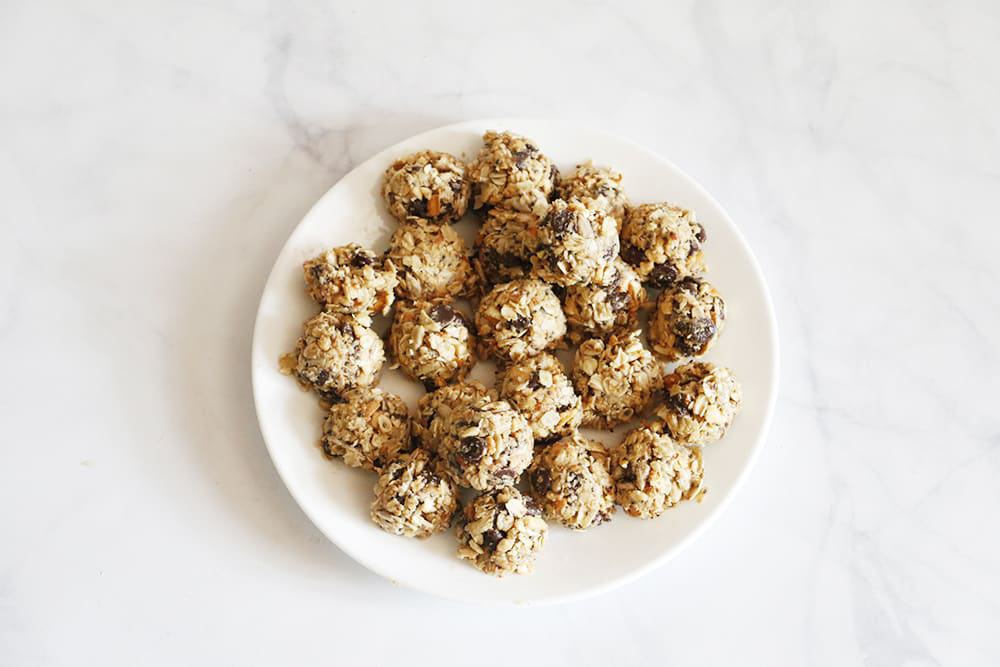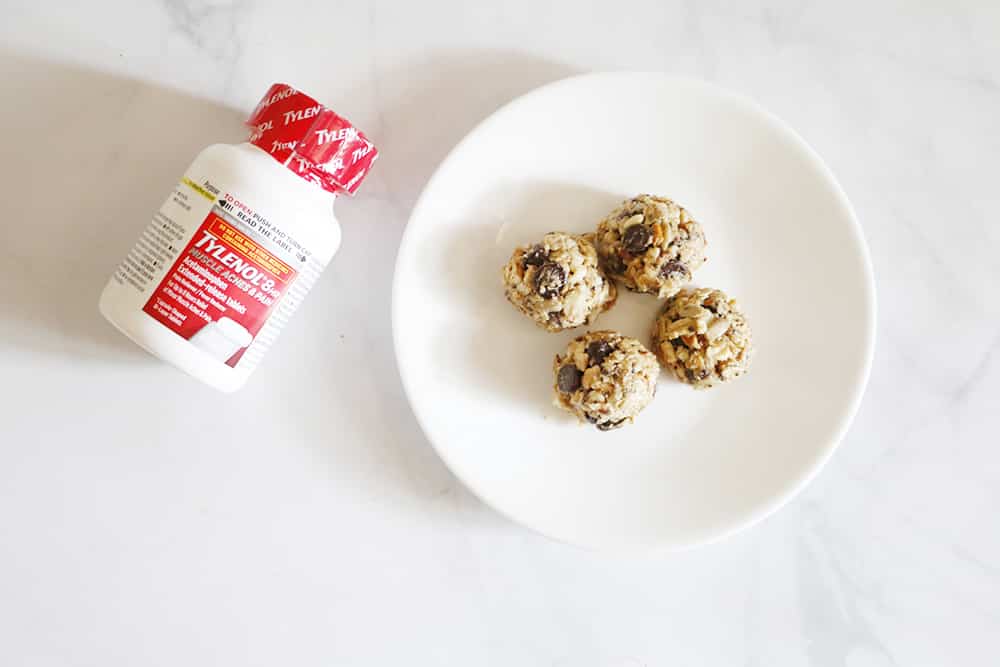 Headed out on your own adventures? Working on the garden this weekend? Be sure to grab TYLENOL® 8 HR Muscle Aches & Pain at Target. TYLENOL® 8 HR Muscle Aches & Pain helps you take control of your muscle pain to take back your day. It temporarily relieves minor aches and pains in adults and children 12 years and older due to: muscular aches, backache, minor pain of arthritis, toothache, premenstrual and menstrual cramps, headache, and the common cold. It also temporarily reduces fever.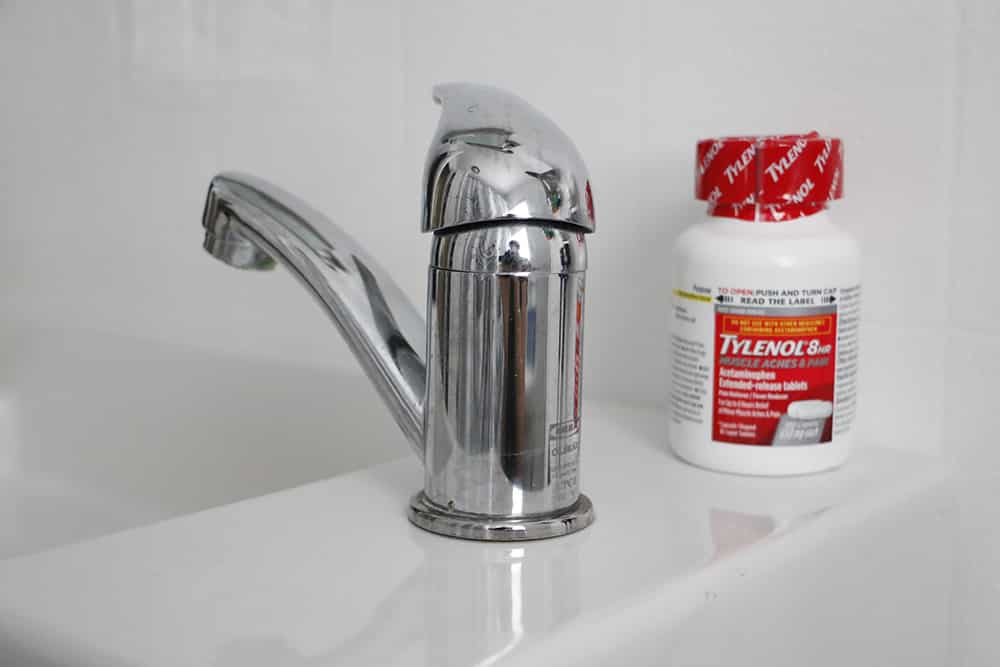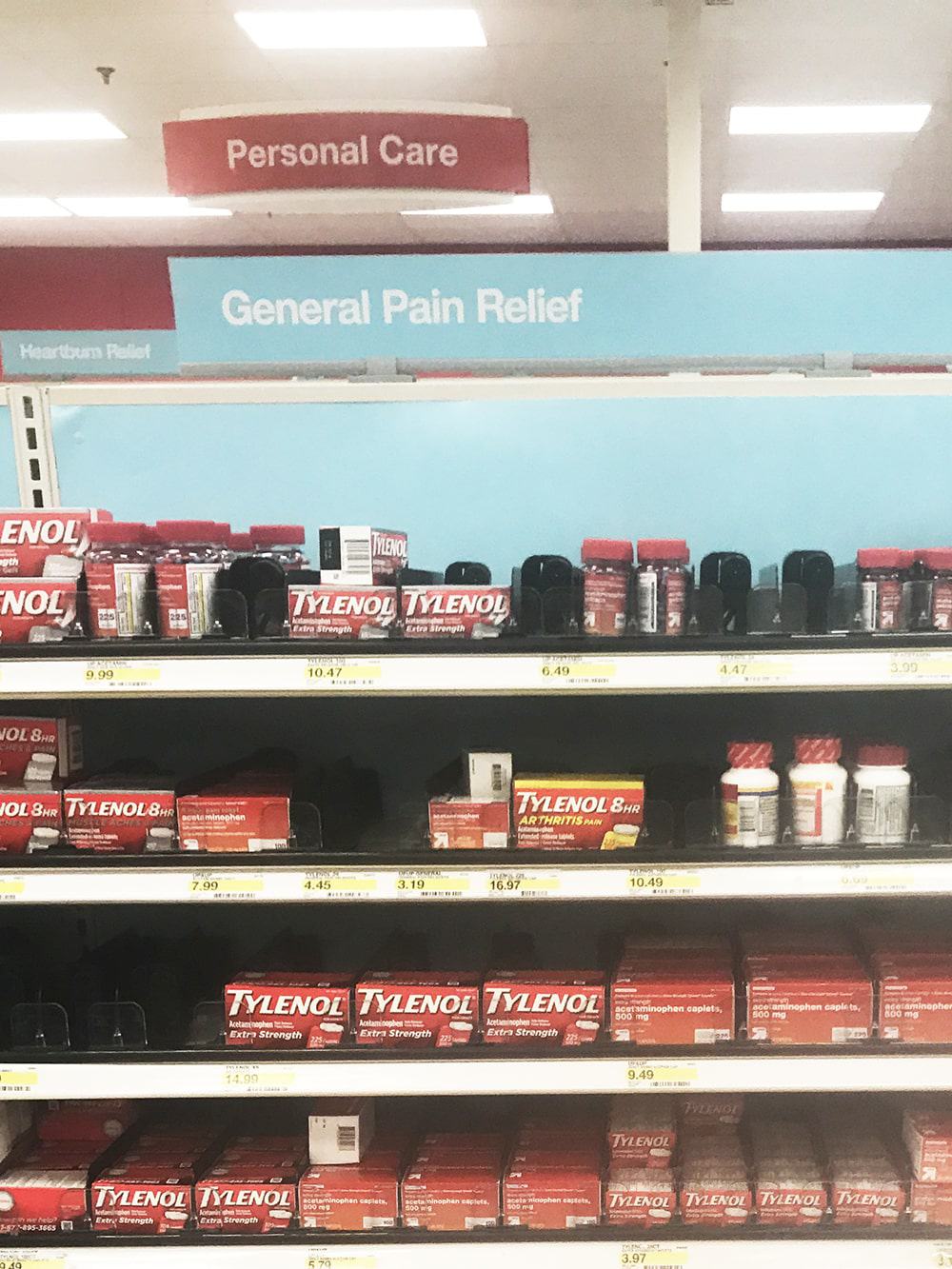 What would you add to these No Bake Trail Mix Energy Bites? How would TYLENOL® 8 HR Muscle Aches & Pain help you with your adventures?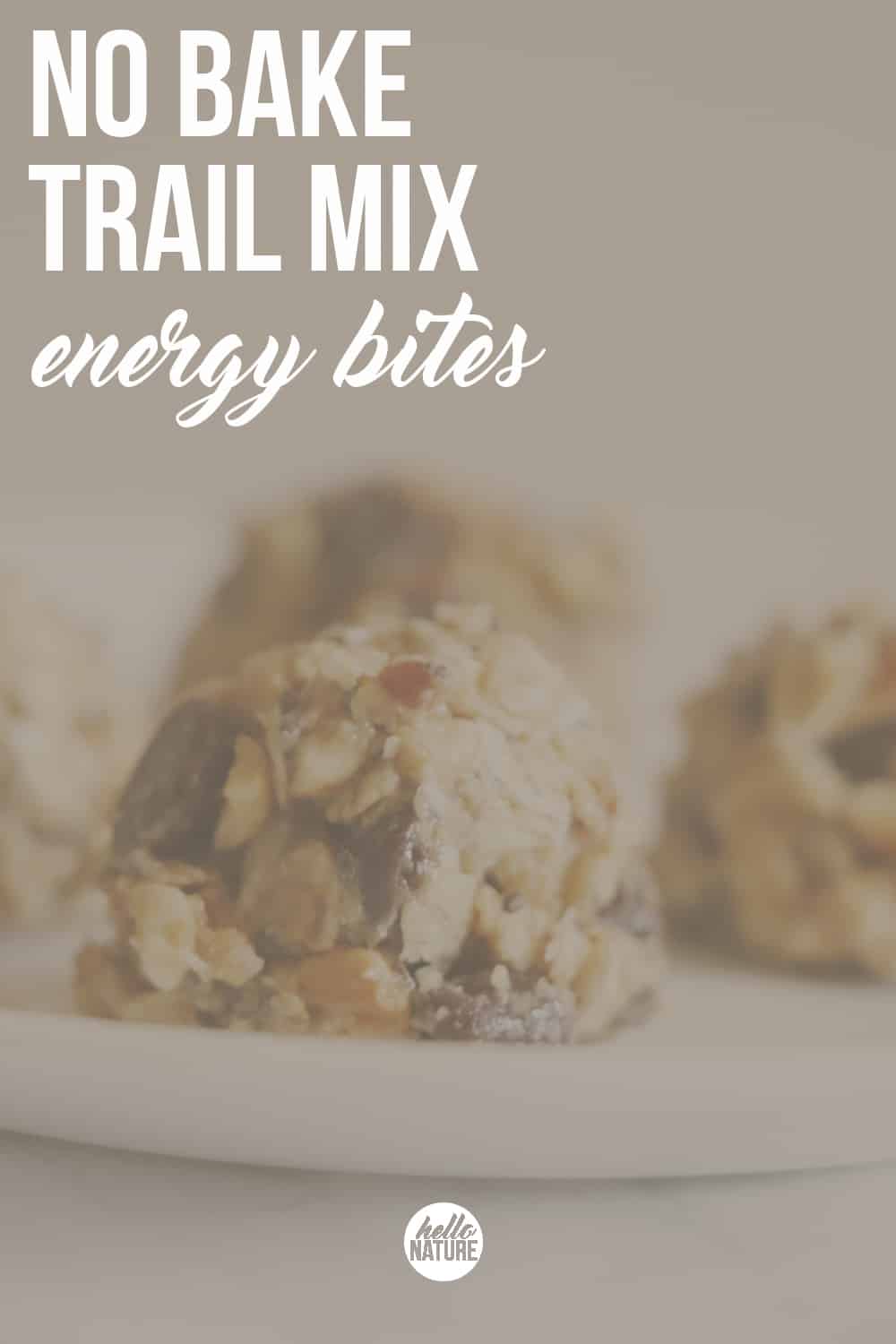 I am not a medical expert, and this post is not medical advice. Always seek the advice of your physician or other qualified health provider with any questions you may have regarding a medical condition. ©Johnson & Johnson Consumer Inc. 2017. The third party trademarks used herein are trademarks of their respective owners.