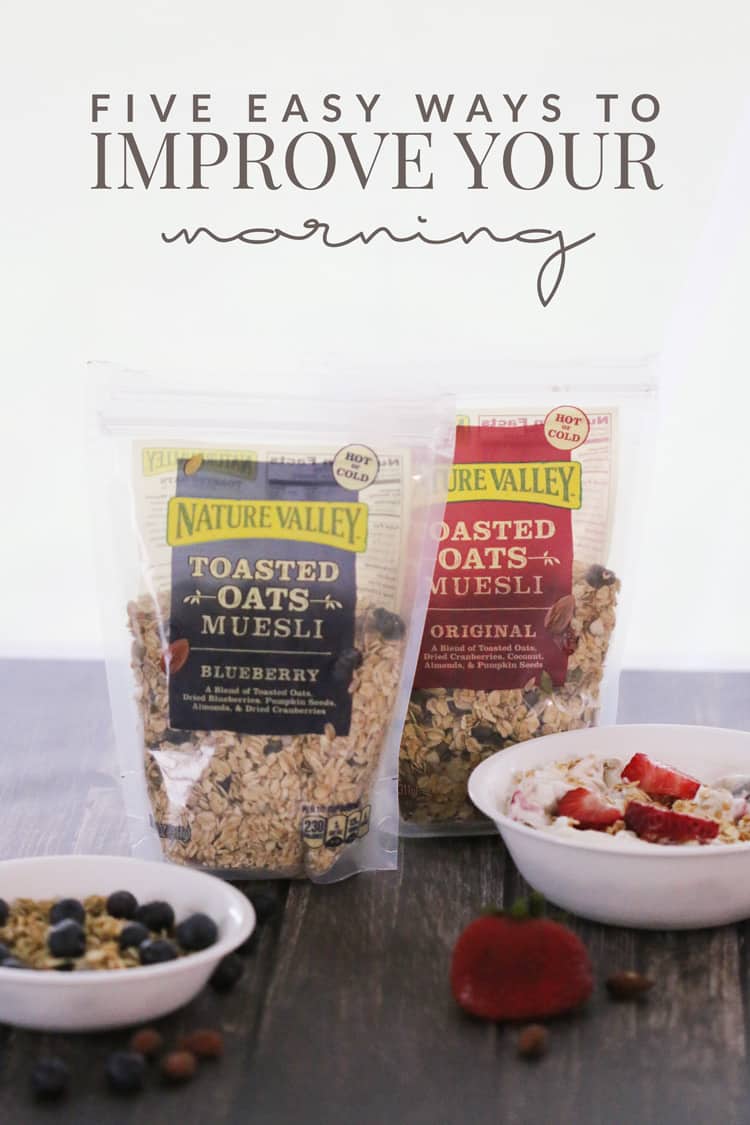 I actually love waking up before the sunrise. I'm always more productive and energized whenever I'm up early, working before most people are out of bed. But I always make sure that I do my best to start my morning right. So I'm sharing my top five favorite ways to improve your morning.
DO SOMETHING YOU LOVE | This is one of the best things I have done since Nathan and I started working at home together. We almost always eat breakfast together which means we get in a little bit of quality time before the day even truly begins. I also love reading a chapter or two of the current book I'm reading or cuddling with our pups before I roll out of bed. Whatever it is that works for you, it gives you a reason to get your butt out of bed instead of hitting snooze.
GET UP AT THE SAME TIME | I didn't want to believe this one when I first heard it, but it has helped my sleep schedule tremendously. I have the hardest time getting to sleep and this is one of the few things that has actually helped remedy that. So, even on the weekends, I get up within an hour of the same time every day. Whether we're traveling or at home, I do my best to stick with this and it has made getting up so much easier. I'm much more likely to feel well-rested and ready to take on the day by doing this so it's been worth it.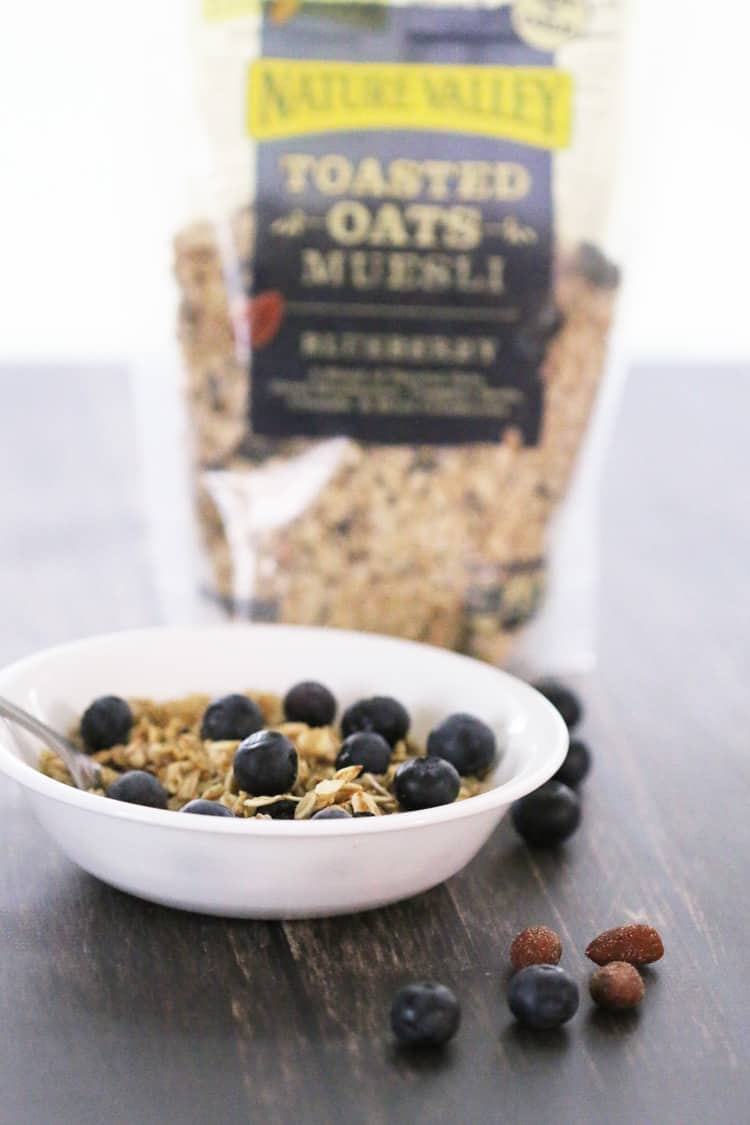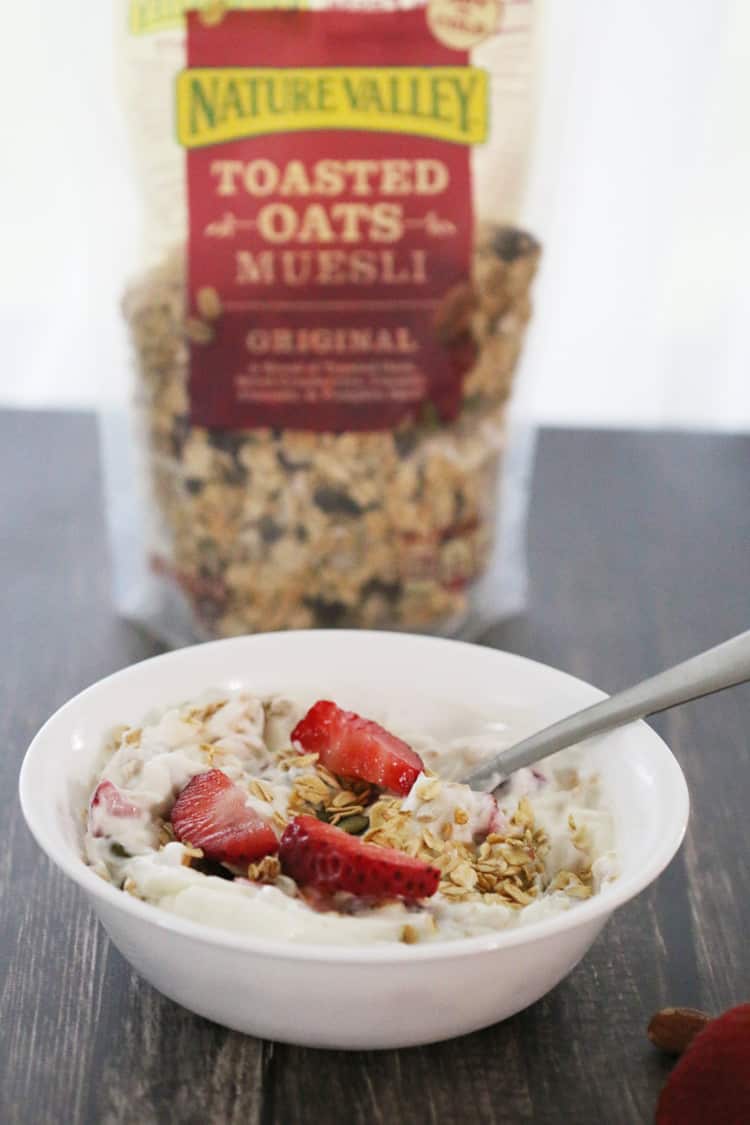 EAT A HEARTY BREAKFAST | I used to go by the idea of "just eat breakfast" and that didn't work for me. I need something hearty, filling, and healthy to start my day right. One of my favorite meals? Muesli! One of the reasons I love muesli is because of how versatile it is. And that's exactly why I love the new Nature ValleyTM Toasted Oats Muesli – Blueberry and the Nature ValleyTM Toasted Oats Muesli – Original.
Nathan and I love the Nature Valley Muesli, but we enjoy it in very different ways. I like it warm with some unsweetened vanilla almond milk and some berries. He prefers it cold in greek yogurt with some strawberries. Both are delicious and a super easy way to get in a quick, heart meal before you start the day. The Nature Valley Muesli is also packed with some of my favorite snacks including: toasted oats, berries, coconut, almonds and pumpkin seeds. YUM! It's a great alternative to granola and is filled with wholesome ingredients.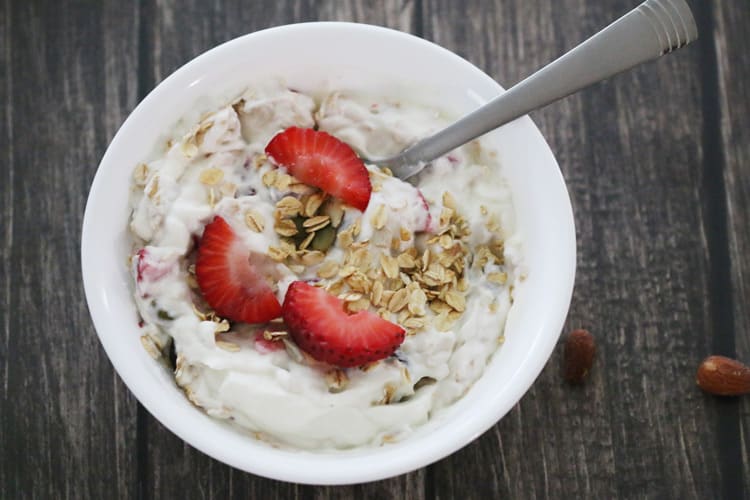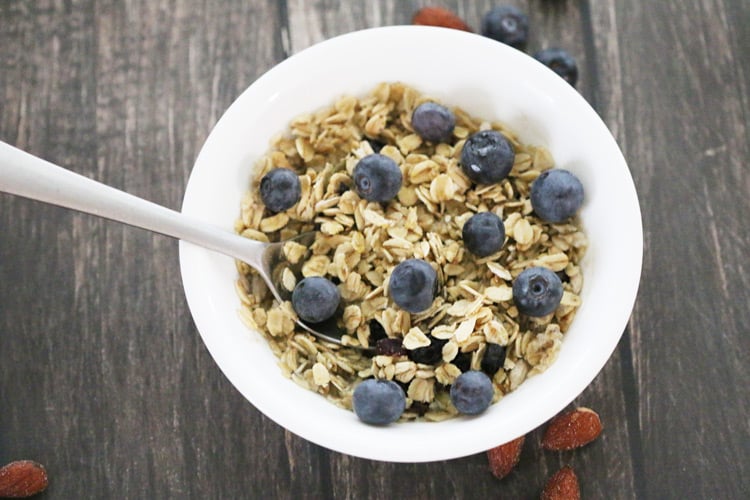 DRINK UP | Trade in the coffee/caffeine for at least eight ounces of water. Warm lemon water is even better as it will help with digestion. This is a great way to get a start on your daily recommend water intake (check out these easy ways to increase your water intake.) If you can't skip the coffee break, opt for less. Try having half the amount to give you that energy boost without as much of a crash whenever the caffeine wears off.
GET MOVING | Exercise always wakes me up which means I can't do it at night. Instead, I try to do it before noon and on good days – I do it right away. Start with stretches to limber up and then go for a brisk walk, run, or bike ride. The fresh air and the muscle stimulation helps wake you up quicker which lets you start to enjoy the day that much sooner.
I'd love to know: how do you improve your morning?
And if you're looking to improve your morning even further, I've got you covered! Not only can you save $1.00 on the Nature Valley Muesli, but you can also enter below to win a Starbucks gift card to make it even better! Just opt for decaf ;)
Starbucks Gift Card Giveaway

You might also like: