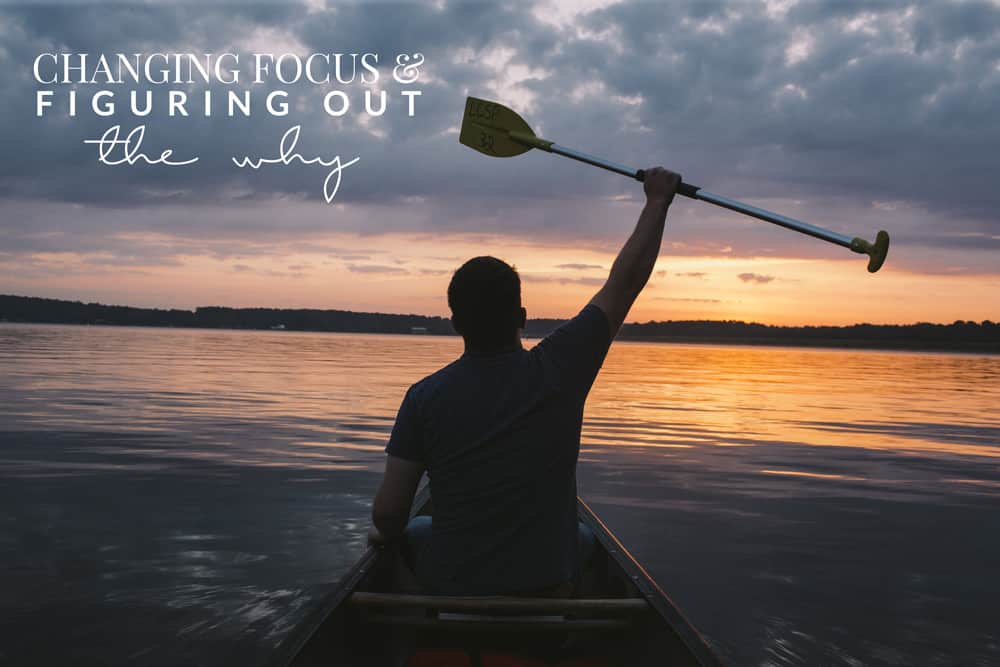 When we moved up to a small town, nearly into country living, last year – I knew it was for a reason. I knew this was the place we were meant to be. I had no idea why, and I had no idea when I would figure that out. Hell, if I would figure it out.
It's just meant to be, I thought.
I needed to slow down, I'd say.
I want to shift my focus, I'd think.
Those sentiments are all true. It was meant to be. I did need to slow down. And I absolutely needed to refocus. But where was the reasoning?
Why was it meant to be?
Why did I need to slow down?
Why did I need to refocus?
I had no answer.
So I carried on and hoped that some day, life would figure itself out. I hoped and wished for an answer. I felt lost. And all I could do was tell myself that somewhere, somehow – I'd figure this thing called life out. Maybe not for very long, but temporarily? Absolutely.
And it did. A little over a year later, life did figure itself out.
I don't know the future. I didn't figure out my next five years, next year or even the next month really. But I did understand the why. And that understanding, despite the fleeting reasoning that feels more like a mirage than an epiphany, is coursing through my veins. Pushing me forward and making me believe in things that I'd given up on months and years ago.
It was meant to be because it was here that I would find my calling. It was here that I would set plant both feet in a forest, take in the surroundings and feel like I was finally home.
I needed to slow down because the answer was right in front of me, just watching for me to actually see it. I knew that I loved being outdoors – this blog is called Hello Nature for a reason, I promise. And there is nothing more on this Earth that makes me feel more alive than being out under the sun.
And my focus? Pfft. Nonexistent. At least when it came to who I had become. I was still lost, daydreaming of the person I was years ago. Afraid of living, too scared to take a risk. Oh, how I ache for that version of me. I had so much worry and cared so much about what everyone (excluding myself) thought of me.
It's so simple and silly when I look at it now.
The answer always on the tip of my tongue and just outside of my front door, and under my feet, for the past year.
But I do believe things happen for a reason. I have to believe that. I have to believe that people suffer for a bigger reason than "it's just the way it is." And my struggles feel like they're a world away now because the why… the why is so easy.
Embrace everything.
Embrace the mud-streaked shoes and clothes, the mud under the fingernails, and the sore feet that follow a hike that leads to a breathtaking view on the top of a cliff overlooking a lake. Embrace the heat of the sun and the achy arms that come with a day spent kayaking on a pristine lake, surrounded by ducks and loons. Embrace the smoke scented hair, the cold showers, and the pit toilets that are a part of a weekend camping when technology isn't even a part of the conversation.
This is exactly what I plan to do.
And I am so excited for this next chapter of my life. I know it means a lot of changes, but I have never been so ready to put forth the hard work to make these changes. That is why I know this is exactly where I am meant to be. That is how I know I have finally figured out the why.
I'm also really eager to make these changes to this blog. While I love much of what is here already (and have every intention to keeping nearly all of it) – there is so much more to me that I am thrilled to be adding to these pages. Hiking guides, trail photography, gear reviews, lake overviews and so much more that showcases what the beautiful Midwest has to offer.