Want to save 30 days and $75? Trick your friends and your taste buds with this 48 hour faux dry aged steak hack!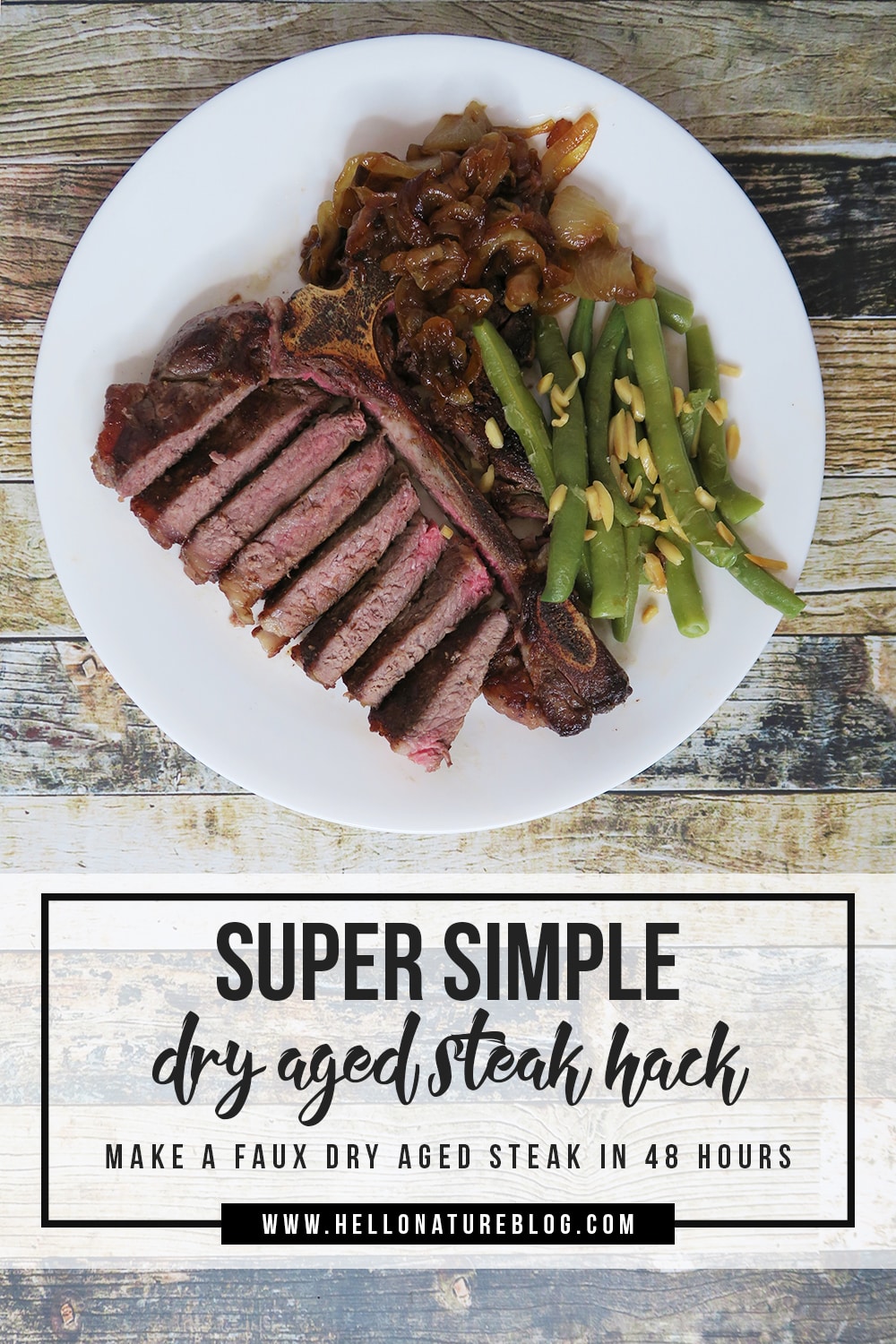 There is nothing better then a juicy, prime steak cooked to a perfect medium. Well, I guess there is some thing better….dry aged steak! The only problem is dry aged steak isn't carried most places. And if you can find it, it costs upwards of $75 a pound.
You can make it at home, but it takes up to 30 days and requires some expensive equipment. Well, not anymore. I discovered the perfect hack to make faux dry aged steak in your home at a fraction of the cost!
The secret is Koji Rice.
So what the heck is Koji Rice? It is the key ingredient in making Sake, Miso Paste, and Soy Sauce. It is also the key ingredient to an awesome faux dry aged steak. So how do we get this to work?
To quote the movie the Martian: We're going to science the shit of this.
Koji Rice contains a mold called Koji. Yep, I said mold. Side note: It is also the national mold of Japan.
It releases the enzymes proteases (that break down proteins) and amylases (that break down starches.) This breaking down of proteins is key to making your faux dry aged steak. It may sound gross, but basically you're going to partially decompose your steak. But… a little bit of Koji Rice powder and 2 days in the fridge yields a delectable treat for all steak lovers.
First you need to grind up your Koji Rice into a fine powder. I prefer to use our Ninja Kitchen System. It basically does everything!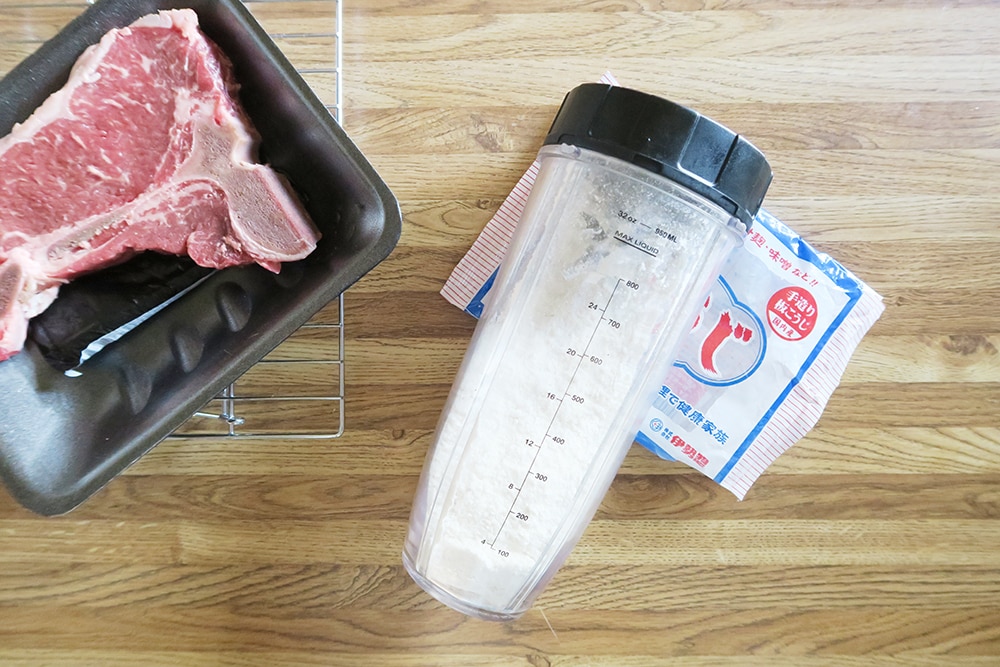 Next, liberally rub both sides of the steak with Koji Rice powder.
Now comes the waiting game. Place your steak on a wire rack inside a a baking sheet. Place the steak uncovered in the refrigerator. 48 hours later you have hacked your way to a faux dry aged steak that will rival store bought $75 a pound dry aged steak. And your cost? Approximately $9-$12 a pound.
Check out the difference between a 48 hour, Koji rubbed steak and a plain steak. The steak on the left has lost some of its moisture and has started to break down.
Related Reading: 80+ Grilling Recipes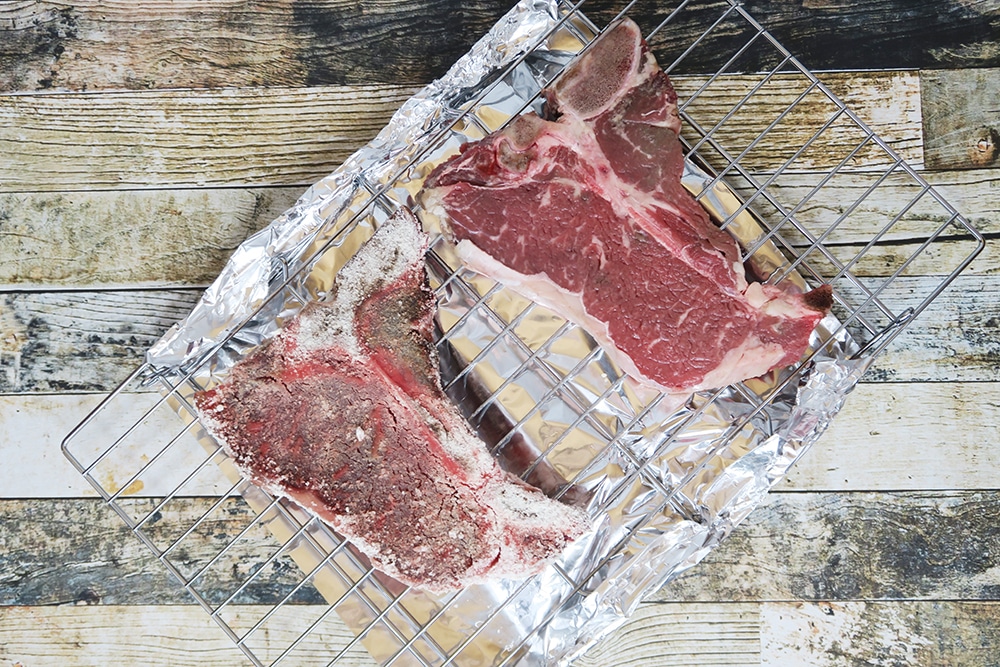 Take your steak out of the fridge and rinse off all of the Koji Rice powder. Season to taste and bring the steak to room temperature. This will ensure even cooking. The last step is to cook your steak to your desired doneness and enjoy!
I tasted the faux dry aged steak and normal steak side by side. The faux dry aged steak had way more flavor and was much more tender. If you have the time available, I highly suggest giving this faux dry aged steak hack a shot. You won't regret it.
Have you ever had regular or faux dry aged steak? Have you ever done any other crazy food hacks? Post it in the comments!
You might also like: