Need some inspiration for your bathroom? Check out our bathroom cabinet organization renovation! Simple and easy tricks to end the clutter!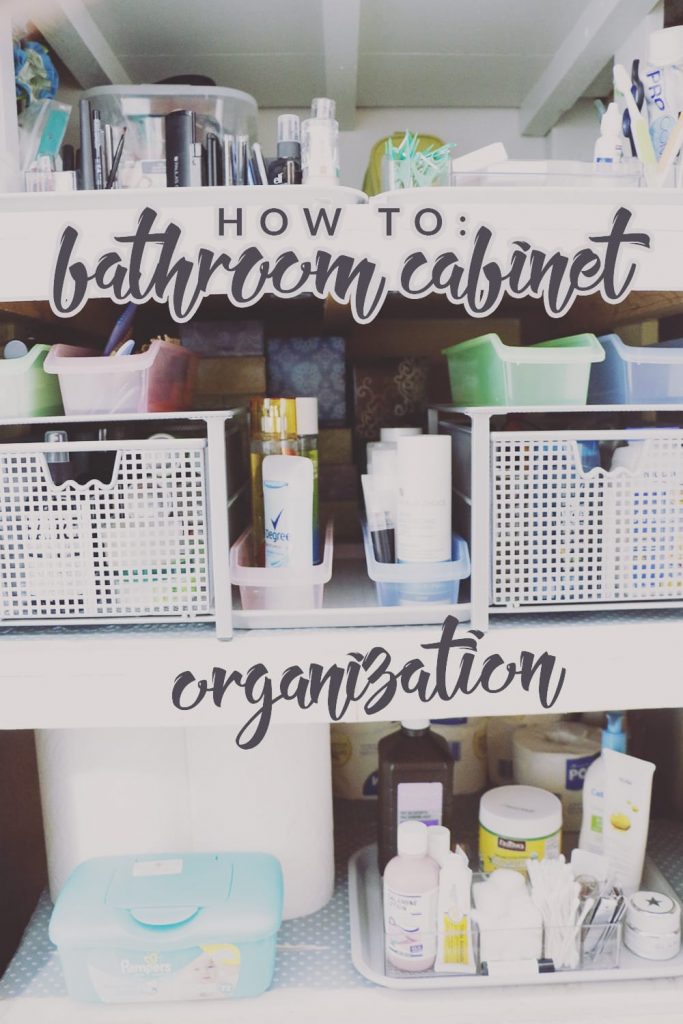 The longer I'm pregnant, the more nesting I feel like doing. I've purged my closet, we've reorganized and downsized in our shop, and now? Our bathroom has gotten a major overhaul, too!
I still have to post about the major bathroom renovation we did (new sink, toilet, and paint) but over the past month, we almost completely redid our entire cabinet thanks to some super helpful advice from Maeve's Method!
A few weeks ago, I saw that GoodHousekeeping.com was hosting a Spring Cleaning Challenge and I pitched our bathroom cabinet with all fingers and toes crossed that I would get picked! Turns out, our disaster of a cabinet was a good fit so I was able to receive some personalized advice on how to turn our black hole shelves and drawers into an organizational masterpiece.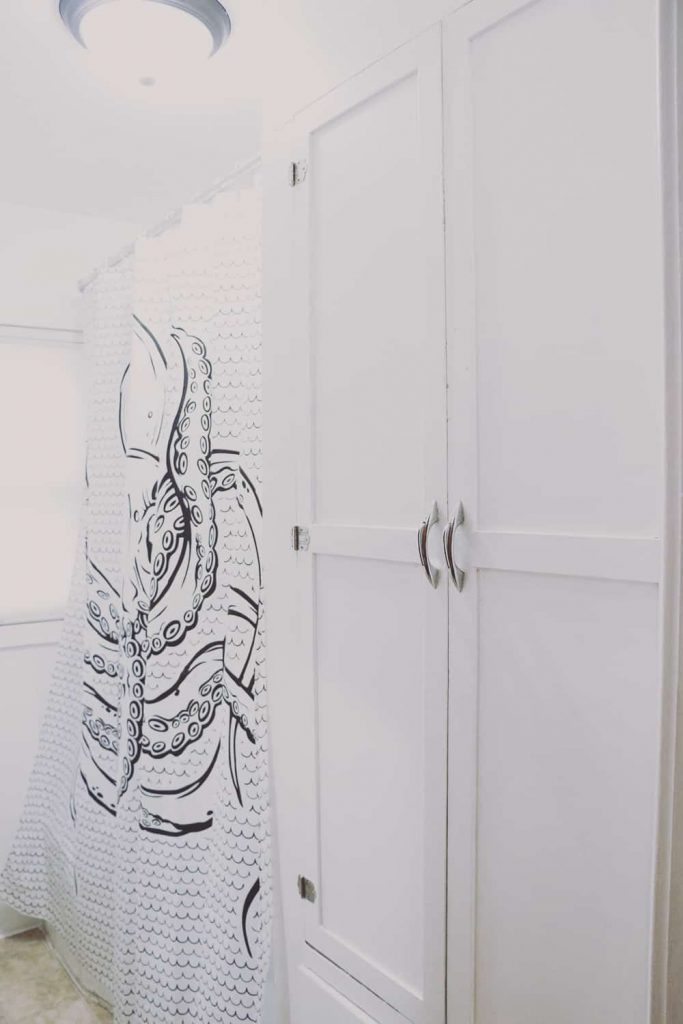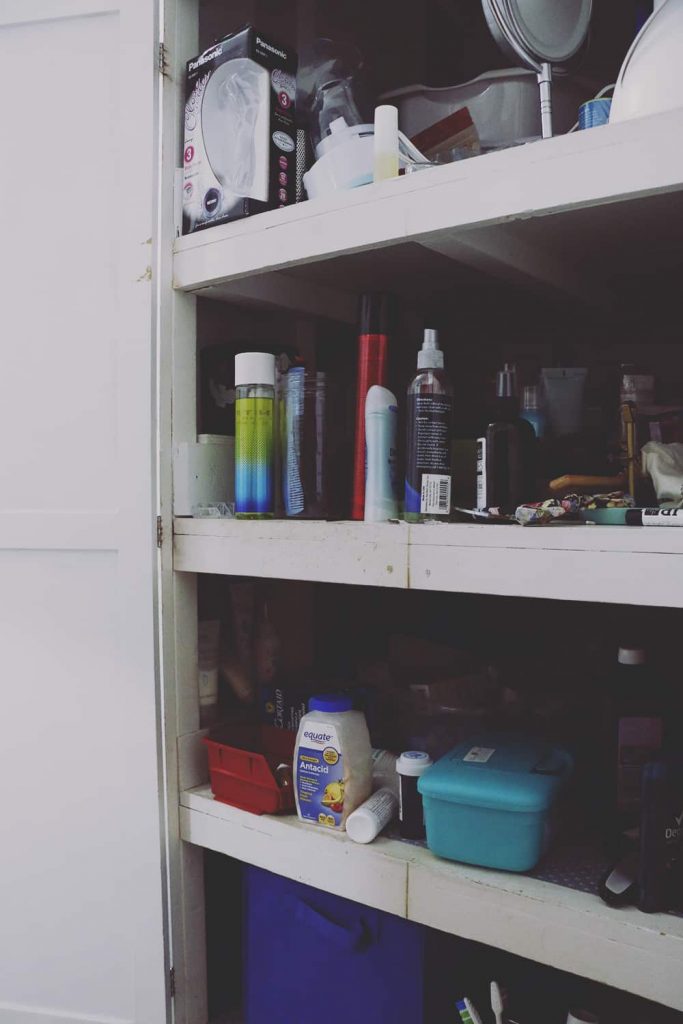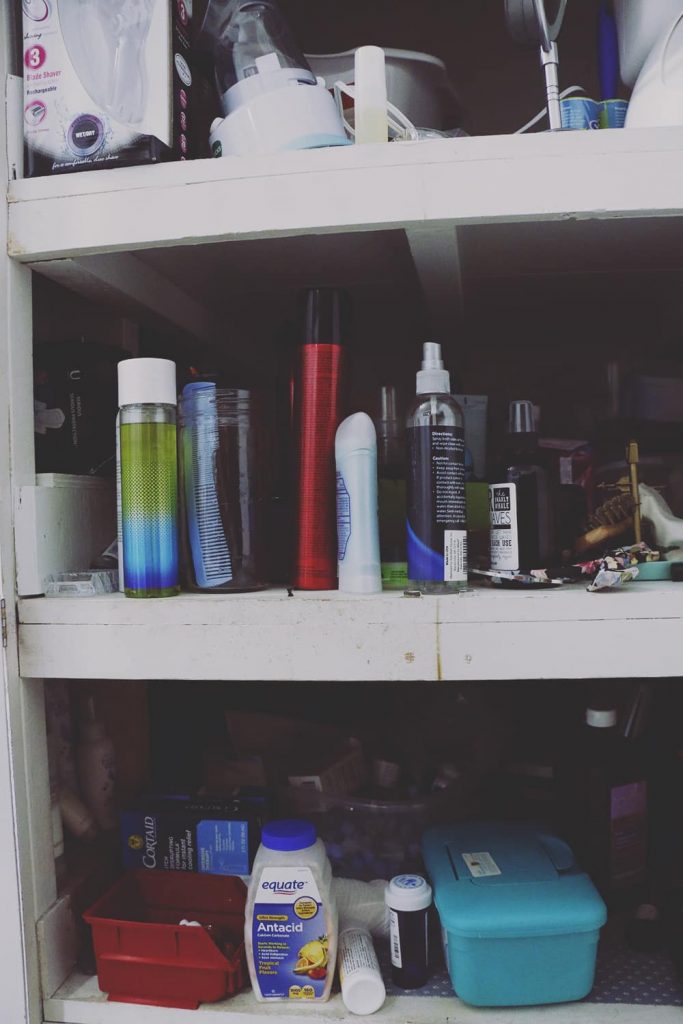 The reason I pitched our bathroom cabinet is pretty simple. I actually fell in love with our bathroom cabinet when we moved in because the bathroom was so tiny, yet this cabinet was massive. So much storage, I thought! The shelves were deep, the drawers were wide, and I was certain this would be the perfect solution for all of our stuff.
And yet, as we've lived here, it's continued to turn into a version of something like the pictures above within a week or so of "organizing" it.
But now? Nearly everything has a home and we even have a shelf that we can dedicate to the baby as the time gets closer! It's currently filled with an overflow of paper towel and toilet paper, but I'm so excited to know that we have plenty of room for all the baby supplies when we need it.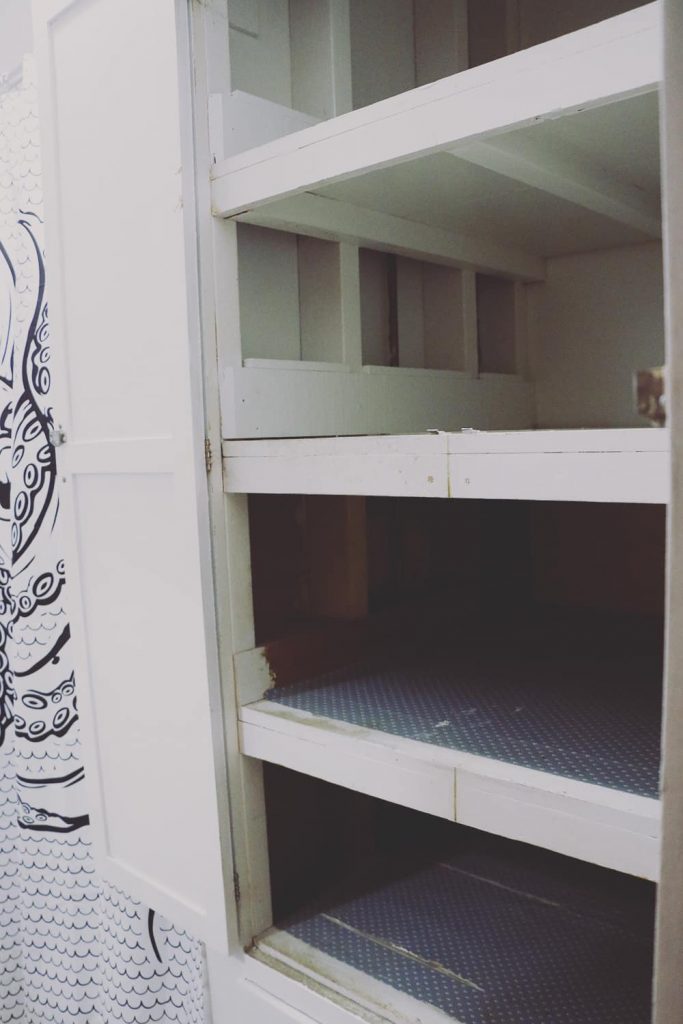 With Maeve's advice, the first thing we did was clear everything out of the cabinet. We put similar things together and sorted through everything we had in there. Expired items were tossed. Things we never used were donated. And then we saw pretty quickly that I would need more room than Nathan would so it was decided that I would need more of the space than he would.
I would have loved to have painted the inside of the cabinet as this wasn't something we did with the other renovation, but we just didn't get around to it. Maeve had suggested to paint it white to bring more light in there. I know she's right since half of it is already painted white and those shelves are SO much easier to see. Maybe we'll do it in conjunction with painting the nursery in the Spring!

After that, the organizing began! Maeve had some awesome recommendations for ways to utilize the space including drawers, caddies, bins, and trays. We pretty much used every single suggestion as we had so many things of differing sizes.
For the trays, we opted for a bulk pack of cafeteria trays that I can spray paint in the Spring. I chose these because of A) their price and B) the ability to personalize them. One of her suggestions was to have everything organized for each person and I thought this would be the perfect way to do that without spending a fortune. I can't wait to add some more pops of color to our bathroom cabinet!
We also got these tri-colored plastic bins that serve SO many uses. They're holding combs, makeup brushes, body sprays and my facial cleansing routine. We have a few leftover, too, so even as we add items – we have the storage for them.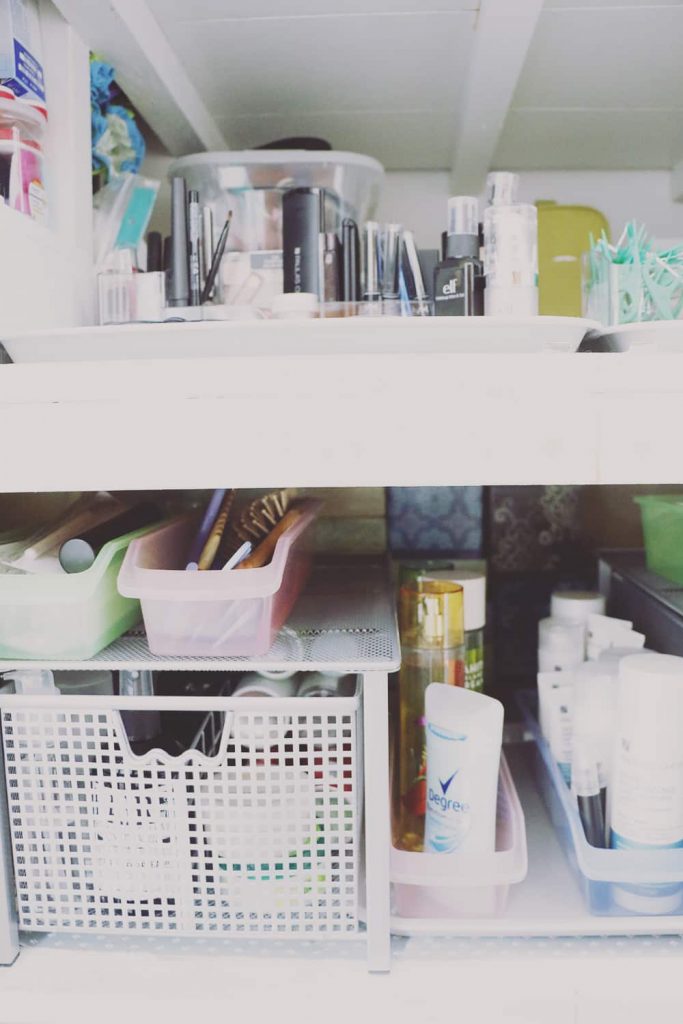 For toothbrushes, tweezers, first aid, makeup and other smaller items – we found a really awesome three piece medicine and bathroom cabinet organizer set. I wasn't sure if we'd need all three and even though they ended up being bigger than I expected, it didn't take long for us to fill them up. I love how heavy duty they are and how much they hold.
We also added some wireless touch lights (shown below) to the lower and darker shelves to bring in some more light like Maeve suggested. These things are AMAZING! They add some much needed light and just stick to the shelf above. No wires, no hassle. Just some batteries and you can actually see all the way into the shelf.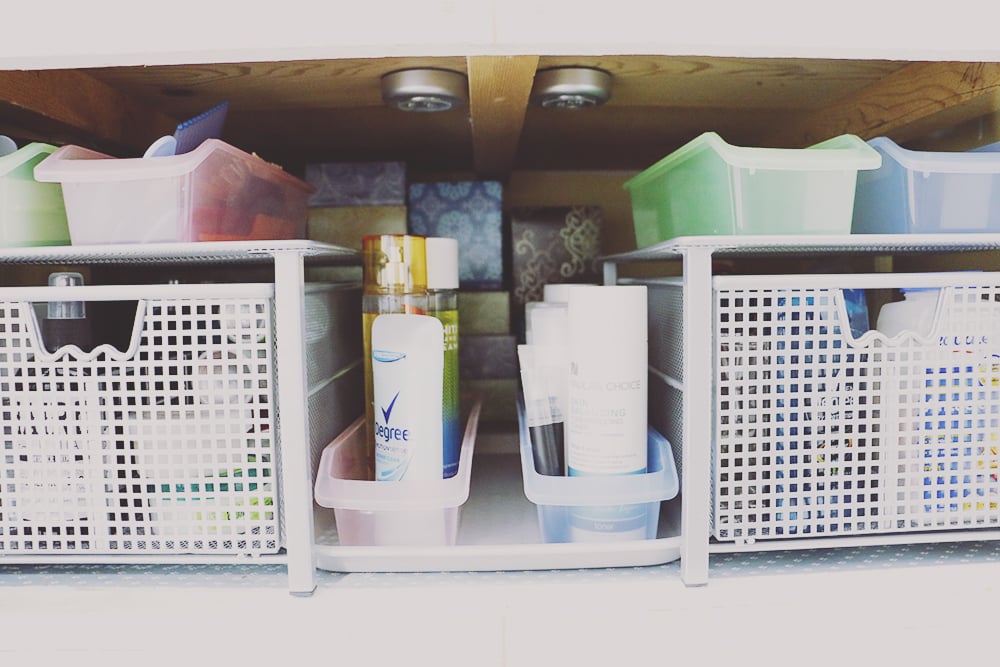 And the last addition is my favorite addition: mesh cabinet basket drawers. When Maeve suggested adding drawers to the shelves, I wasn't sure they'd help with my organizational woes. But I wanted to give it a shot anyway and I am SO glad I did.
These drawers are perfect. Nathan and I each have a drawer which separates our items perfectly. The drawers are divided which meant I could put some of my short bottles standing up right on one side and lay the taller bottles that didn't fit standing up on their side. All of my hair products (and then some!) fit into one drawer and now it looks so much less cluttered. I want to buy these for all over our house, especially as they come in different sizes and can be stacked.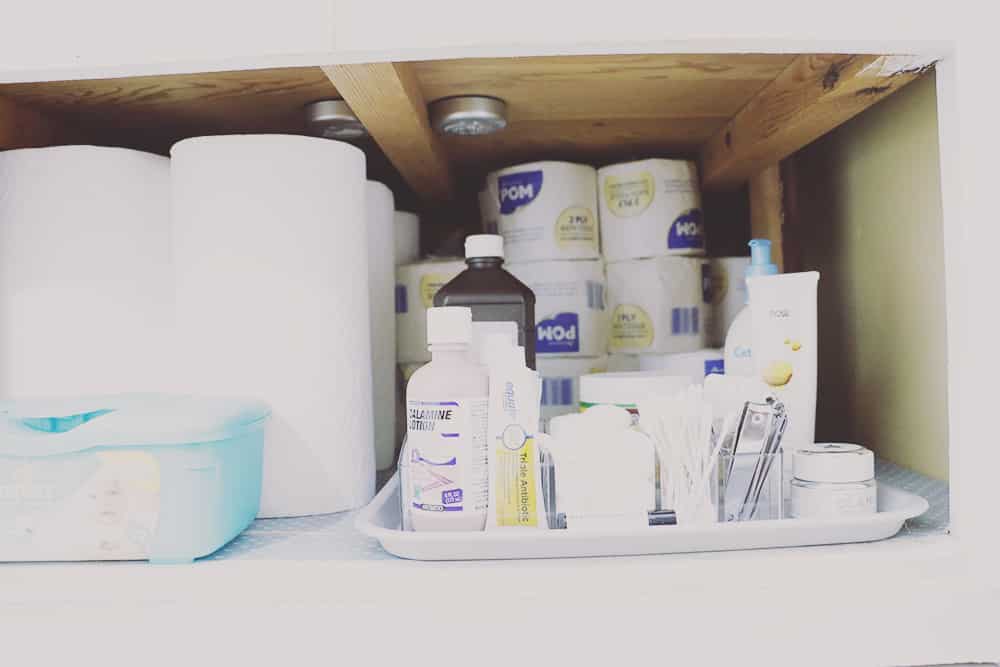 We still have a lot I'd liked to do (like the paint and adding in a true baby shelf) but I can't even begin to put into words how excited I am to actually have a bathroom cabinet I enjoy opening. It's been amazing to be able to open it and find everything I need without having to dig around something.
I'd love to know if you have any awesome bathroom cabinet hacks or bathroom cabinet organization tips!