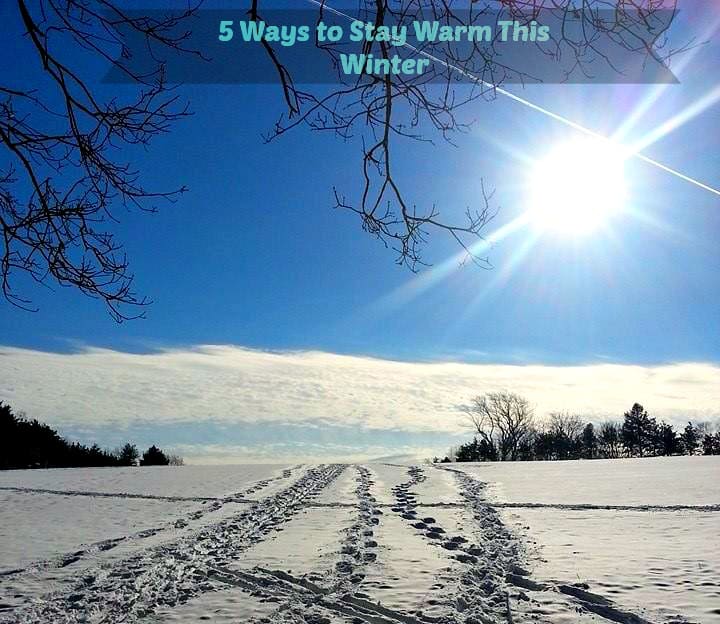 I truly love living in New England and being able to experience all four seasons – even winter! In fact, winter just so happens to be one of my favorites. I don't mind the cold, I love the snow and there are a ton of winter activities I enjoy. I know most folks don't like the cold and would much rather be on a warm sunny beach somewhere, but just because it's freezing outside doesn't mean you need to freeze too. There are in fact ways to stay warm in winter and have fun too! So, without further adieu, here are my five favorite ways to stay warm in winter.
1. Stay Active
I get it, it's cold, it gets dark early, there's snow and ice on the ground and all you want to do is curl up under a blanket and hibernate. But some of my absolute favorite outdoor activities are ones in the snow. Skiing (both downhill and cross country), hiking, ice skating and snow shoeing are all things I do to stay active in the winter. Instead of hating on the snow, I encourage you to take a hike or snow shoe during or after a snow storm. I assure you the scenery is stunning and beautiful, and despite the chilly temps, all that moving will warm you right up into a sweat.
2. Dress in Proper Gear
Now, in order to enjoy all those fun outdoor activities outside, you need to wear the proper gear! Those cute thin stylish gloves, scarves, hats and mittens you picked up at Target or Walmart aren't going to cut it. You may look cute and all, but you won't stay warm. You need both windproof and waterproof gear from head to toe. Some of my favorite brands are Patagonia, Orage, Arcteryx, Ibex, SmartWool and The North Face. I promise with the proper winter weather gear, you will stay warm!
3. Make Hot Cocoa
After all those winter outdoor activities, there's nothing better than coming inside to a warm cup of hot cocoa. Personally, I enjoy making my own rather than the box stuff. My husband and I stumbled on a great recipe last year and since then I've played around with the recipe. Here's our favorite recipe for a homemade Hot Cocoa That's Exploding With Superfoods! It's healthy, delicious and it'll warm you up from the inside out.
4. Make a Fire
There's nothing I love more than the sounds and smells of a crackling fire. When my husband and I were buying our house, one of our mutual "must-have's" was a fireplace. We scored big and found a house with both a real fireplace and gas fireplace – it's the best of both worlds. If you have the means to make a fire, do it! If not, find a local restaurant or hotel with a lounge that has one and take advantage of the ambiance and warmth.
5. Cuddle
I'm a sucker for snuggling and cuddling! And in the summer, it's always too hot and sticky to cuddle. The winter is the perfect time to cuddle and stay warm. Whether it's with your significant other, a cat or dog, favorite stuffed animal or even by yourself in your favorite sweats under a cozy blanket – get warm and stay warm by cuddling up!
While spring and summer may always be your favorite seasons, I urge you to give winter a fighting chance at being a time of year you enjoy too. Embrace the beauty the season has to offer and take a whirl at one of my tips to stay warm this winter!
[Tweet "5 Ways To Stay Warm in Winter"]