Make your October even better with these 30 acts of kindness that you can easily do for friends, family, neighbors, and yourself!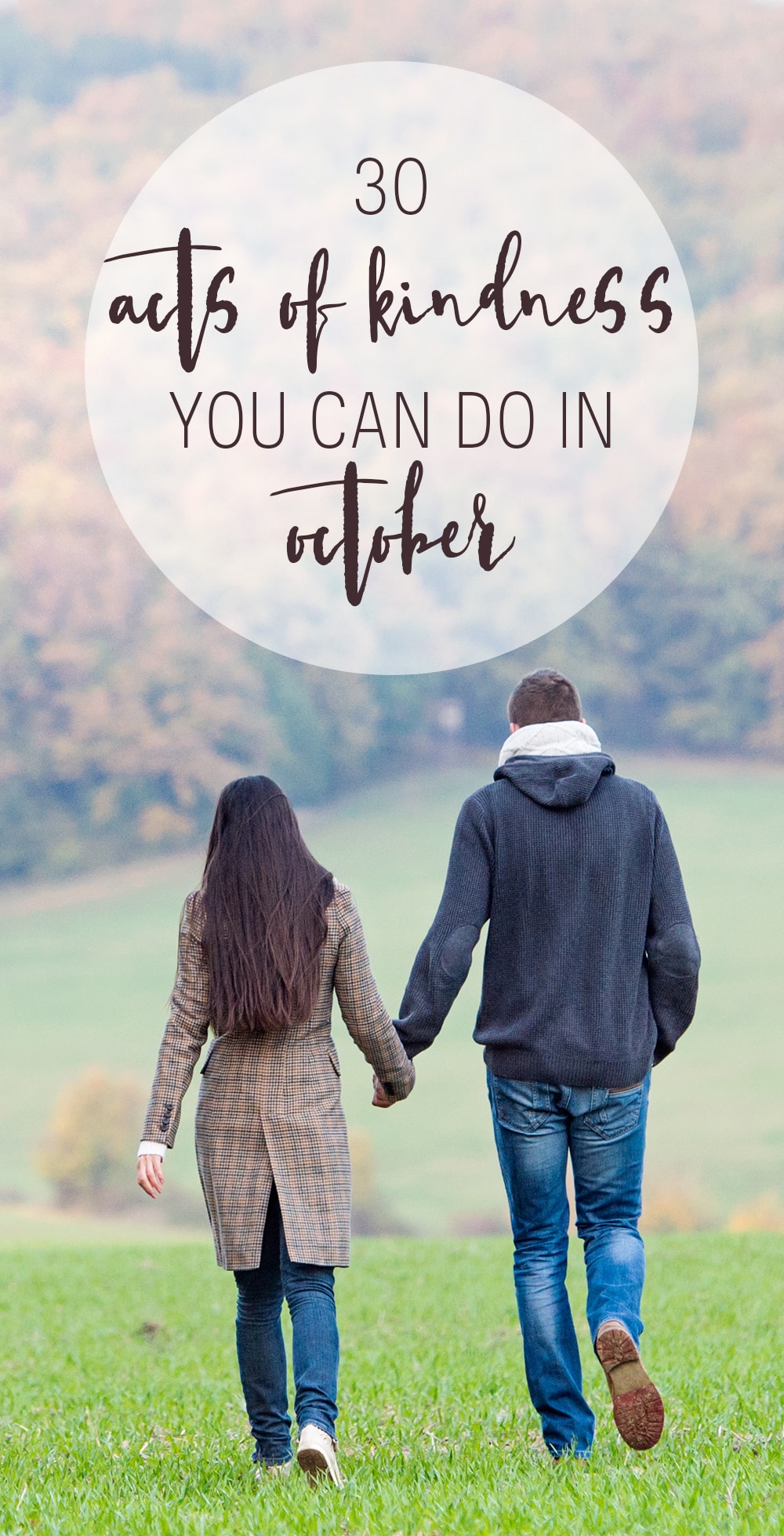 Happy October!
This time of the year, I feel like I finally slow down long enough to think about my actions more. The hustle of summer is gone and the slower paced fall is starting to settle in, giving me time to reflect on the year so far.
Lately, I've been thinking about kindness and gratitude.
I consider myself to be a rather grateful person and generally, also rather kind. I complete acts of kindness. And I feel gratitude for things in my life.
But not consistently.
And definitely not with as much intention as I'd like.
So I wanted to remedy that. Especially before I was truly trying to teach Lily these things. I want her to see how I treat myself and others and want that to be a shining example of what I want for her.
One way I thought to help myself be more mindfully kind was to give myself a set of acts of kindness to complete each month. So I set out to write down some ideas for the month of October and it got pretty lengthy.
My list of ideas ended up being 30 acts of kindness. And while I would love to accomplish that, it sounds a little overwhelming. So I kept the list of acts of kindness at 30, but set my goal a little lower.
The full list is below. After the list, I have what I'm doing for the month and how you can join me!
30 Acts of Kindness : October Challenge
Compliment a stranger
Buy a cup of coffee for someone
Bake someone a sweet treat
Make someone a handmade gift
Paint a kind message on a pumpkin
Feed the birds
Gift someone a book you love
Send someone a card
Leave change at a vending machine
Donate something to someone in need
Pick up trash in your community
Make a meal for a loved one
Rake leaves for a neighbor
Donate a coat
Hold open the door for someone
Buy local instead of from a larger retailer
Treat yourself to something special
Lend a hand to a parent in need
Leave a generous tip
Let someone checkout before you
Tell someone why you love them
Devote technology free time to someone
Send anonymous flowers to someone
Give someone a "just because" hug
Call an old friend
Offer to run an errand for someone
Compliment yourself
Send a note of appreciation to someone
Smile at someone for no reason
Reach out to someone new
Here is what I'll be doing all month long:
Using this list, my goal is to complete at least 10 of these acts during the month of October. More is always better, but this is what I'm confident I can semi-easily complete.
I'll be sharing them on the blog + on social media when I complete them, using the hashtag #HNKindness
And I figured why not share? If you want to join me, here is what you can do!
Download the printable below
Commit to however many acts you feel like you can complete.
Share your completed acts and interact with the hashtag #HNKindness on social media or in the comments of this post.
Easy peasy!
I'd love to have you join me in this challenge. I feel like kindness is contagious and my hope is that I (or we!) can mindfully spread it around like glitter!
You might also like: