In need of a wardrobe change? See why my favorite store to get like-new clothing and make the greener clothing choice is thredUP!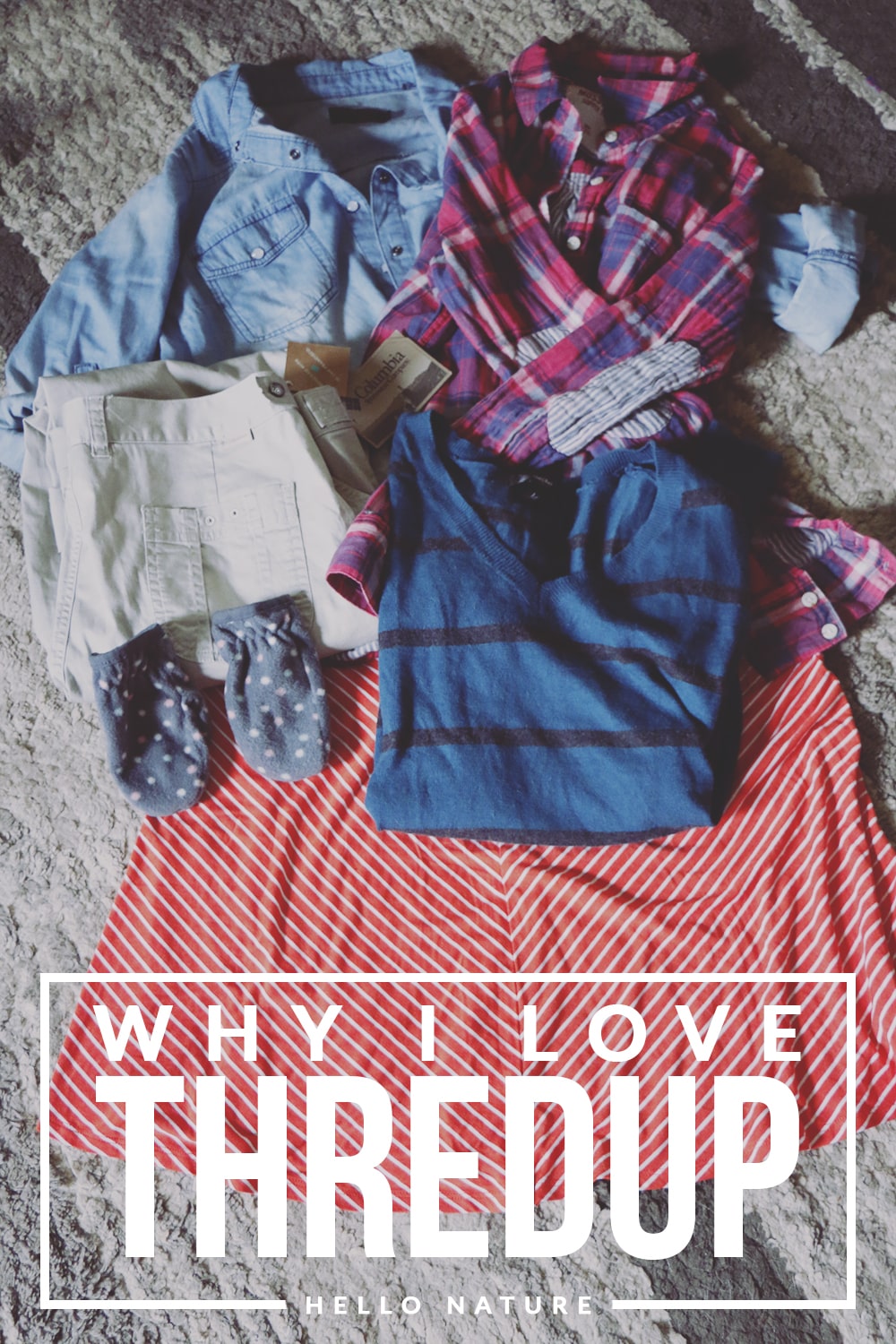 Today officially marks 37 weeks and while I'm pretty cool with this little girl taking all the time she needs before she's ready for her big debut, I'm getting the itch. The itch to get back to some of my normal clothes. After wearing maternity clothes and Nathan's shirts for the past couple of months, I'm ready for some of my early pregnancy or even pre-baby clothing.
I have no illusions that I'll just magically fit into all of them after she's born, but I'm ready to at least work towards it! I decided that I'd save money during the pregnancy by only getting a few maternity staples for my wardrobe. It worked great, if you're okay with a pretty bland wardrobe. And I was… for awhile. But now that we're here, full-term and just waiting for when she's ready – I'm kinda bored with it.
So instead of spending more money on clothes I won't be wearing for long, I decided I'd get some new clothes to shake up my wardrobe for after she's here. And since I wanted to make it as inexpensive as possible, I headed to thredUP. AKA: my new favorite store.

Pullover Sweater: Originally $33.00 | Paid: $4.99
thredUP has a ton of merchandise! Seriously. They are truly the best resource for like-new women's and kids' clothing. But even with the assortment, it's so easy to find what you want. Just search for your favorite brands and then sort by size and color.
Looking to get rid of clothes instead? Simply order a thredUP Clean Out Bag, fill it with the items you no longer want, and place on front of your front door for pick-up. It really could not be any easier to get rid of the things you no longer want in a responsible way.
While they did have a maternity section, I opted to go with clothes I hoped would fit now and would definitely fit after she's here. Luckily, everything fit just as expected! But even more so, I found some new clothes that will make the end of this pregnancy more fun and still be perfect for me after the big day.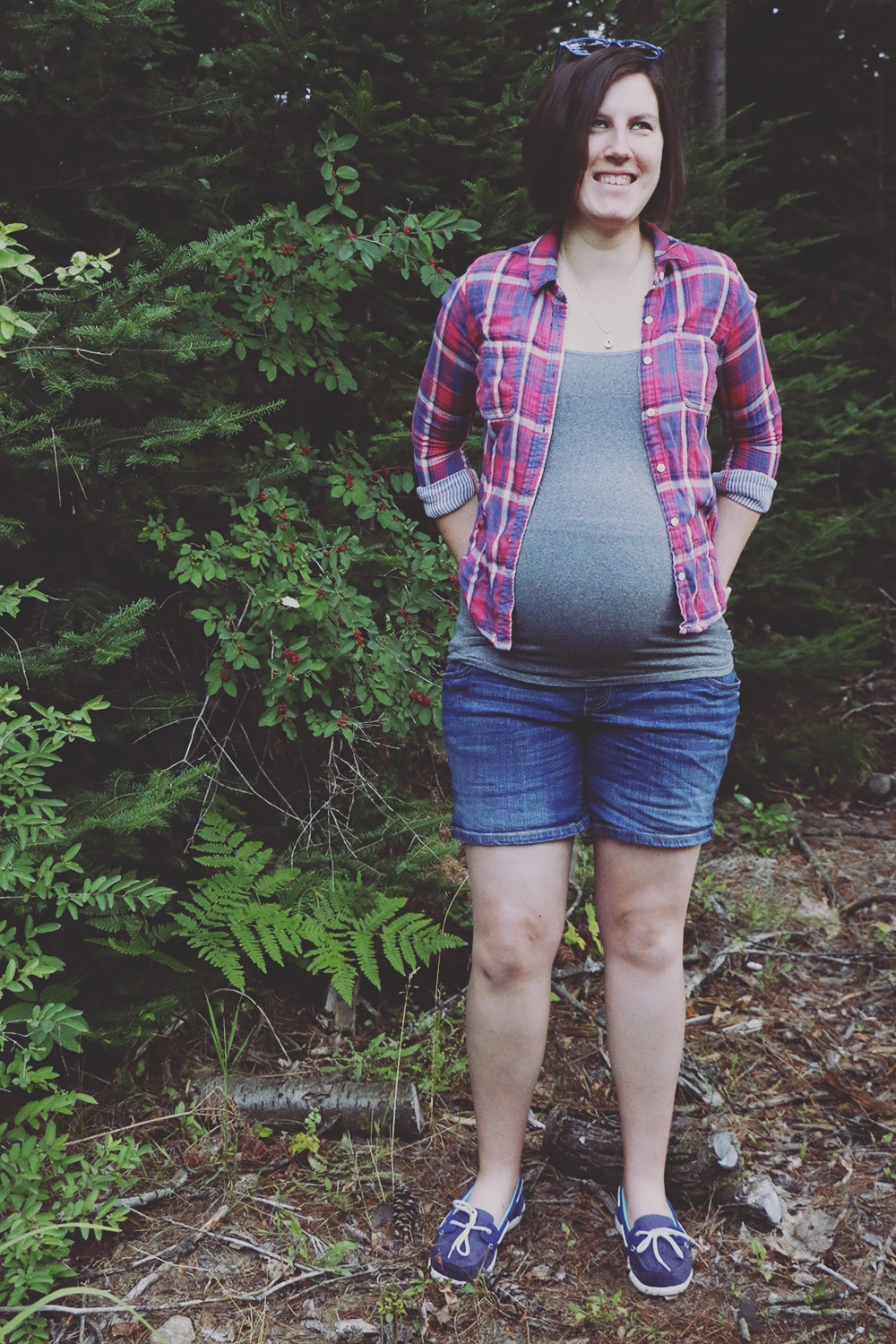 Long Sleeve Button-Down Shirt: Originally $22.00 | Paid: $5.99
One of the biggest reasons I LOVE thredUP is because they really define conscious consumerism. As of the end of 2015, they had upcycled 14,009,055 items. Not only that, but every Clean Out Bag sent to thredUP keeps 206lbs of CO2 from entering the atmosphere, saves 17,916 gallons of water, and keeps 24 items out of landfills. Crazy, right? I love when the green choice is the easy choice.
Skirt: $23 | Paid: $5.99 // Long Sleeve Button-Down Shirt: $36.00 | Paid: $9.99
Everything I purchased was in the exact shape that thredUP said it would be, too. Most of the items I got had the following condition: This item is in excellent condition. You might mistake it for brand new! And this could not be more true! No fading, holes, frays, or anything that would indicate heavy wear.
Kids Mittens: Originally $11.00 | Paid: $1.99
Of course, I had to get something for our little girl when I saw these were such a steal for Columbia gear! I also got a pair of Columbia hiking pants that weren't exactly bump friendly (hence the non-existent photo.) These were the best deal by far as they were originally $60.00 and purchased for $21.99 with tags still on! I can't wait to head back out into the woods and use them.
As if thredUP's steals weren't good enough already, they tend to have even more deals on select clothing. But if you're a new customer, I've got a really exciting deal for you! I'd click over as fast as I could to find your next favorite wardrobe addition ;)
Use WOW40 at checkout for 40% off your ENTIRE order!