This southwestern bean salad recipe, or at least some version of it, brings back so many good memories for me. It dates back to when Nathan and I were still dating and went camping on a regular basis. I can still imagine eating it by the campfire, warming my toes by the grates of the fire pit and listening to the cool night fade from children's laughter to the echo of the tree frogs.
This became our go-to recipe as soon as we made it. It's easy, delicious, and incredibly filling. It also paired so well with so many dishes! Tacos, burritos, nachos, chips and dip. It was even delicious on it's own as a side dish. What made it even better was how the flavors marinated together the longer it sat. By the end of the camping weekend, the last bites were always the best.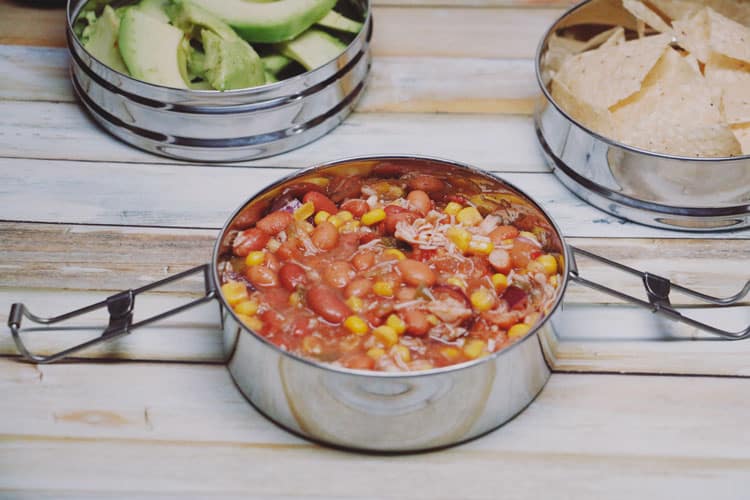 Camping is done for the season for us since we're not adventurous enough for Winter camping, but that doesn't mean this recipe gets retired. This southwestern bean salad recipe is perfect no matter what time of the year it is and you definitely don't need a campfire to make it better. (But who am I kidding – campfires make almost everything better!)
If you're looking for a quick dish to put together that's protein packed with a bit of a spicy flair, this is it. It also makes a ton so you'll have plenty to share with your loved ones even if you indulge in it a little too much. Of course, I'd never know anything about that ;)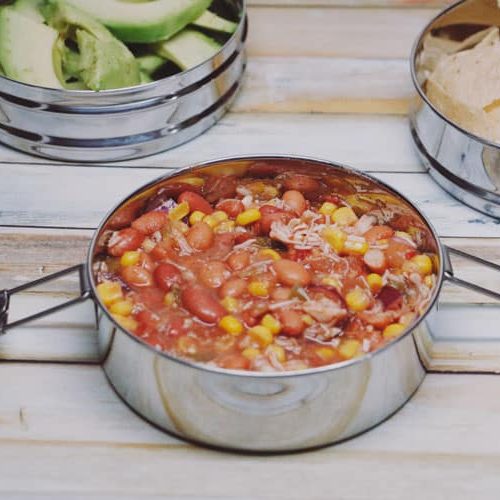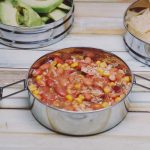 Southwestern Bean Salad
Ingredients
30

oz

Pinto Beans

15

oz

Kidney Beans

15

oz

Corn

7

oz

Green Chiles

12.5

Chicken

Canned or Finely Shredded

1/2

Cup

Onion

Chopped

1

Cup

Salsa

1/2

Tbsp

Chili Powder

1/2

Tbsp

Cumin
Instructions
Mix all of the ingredients together and enjoy!

Let sit overnight for the best flavor.

Enjoy as is or serve with additional ingredients: cheese, avocado, sour cream, green onions. Great for tacos, nachos, burritos, chips and dip, or even as it's own dish!
Recipe Notes
Change up the beans if you're not a fan of the ones we used!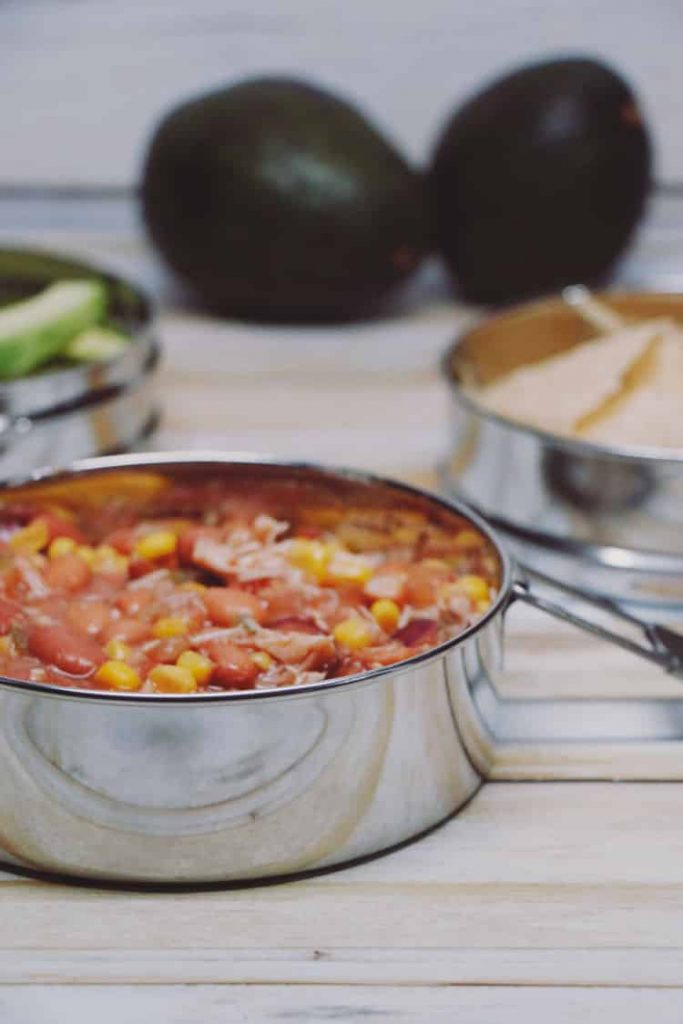 As I said, the recipe yields a ton of deliciousness. But if you're looking to bring just a small portion of it with you on your next trip or maybe for lunch, I'd highly recommend the ECO Adventure Kit from ECOlunchbox. I talked about them a little bit a few weeks ago when I shared how to make your next road trip healthier and I am still SO in love with these products.
The ECO Adventure Kit is fantastic for so many reasons though.
It's a stacking box which means you can bring along your extra snacks with it. Avocados and chips are favorites for me!
It comes with a pot gripper so you can heat it up over the campfire or even a toaster oven. Perfect for on the go!
Lunch is even easier since you get an awesome spork with it as well.
In case you missed what they're all about, here's a brief overview. ECOlunchbox makes plastic-free, non-leaching stainless steel lunch boxes and handy cotton lunch bags to provide waste-free & healthy meal-time solutions for everyone. Perfect for traveling, perfect for lunch time, and perfect for a greener way to enjoy your food. Be sure to check them out on Twitter, Facebook, Pinterest and Instagram, too!
I'd love to know: what's your favorite bean dish?