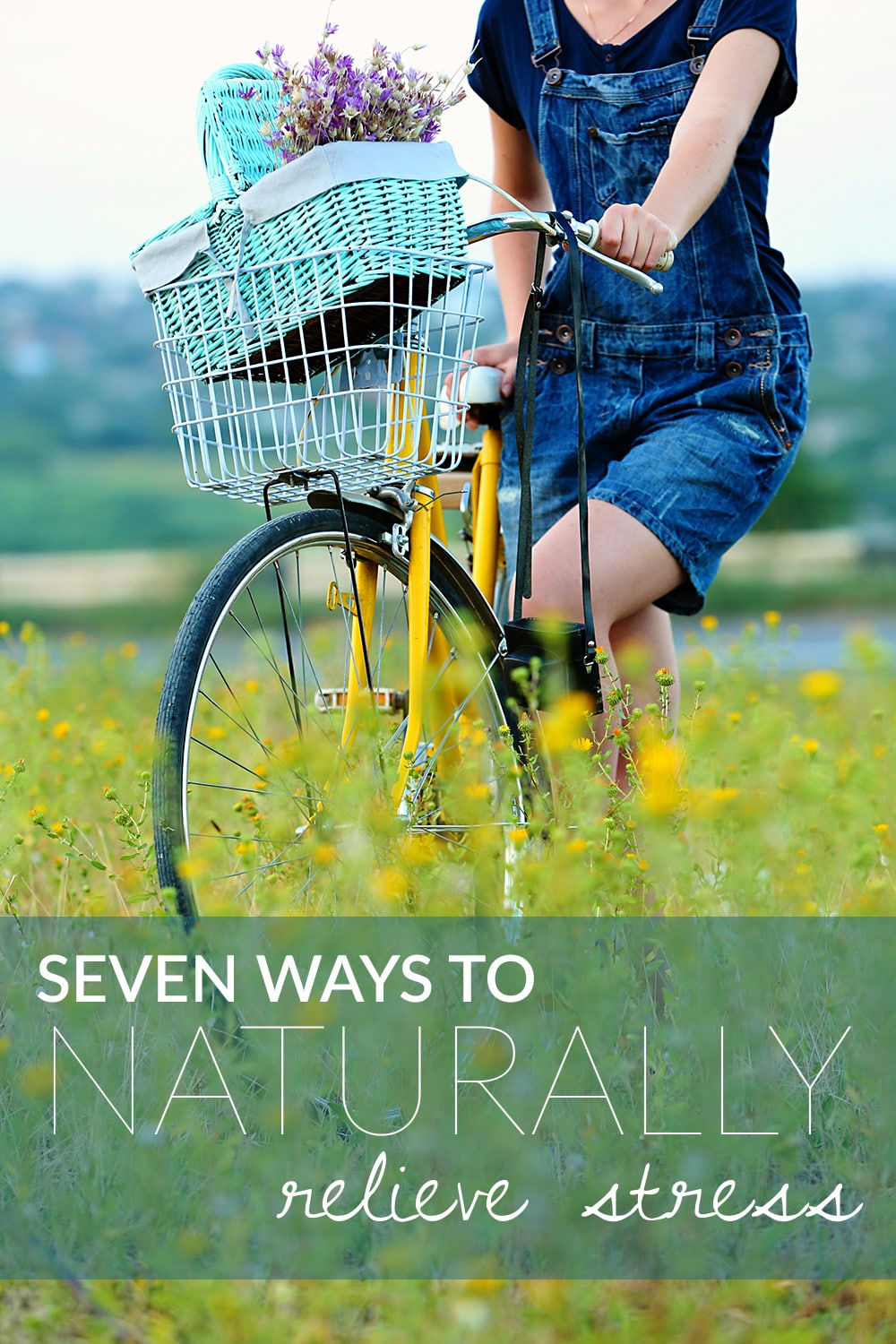 Stress is a common word in my daily vocabulary. Between running our own business, running this blog, buying a fixer upper house last year, planning for the future – I'm regularly stressed. Usually, it's not bad stress though. Most of the time, it's just the right amount of stress to keep me motivated and moving forward with my goals.
Even so, I always prefer to naturally relieve stress when possible. I've spent a lot of time figuring out what works best for me and what doesn't. For the most part, taking care of myself and ensuring that I maintain healthy habits is enough to maintain it. But sometimes, I need a little bit more for when it gets to be overwhelming so I thought I'd share my tried and true methods to naturally relieve stress.
Aromatherapy. Aromatherapy is a a great way to lessen the strain that stress is putting on you. You can boost your mood, lessen anxiety, and even improve your focus. Not sure which oils to use? Check out this Introduction to Essential Oils for different oils to use for different moods.
Get plenty of rest. Sleep is probably one of the biggest contributors when it comes to my stress. If I don't get enough sleep, I have a much harder being rational when I'm under a lot of pressure. While I try to get enough sleep every night to make sure this isn't a factor, it doesn't always work. And since I'm not much of a napper, sometimes resting with my eyes closed for 15 minutes is enough.
Connect with nature. I love unplugging and leaving the responsibilities of owning a home (the piles of laundry and dishes, the floors that need to be swept, the windows that need to be washed, etc) behind to go outside. There's nothing quite like a sunset, a cool breeze through your hair, the smell of the forest around you, or the feel of sand beneath your feet to naturally relieve stress.
Exercise. Exercise is probably one of my favorite ways to relieve stress. Not just a leisurely walk, either. The get your blood pumping, feel it in your muscles kind of exercise. And if I'm not up for a rigorous workout, I opt for yoga. Both options leave me feeling refreshed and better able to handle whatever I'm going through.
Count your blessings. One of the reasons that I do the Things I'm Grateful For series is so I can look back at all of the good things happening in my life, especially when things aren't so good. I love to take a moment to reflect on everything that I have to be grateful for – big and small – when I'm feeling stressed or anxious. It gives me a reason to seek out that silver lining in whatever it is I'm going through.
Do something for you. I'm really guilty of putting other people first so when it comes to doing something for me, it can feel a little unnatural. But when I'm stressed, I need it. I like to write in my journal, grab a cup of tea and a good book, put on my favorite movie, go for a walk, get a massage, or snuggle up with my pets when I'm stressed. It gives me time to worry about myself and focus on being the best I can be.
RESCUE products. These are the newest addition to my stress relief toolbox. I'm not much for taking medication to help me relieve stress, but the RESCUE products are an exception. Not only do they help relieve stress, but they are also natural and homeopathic and they aren't habit-forming. RESCUE has a variety of stress relief products that come in the form of Pastilles, Sleep Liquid Melts and Pearls. They can be found at CVS, Walgreens, Whole Foods, Sprouts and wherever you find natural products.
I've tried the RESCUE Pearls so far, and I love them. Just take one, let it dissolve on your tongue, and enjoy the citrusy aftertaste that precedes stress relief. I'm excited to try the RESCUE Sleep Liquid Melts as well since insomnia isn't something new to me. RESCUE products are a great way to naturally relieve stress.
And if you're interested in trying these, check out this Buy One, Get One coupon!
Now I'd love to know:
How do you naturally relieve stress?
I was selected for this opportunity as a member of Clever Girls and the content and opinions expressed here are all my own.