This warm and gooey salted caramel apple dumpling just screams comfort food on a crisp Autumn day. Perfect with ice cream or on it's own!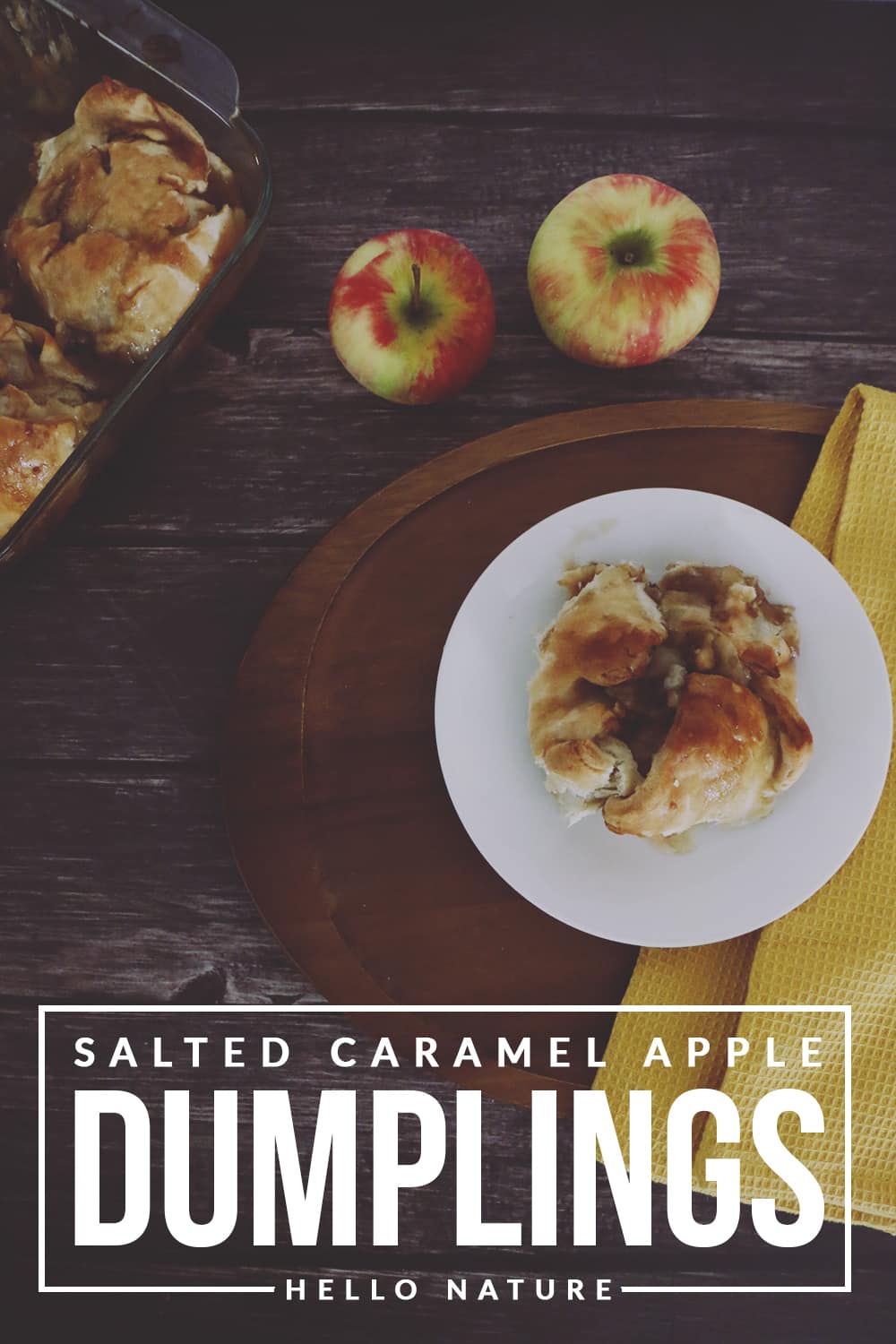 A few weekends ago, we went apple picking. Truth is, I'm not really sure why we did. It is kind of a tradition. And we were able to meet up with some friends we hadn't seen since Lily was born. But we actually had zero plans on what to do with our apples.
No big deal if you're only getting a couple. But when you walk away with 40lbs, it's a different story.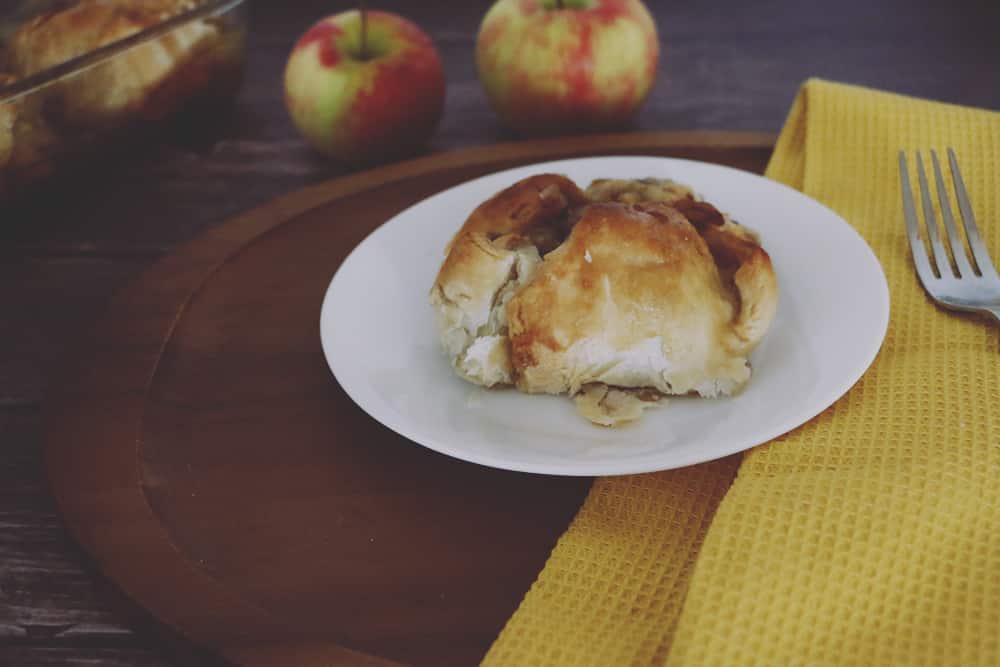 Other than eating them here and there, we've only done one thing with them though: Salted caramel apple dumplings.
I don't even know how to put into words how good these are. Maybe it's the chill in the air or the fact that I haven't had pie in a long time, but these have been the key to my foodie heart this past week or two. They're ooey gooey and just so delicious.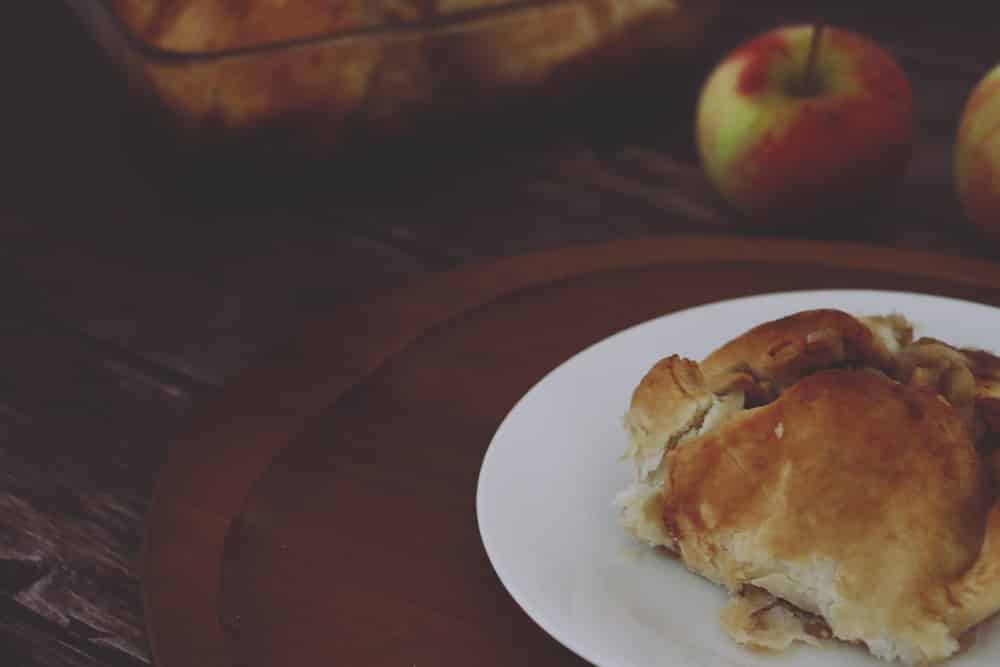 Salted Caramel Apple Dumplings
Ingredients
4

Large Apples

1 2/3

Cups

Brown Sugar

Packed

1

Package Prepared Pie Dough

1

Cup

Caramel

3/4

Cup

Water

1/2

Cup

Pecans

Chopped

1

tsp

Salt

1

tsp

Cinnamon

1

tsp

Nutmeg

Flour for Rolling Dough

Lemon Juice for Apples
Instructions
Preheat oven to 425 degrees.

Peel and core 4 apples. Place in bowl with water and lemon juice. Set aside.

Combine both pieces of prepared dough. Roll out to 14 inch square on floured surface.

Cut dough into 4 squares.

Combine caramel, salt, cinnamon, and nutmeg in a medium sauce pan.

Stirring constantly, cook on medium high heat until caramel is melted. Remove from heat.

Place 1 apple on each dough square. Fill evenly with caramel mixture.

Bring 4 corners of dough to top of each apple and pinch together all seams. Cut off any excess dough.

Place apple dumplings in a 9 inch square, glass baking dish.

Combine brown sugar and water in a medium sauce pan.

Stirring constantly, cook on medium high heat until sugar is dissolved.

Once done, pour the mixture over the dumplings.

Cook dumplings for 40 minutes or until you can easily pierce the apple with a fork and the dough is cooked. While the dumplings are cooking, spoon brown sugar sauce over the dumplings every 10 minutes to prevent burning.

Remove from oven and let cool 10-15 minutes before serving.

Serve with whipped cream, ice cream or alone.
Nathan and I always share one of these salted caramel apple dumplings because they're a bit decadent, buttttt … I could totally eat one (or two or three) on my own. My sweet tooth kicks into high gear when these are around and I lose any sort of rationality when it comes to self-control. And decadent or not, these bad boys are going to be a staple this Autumn.
And this week's Maker's Mix-Up theme is caramel! Link up with us below :)

Let's Chat!
Have you ever made apple dumplings? What's your favorite recipe to make with apples?
You might also like: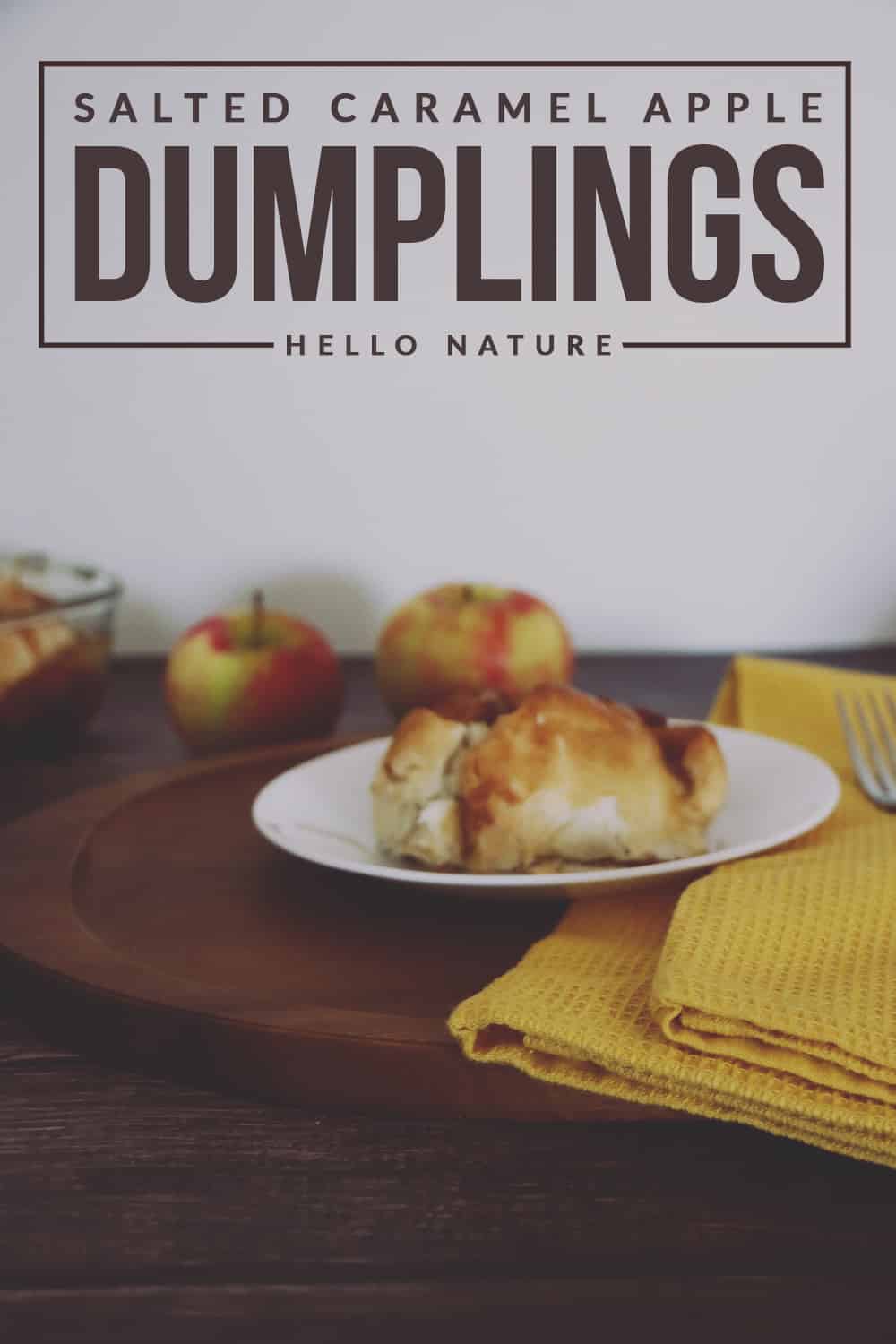 Save
Save