Super excited for our first Contributor post! Jessica from over at Living La Vida Holoka is sharing some great tips for enjoying produce all year long.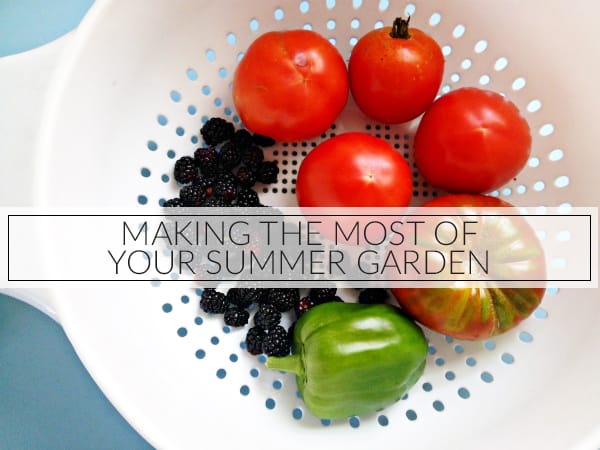 We may not have a big backyard, but we've been lucky with the space that we have. A couple years ago, my husband and father-in-law dug us a raised garden in a little corner of our backyard.  We've blissfully enjoyed fresh fruit and vegetables ever since.  This year we planted radishes, beets, garlic, spinach, kale, two types of tomatoes and two types of peppers.  We also have pots filled with fresh herbs, two blackberry bushes, two blueberry bushes, a raspberry bush and a recent addition of a fig tree. Our garden has been plentiful! While it's been refreshing to step outside and pick vegetables and fruit instead of heading to the store, our overabundance of grown goodies has been overwhelming at times (Hello, tomatoes! Good-bye, counter space!)  But I am a girl who believes in no waste.  I read through cookbooks and online recipes and even dove headfirst into canning this year. Our Summer harvest will now continue to be enjoyed well throughout the cold Winter months.
Here are a few ways to make the most of your Summer garden:
SHARING
Before I learned how to preserve, I shared.  A lot. Our family, friends and neighbors have been gifted bags upon bags of tomatoes and berries.  I may be a little biased being a Jersey girl, but there's nothing better than biting into a Jersey tomato!  I can promise you no one will turn down a bowl of fresh-picked berries either!
NEW USES FOR FRESH HERBS
Use your fresh herbs in beverages (lavender lemonade, anyone?) or bouquets. Fashion yourself a fragrant herb wreath by tying sprigs onto florist wire and hanging with ribbon.
FREEZING
I currently have 2-3 big freezer bags filled to the top with raspberries, blackberries and blueberries from our garden that have the potential to become so many things. I wouldn't recommend freezing your leafy greens, but peppers cut into strips, tomatoes turned into sauce, and herbs frozen in olive oil in an ice cube tray are great ways to keep your garden harvest hanging around a little longer.
CANNING
I never realized how easy canning was until I took a jam making class at a local spice shop.  Prepare your jars, make sure to use new seals and have fun being creative as you preserve your fresh fruits and veggies!  I began my canning experience making jam, but have made so many different things from our garden harvest.  Pickled veggies, tomato sauce, salsas, canned fruit and more!  Your homemade canned goods will last up to a year if processed correctly and make great homemade gifts for friends and family!
There's no need to worry about your efforts going to waste with a little creativity. Summer may be ending, but your garden harvest doesn't have to!
what are your favorite ways to make your Summer garden last?
Want more tips of how to make the most of your produce haul, regardless of what time of year it is? Learn more about eating healthy on a budget and saving money on produce.