Need more family bonding time? Try intentional play! Intentional play helped our family flourish more than anything ever has. Here's how.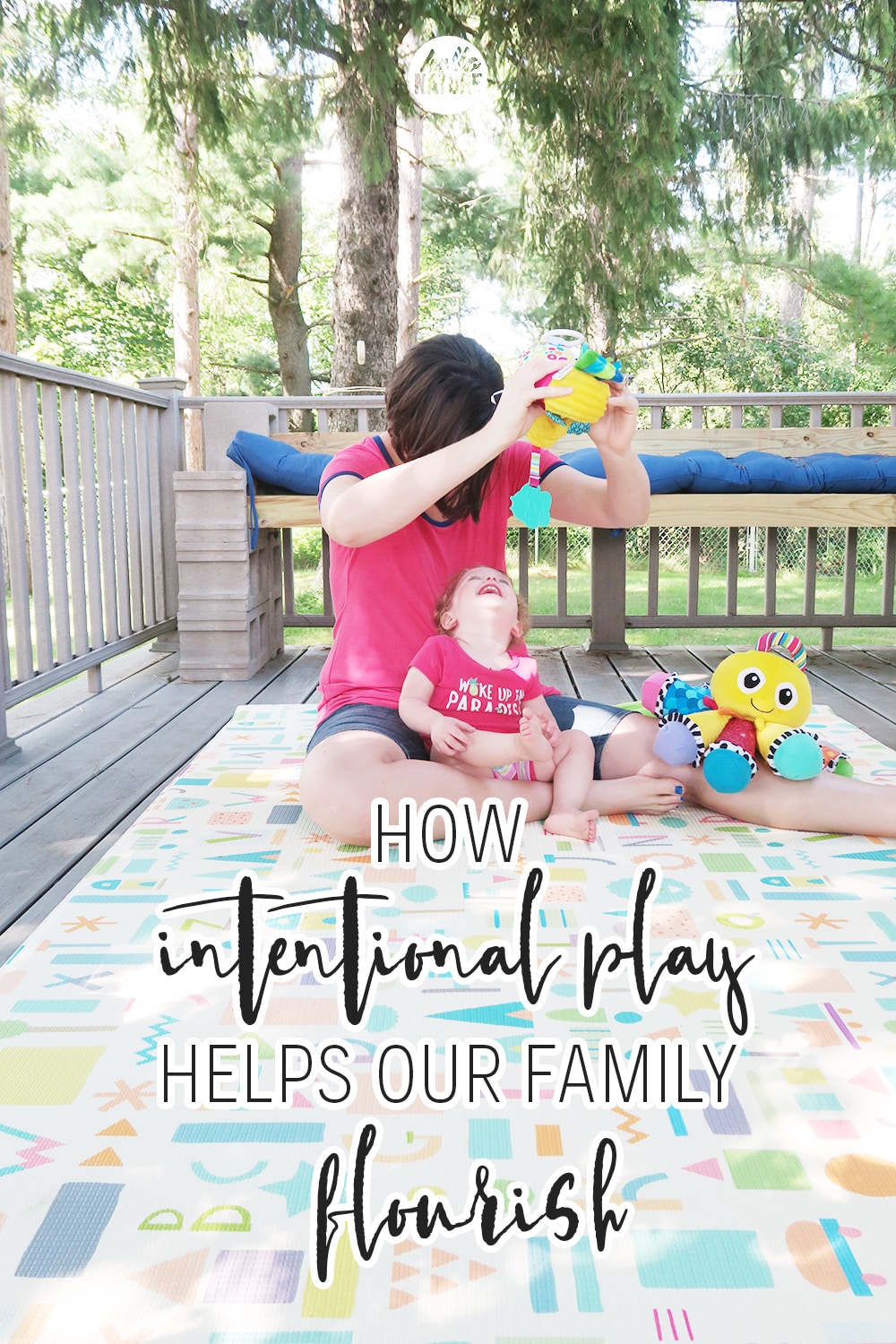 A few months ago, I got it in my head that I wasn't doing enough to help Lily flourish. No one told me she was struggling. She didn't even appear to be struggling. Mom guilt just crept its way into my head and convinced me I wasn't doing enough.
So I created a new schedule. One that filled nearly every waking moment with something educational or practical. It looked beautiful on paper. If I followed it to a T, she was going to be the smartest, kindest, most unique child in the world.
Except … it was impossible to follow. And therefore impossible to create that perfect child. (Or be that perfect mother, for that matter.)
Life happened. Naptime changed. Mealtime changed. Lily changed. And even without these inevitable changes, I realized that this schedule was not meant for a family that thrived with spontaneity.
The schedule exhausted the both of us. It was frustrating to adjust when life didn't go as planned and instead of feel like supermom, I felt like crying out of desperation. All the time. That schedule didn't last a week and I was grateful to scrap it.
Eventually, I learned I didn't need a crammed full schedule to get rid of the mom guilt. I needed intentional living. I needed to be doing the things that I thought would help her thrive, but even more importantly, I needed intentional play. And she needed it, too.
We needed those blocked off moments that were meant for play and play alone. It didn't matter how educational that moment was. It also didn't matter how many milestones it was helping her achieve. All that mattered was that I was there, in that moment, focused on playing with her.
The great thing is that I didn't have to abandon learning all-together though. With the help of Lamaze toys, playtime can be fun and still encourage development.
We've had Lamaze toys since before Lily was born, just waiting for her to be old enough to play. We've added to our collection over the past six months because these toys are some of her favorites. With their bright colors, multi-textured surfaces, and range of noises – Lamaze toys are perfect for stimulating the various senses.
Lamaze makes toys for every stage of baby's development that inspire healthy play and learning at the same time. These toys were created in conjunction with child development experts and their features promote together time between parents and babies while still encouraging babies to learn independently.
While I've featured only a few of Lily's collection of Lamaze toys, she has loved every single one that she's played with. The contrasting patterns and inviting facial features draw her in every time!
Using Lamaze toys during intentional play moments truly helps increase family bonding moments. These toys help make interacting with each other even more fun. They also help keep me in the moment so the work and household tasks I have waiting for me are always the last things on my mind.
If you're looking to bring Lamaze toys home, I've got an offer for you! Amazon has the latest Lamaze products and for a limited time, you can use this exclusive discount code to bring Lamaze Octotunes home! Just use code 20OCTOTUNES at checkout.
Do you create intentional play moments in your home? How has your family flourished from these intentional moments?