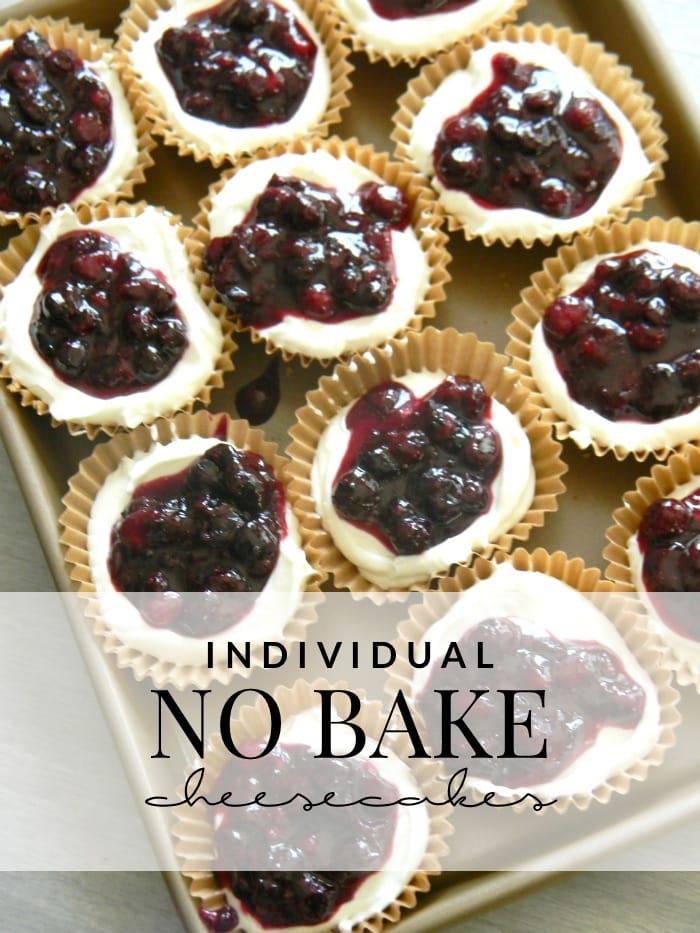 Every once in a while, a girl's got to have her cake and eat it, too. I must admit that most days, I would take some chips and salsa over a big slice of cake. I'm just not much of a sweet tooth. However, if you're serving a creamy, cheesecake for dessert, I'm going to cut myself a piece!
And today is Cheesecake Day! While I don't need a special holiday to celebrate a nice slice of cheesecake, I'm going to celebrate with an individually-sized cheesecake. They're homemade, single-serve, and don't require an oven. It's a perfect Summer dessert! Just mix, chill, and eat!
I used cinnamon graham crackers to create crumbs for the crust. You can buy graham cracker crumbs already packaged in the store, but it's just as easy to do it this way! Butter, brown sugar, and cinnamon are mixed in, then pressed inside a cupcake liner. Chilling the crusts allows them to become firm.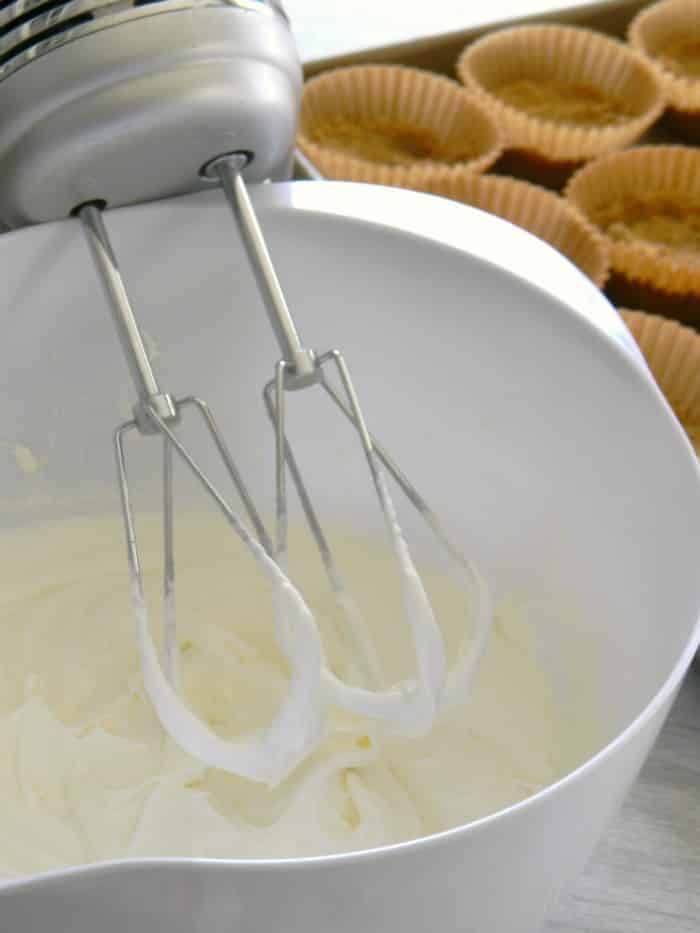 Instead of cream cheese, I used Neufchatel cheese. It's just as soft and creamy as cream cheese, but has 1/3 of the fat. It whips up rather nicely, too, to create a fluffy, cheesecake filling.
Pop the cheesecakes back in the fridge for a few hours once you're done filling each liner. Since we currently have a ton of fresh berries in the freezer, I used a bag of blueberries to create a topping for each mini cheesecake. I cooked them down in a bit of sugar and brought them to a low, slow boil until they got thick. I let the topping cool and then spooned a little on top of each cheesecake. You can skip this step altogether or buy a can of pie filling for topping.
Individual No Bake Cheesecakes
Easy, no bake, single serve cheesecakes perfect for Summer!
Ingredients
For the crust
• 1 1/2 c. graham cracker crumbs

• 1/3 c. brown sugar

packed

• 1/2 tsp. cinnamon

• 1/3 c. butter

melted
For the cheesecake filling
• 1 - 8 oz. package Neufchatel cheese

• 1/2 pint heavy cream

• 1/3 c. sugar

• 1 small lemon

juiced
Instructions
Place 12 cupcake liners in a baking pan and set aside.

Stir together graham cracker crumbs, brown sugar, and cinnamon in a small bowl.

Add melted butter and mix, making sure to coat crumbs completely.

Evenly distribute crumbs in cupcake liners, pressing down to pack them.

Move tray to refrigerator to allow crusts to chill and become firm.

In a medium bowl, beat Neufchatel cheese and lemon juice together until mixture is soft.

Add heavy cream and beat until mixture thickens.

Add sugar and continue beating until mixture becomes stiff.

Remove crusts from fridge and evenly distribute cheesecake filling into each cupcake liner.

Place tray back in fridge for several hours.

Top with berries or pie filling. Enjoy!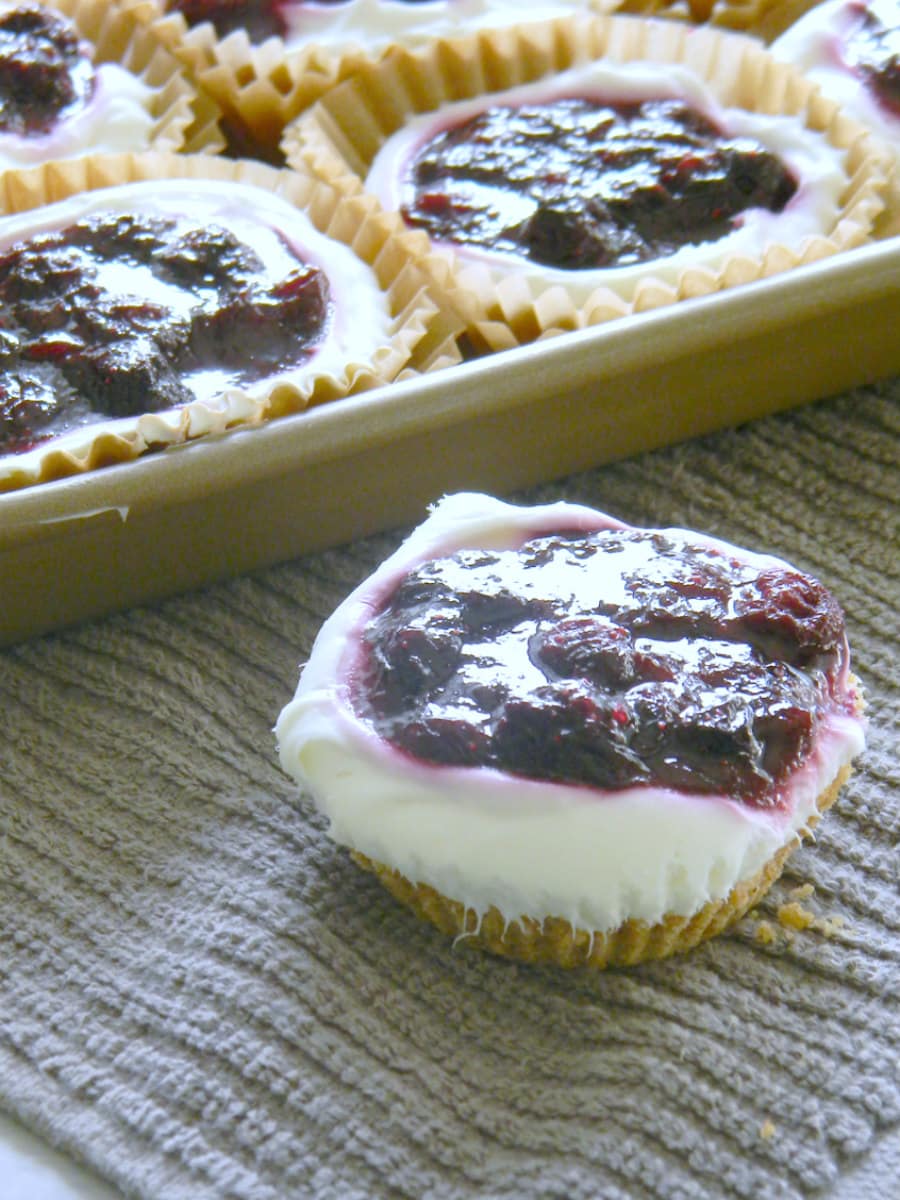 Cool off with this no bake cheesecake and have a sweet National Cheesecake Day!
I'd love to know: What's your favorite kind of cheesecake?