Just this past week I started the #GoodbyeSugar30 Challenge.
To be honest, I'm super nervous about it. Let me back up though. For as long as I can remember, I've had a sweet tooth that would not quit. Cookies, cakes, bars, pies – you name it, I crave it. I've tried to cut out desserts entirely. But oh my goodness, the moodiness I experienced was awful. I felt so deprived and it lead to me making up for it with salty foods instead.
I had this sweet tooth well before Nathan and I met. When I found out he had Type 1 Diabetes shortly after we met though, it was really important to me to try to reel it in. I knew that was good for me and I also wanted to help support him as much as I could. I just knew I couldn't cut them out entirely.
So I cut down on the amount I had. And I tried baking healthier. For a while, it worked. But as with most things in life, if you don't continue to do them intentionally, it kind of just tapers off. Eventually bad habits came back and food was made or indulged in without any concern of the sugar that went into them.
Fast forward to when we found out I was pregnant with Lily. It didn't take long for us to realize that what we were doing wasn't going to work. My pregnancy would suffer and we'd only be hurting ourselves for when she came. So we started tried to shake those bad habits again. Mostly eating a little healthier and paying more attention to the foods we consumed.
Fast forward again and she's here, nearly two and a half months old. We're still eating healthier… just not as healthy as we'd like to. We both have big goals for raising her. Ones that involve as little of the "do what I say, not as I do" type of parenting as possible. And for us, that starts with our health. What we eat and how active we are. So we've been really trying to focus on how we can set good examples for her and each other.
We've changed our diet to include more fruits and vegetables. We also upped our activity level as much as possible to enjoy the outdoors before the snow comes, too. But this challenge was another way to step up our game.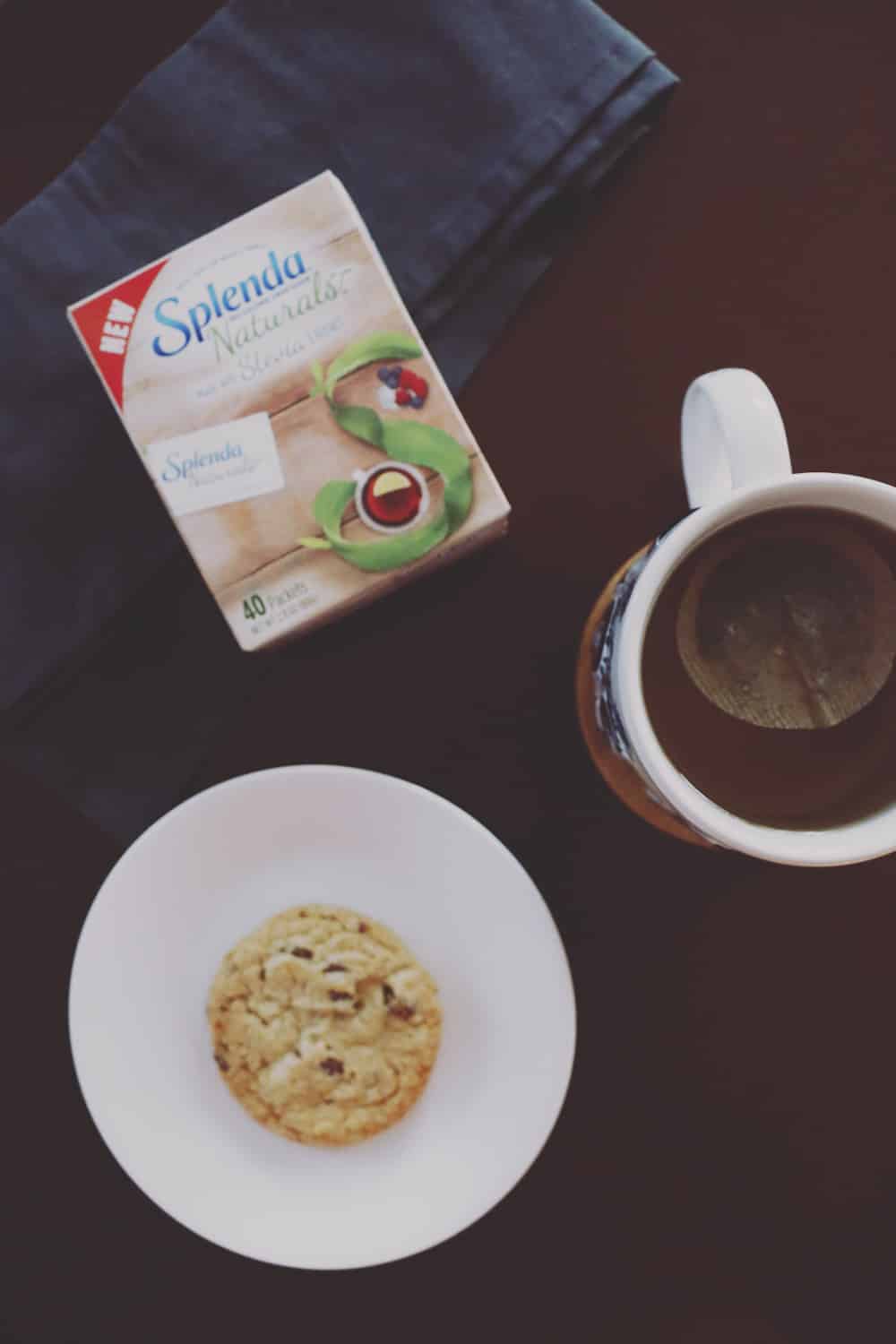 We may not drink sugary beverages or keep a pantry stocked with candy bars – but we still consume sugar. And a lot of times it's unknowingly. Plus, I don't have any intention of not baking, especially with my favorite holidays around the corner! So I need to find some healthier ways to make some of my favorite treats this time of year. The #GoodbyeSugar30 Challenge came at the perfect time.
The #GoodbyeSugar30 Challenge is a challenge to identify where you can easily swap out the added sugar for the delicious new SPLENDA® Naturals Stevia Sweetener. The goal is to give you easy tools to make small change in your life that will aid in reducing added sugars and calories, without sacrificing taste.
If you're unfamiliar with SPLENDA® Naturals Stevia Sweetener, I'm excited to introduce it to you! It's the newest addition to the SPLENDA® line with no added favors and no bitter aftertaste. SPLENDA® Naturals Stevia Sweetener is filled with a stevia extract that is rich in Reb D (versus Reb A that can have a bitter aftertaste) making it the perfect blend of sweetness. It can be found at retail stores national wide in 40 and 80 count boxes. For more information, visit SplendaNaturals.com.
Take the challenge with me! I would love to have others joining me in this journey. I have such high hopes for this challenge to really improve who I am, inside and out. I would love to make that transformation with others that have similar goals. To join, sign up for the #GoodbyeSugar30 Challenge here to get all of the tools and resources for the challenge. To get even more out of the challenge . . .
Connect with others (and me!) with the hashtag #GoodbyeSugar30 on social media
Learn the over 60 names for sugar and look for less obvious sources of sugar in your pantry

Pay extra attention to things that you wouldn't expect it in like salad dressing or savory sauces

Read labels of items in your pantry and when shopping to see where sugar has been added
Swap sugar with SPLENDA® Naturals Stevia Sweetener when you are looking sweetness without extra calories
Let's Chat!
Will you be participating in the #GoodbyeSugar30 Challenge? How do you cut sugar out of your diet? How did your eating habits change when you had a baby?
I was selected for this opportunity as a member of CLEVER and the content and opinions expressed here are all my own.