This post was sponsored by SwimWays as part of an Influencer Activation for Influence Central and all opinions expressed in my post are my own.
Looking for fun family outdoor activities? I've got you covered! Grab your swimsuit for this week's theme – it's all about swimming!
Before I get into this awesome series, I have a tiny confession to make. All of these pictures were taken indoors. But I've been wanting so badly to start this series (specifically with this idea)! Unfortunately, Wisconsin weather has been all over the place. Every night seems to dip super close to or below freezing which isn't great for pool season.
SO we went to our local indoor pool and shot these photos. While I'm all for this as an indoor activity as well, this is one of my favorite fun family outdoor activities. Maybe even my favorite one.
Fun Family Outdoor Activities: #1 – Swimming
Ever since I was a little girl, I have fond memories of the water. Swimming in pools at hotels, splashing in the lake next to our boat, and lounging on the beach by the ocean. I grew up by the water and as I got older, my love for the water only grew. We traveled to Caribbean islands, went snorkeling, kayaked, drove down to the Florida Keys to spend a week surrounded by water, and more. And I knew I wanted this love for the water to be passed on to Lily.
We started with her around six months and she absolutely LOVES the water. Splashing, kicking, ducking fountains – you name it, she's for it. And I am so incredibly grateful for this! We have so many trips planned that revolve around water and I'm excited to experience it with her instead of having her on the sidelines.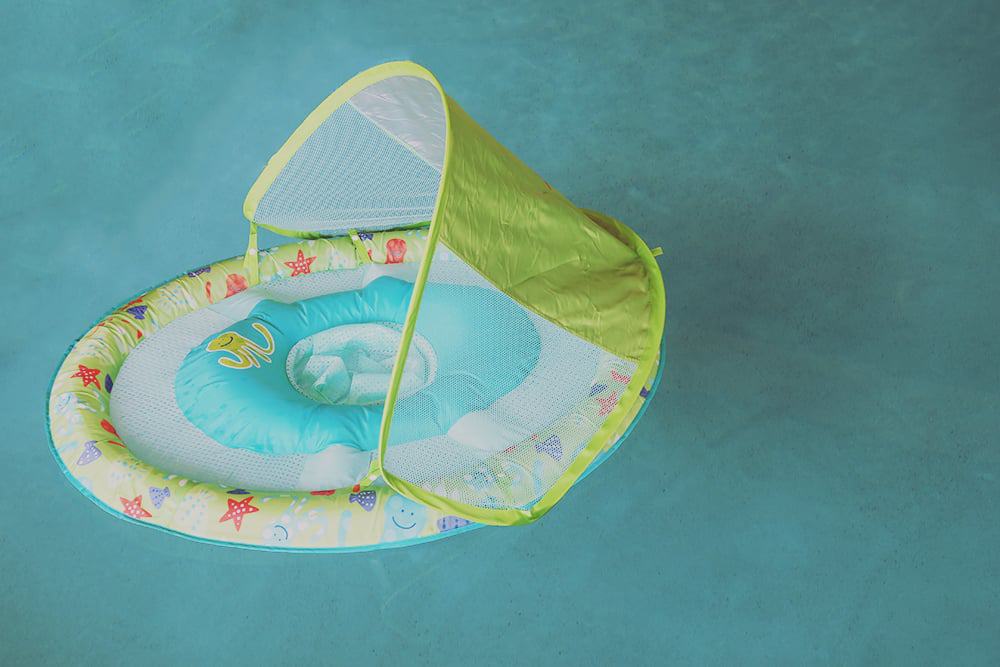 The Baby Spring Float Sun Canopy that we've been using is a part of the SwimWays 3 step swim training stages. It's great for children 9-24 months who are being introduced to the water. The float helps Lily stay comfortable in the water by keeping her balanced and supported while she can focus on having fun.
Some awesome features we love:
Removable and adjustable two-position sun canopy with UPF 50+
and easy snaps
Mesh play area for splashing and toys
Travel bag for when it's not in the water
Ability to fold flat for easy storage
The inner spring around the edge that adds stability
The comfort of the seat and the ability for her to easily kick her legs
Want to get one of your own SwimWays floats? You can purchase online or in-store at Target.
Unsure if swimming should be a focus for your family? Check out the reasons below as to why it's one of my absolute favorite fun family outdoor activities!
Pool Games
After being in the water in so many various places, I've learned there are a ridiculous amount of pool games. Noodle jousting, FISH, frisbee, Marco Polo, chicken, shark, diving for treasure, basketball, volleyball – the list goes on. These games are perfect for families of all sizes and many of them encourage team building skills.
Relaxation
I have a really hard time not being relaxed in the water. I don't even have to be lounging on a pool float to feel that way, either. There's just something about the pool that makes me forget about all my troubles. This makes it the perfect way to truly be present with your family. Knowing that we're teaching Lily water safety early will also allow me to relax even more as she gets older!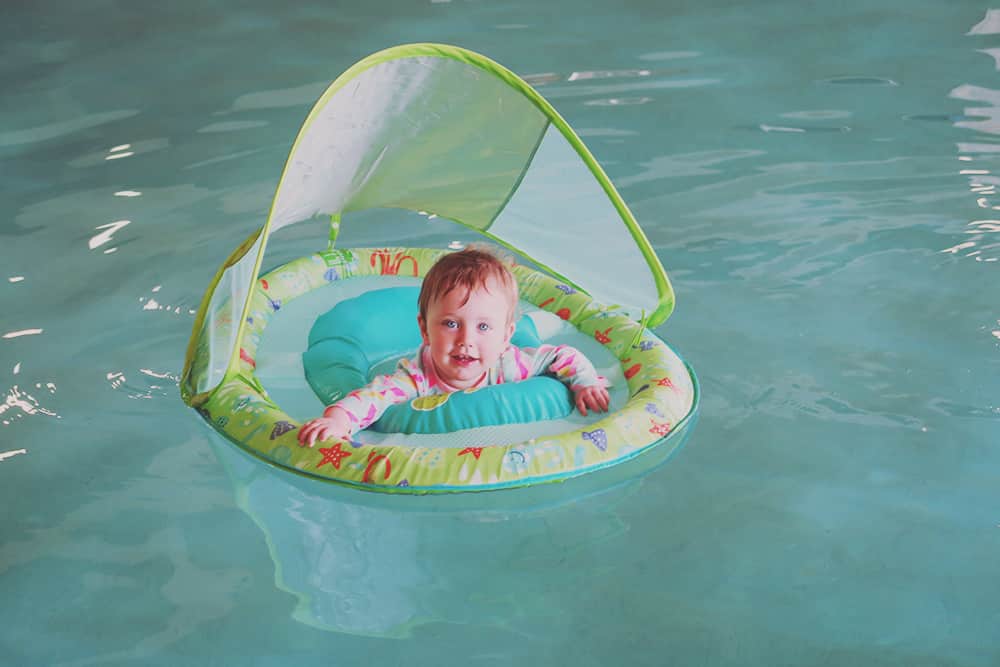 Fitness
Swimming is such a great work out for people of all skill levels. It encourages movement and allows you to use muscles you don't normally use without putting much strain on them. Young or old, you can easily get moving in the water and focus on living a healthy lifestyle with the whole family. The best part about it is that it does that without feeling like work!
Inexpensive
While you can spend quite a bit of money to enjoy a few days at a waterpark, you don't have to. Swimming at most lakes or in the ocean? Free. Heading to the local pool? Not too expensive. You can also check with hotels that have pools or mini water parks if they allow non-guests to utilize their facilities. We've done this at a local hotel for a monthly membership and we've done it when visiting family for something to do. It usually doesn't cost much and amounts in hours of fun!
And if you're looking for even more of a reason to get out, May 20th is right around the corner and it is National Learn to Swim Day! It's pretty self-explanatory as to what it is, but let me give you a little background info on it.
The 3rd Saturday of May is National Learn to Swim Day and this has been celebrated every year since 2012. SwimWays, a leader in helping children learn to swim and promoting water safety, found this spectacular holiday. Their goal is to teach parents and caregivers the importance of learning to swim as well as watery safety. So simple, but so important!
Interested in learning more about SwimWays? Follow them on Twitter and Facebook or check out their Swim Steps Video.
What are your favorite fun family outdoor activities? Have you used SwimWays for helping little ones feel comfortable in the water?