Easter is this weekend and you may be dyeing Easter eggs if you haven't already. While dyeing eggs is a fun, yearly tradition, you'll probably have a fridge full of brightly colored hard-boiled eggs after the holiday. There's only so much egg salad one person can eat! I decided to turn leftover Easter eggs into protein plates, similar to protein boxes you might find in coffee shops.
When I used to work in an office, I found myself stopping at coffee shops most mornings. I'd often grab one of their protein boxes to bring with me for lunch. These boxes are quick and delicious, but often pricey. It's much more convenient and budget-friendly to make your own protein plates. I created four versions of these protein-packed boxes to satisfy everyone's appetite!
This fruit and cheese plate is great for those who want to satisfy their sweet tooth in a healthier way. It's also packed with protein and calcium making it an all-around great option!
FRUIT AND CHEESE PLATE
1 hard-boiled egg
3 slices cheddar cheese
1/2 whole wheat sandwich slim or pita
1 apple
blueberries
roasted almonds
Better than a heaping plate of pita chips, this hummus plate gives you the option of dipping veggies, wheat bread and grilled chicken strips. Use your favorite flavor of hummus for this plate. I used Trader Joe's amazing cilantro and jalapeño hummus.
HUMMUS PLATE
4 grilled chicken strips
1 hard-boiled egg
1/2 whole wheat sandwich slim or pita
veggie sticks
hummus, your choice of flavor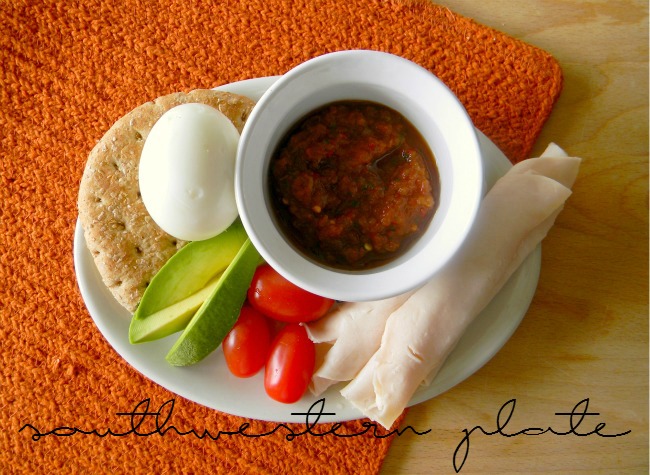 This Southwestern plate gives chips and dip the boot! Instead of tortilla chips, enjoy your salsa bowl with tomatoes, avocado strips and slices of turkey.
SOUTHWESTERN PLATE
3 slices of turkey
1 hard-boiled egg
1/2 whole wheat sandwich slim or pita
avocado slices
grape tomatoes
fresh salsa, for dipping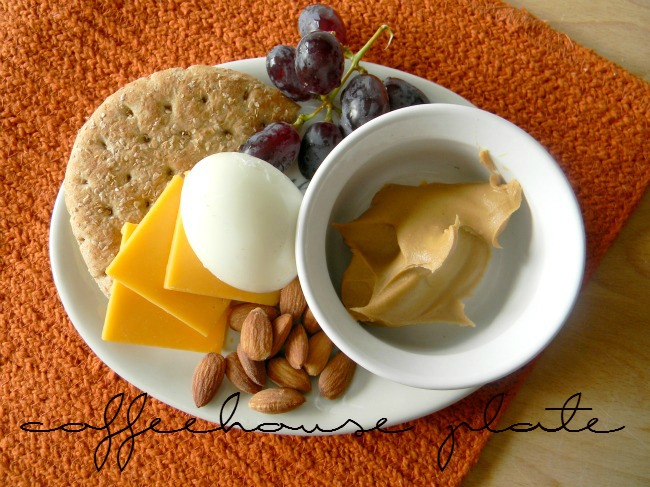 This plate mimics the original coffeehouse protein box I often enjoyed. Just like the original, it includes wheat bread, grapes, cheese, nuts, peanut butter and an egg.
COFFEEHOUSE PLATE
3 slices of cheddar cheese
1/2 whole wheat sandwich slim or pita
1 hard-boiled egg
small bunch of grapes
roasted almonds
natural peanut butter (or other nut butter) for dipping
Instead of shelling out six or seven dollars for a pre-made box, grab fresh fruit and vegetables right from your fridge for these plates (as well your abundance of Easter eggs). Enjoy these protein plate combinations or create combos of your own!
How do you use up leftover Easter eggs?