You can make this Harry Potter inspired Pumpkin Juice Recipe at home with just a few ingredients. Enjoy it with your favorite Muggles, witches or wizards! I was provided a portion of these products free of charge by Oriental Trading. No other type of compensation was received for this review. This review is based strictly on my opinion. Others may have a different opinion or experience with the products listed in this post.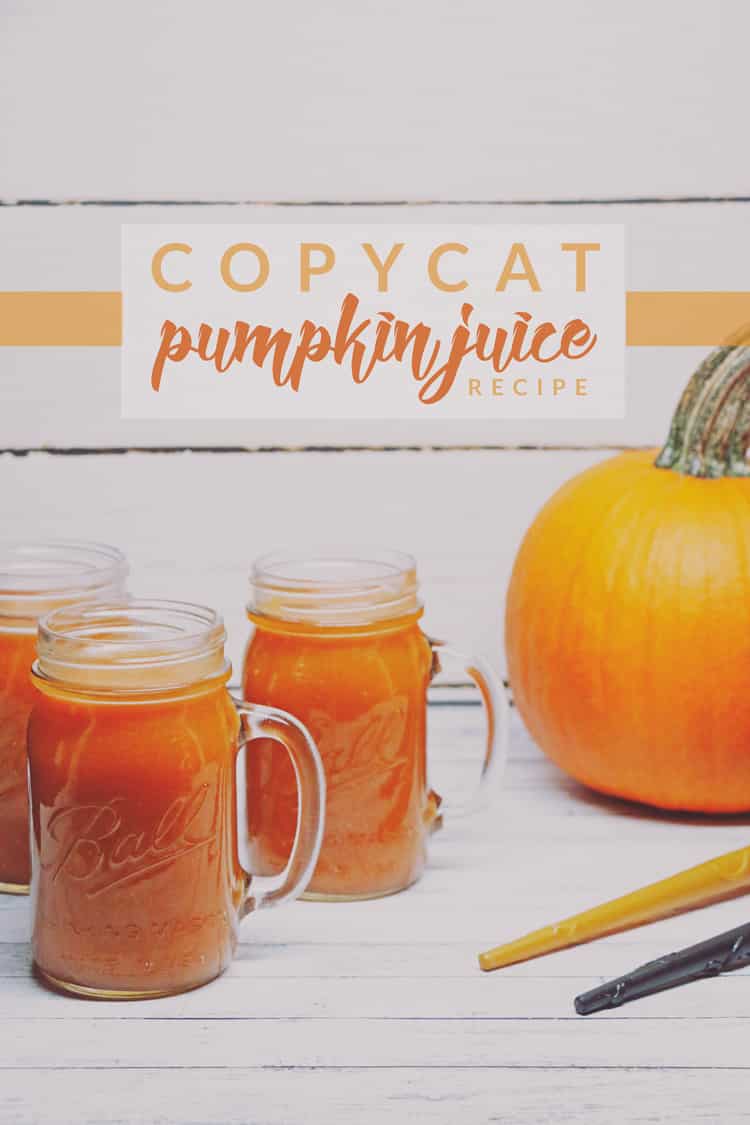 Remember that massive Florida road-trip we took that I have still got to post the photos for? Well, our last leg of the trip landed us in Orlando for Universal Studios. Specifically the Wizarding World of Harry Potter.
Over the course of the three days we were there, I had: 2 Pumpkin Juice drinks, 1 Frozen Butterbeer and 2 meals at the Three Broomsticks. I also rode Harry Potter and the Escape from Gringotts five times, the Hogwart's Express three times, and Harry Potter and the Forbidden Journey two times. Not to mention, nearly all of our souvenir money was spent within Diagon Alley and Hogsmeade.
Obviously, we love Harry Potter.
This was our second time to the park and once again, the Pumpkin Juice was to die for. But at $6.99 a bottle, it was a little hard to justify buying hundreds to bring back until we got to go back again. So I was bound and determined to make our own Pumpkin Juice recipe at home so I could indulge year-round.
The thing I love about this drink is it's amazing hot and cold. So the crazy nearly 80 degree we had last weekend? Throw it on ice and we're good! And today, when the high is 40? Time to cozy up by the fire place while I'm reading the first Harry Potter book again with a hot mug of it. Either way, delicious.
The ingredients are also pretty easy to come by. The only ingredient that wasn't sold at a normal grocery store was the Apricot Nectar. It was at our speciality grocery store in the Mexican food aisle though. It's also super easy to create this pumpkin juice recipe. Meaning you can make it over and over again without it feeling like a chore – woohoo!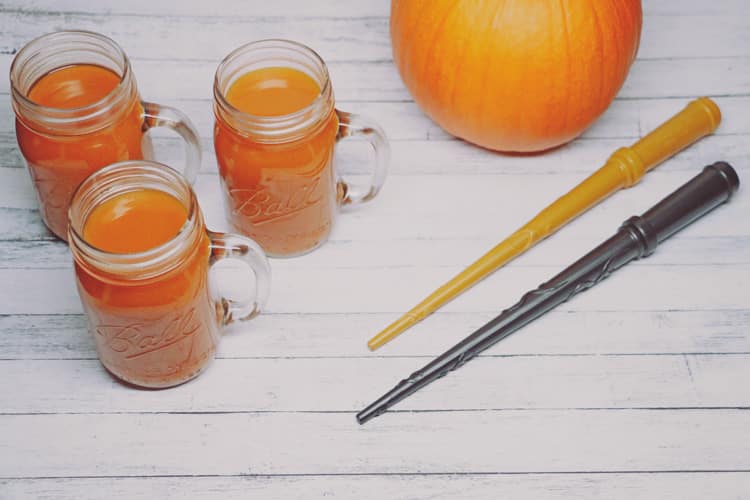 Copycat Pumpkin Juice Recipe
Ingredients
15

oz

Can of Pumpkin Puree

1

Can of Apple Juice

From Concentrate

3/4

Cup

Apricot Nectar

1

Tbsp

Pumpkin Pie Spice

1

Tsp

Vanilla Extract

1

Tsp

Ginger
Instructions
Combine the pumpkin and apple juice from concentrate together in a large pot. Add in the amount of water recommend on the apple juice container (usually three cans.) Bring to a boil.

Once boiling, add in the apricot nectar. Boil for 5 minutes.

Add in the pumpkin pie spice, vanilla extract and ginger. Boil for 5 minutes.

Simmer on low for 30 minutes.

Serve hot or cold.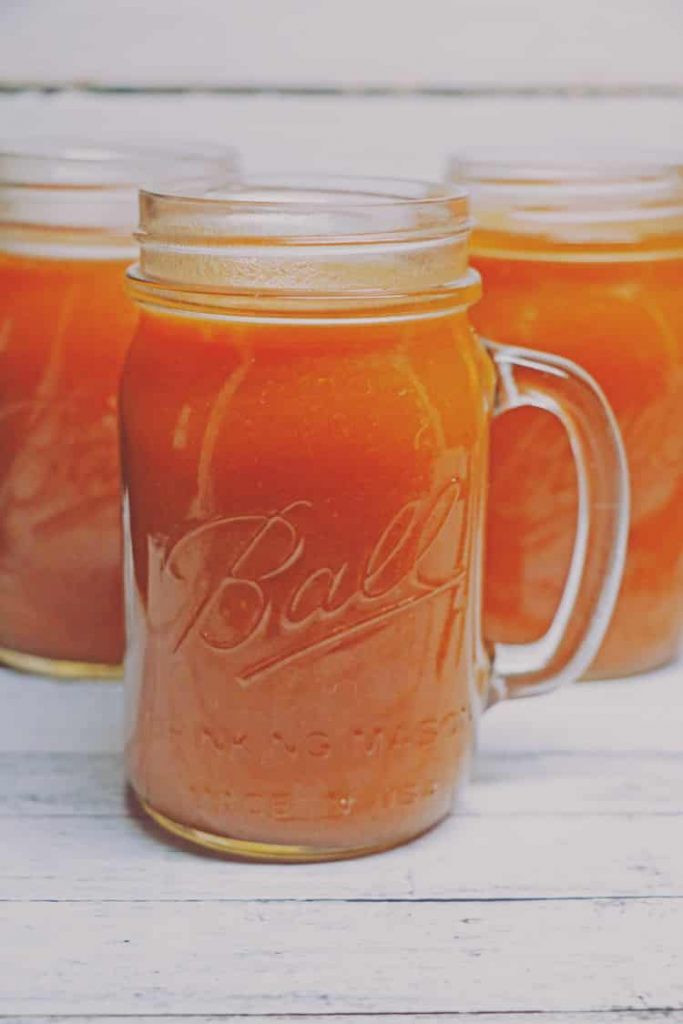 If you're having a Halloween (or maybe just a Harry Potter party. If that's the case, let me know when you need my address to send me the invite!) party this year, this pumpkin juice recipe is the perfect punch for it, too! And Oriental Trading has got you covered for all your wizarding needs, including those fun wands shown in the photos! Plates, napkins, decor, candy – you name it, they've got it. So whether you're inviting wizards, witches, or muggles – you can be prepared with all of your party needs ;)
I'd love to know: are you a fan of Pumpkin Juice?
Save