If you're a foodie like me, chances are you receive daily or weekly recipe e-mails. This recipe comes from an e-mail I recently received for roasted garlic pork shoulder. I put my own twist on the recipe by making it a crock pot meal. It's so delicious and easy that it's been part of our meal rotation about every other week! I love the citrus juices it's cooked in. My husband loves all of the garlic! For a two person home like our home, this meal can be stretched into two meals plus leftovers.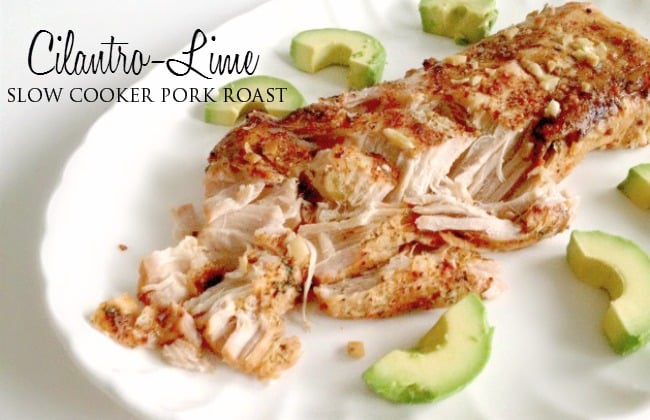 I like to use a small boneless pork roast, about 1-1 1/2 pounds, which I have been really lucky to find for under five dollars in the meat case of my grocery store. Last time I made this, I had to settle for a boneless pork London broil. The meat wasn't as juicy as the pork roast, but worked just as well. Make sure your cut of pork has a decent fat cap. This will ensure that your meat remains juicy while it cooks in the crock pot. I used a Caribbean style seasoning to flavor the pork, but a simple rub of garlic powder, salt and pepper works just as well.
Orange juice, fresh lime juice, garlic, cilantro and a splash of apple cider vinegar give this pork dish all of its flavor. Garlic lovers will adore the six cloves of garlic used to create this meal. Four cloves go into the citrus mixture while two cloves are sliced and pushed right into the meat.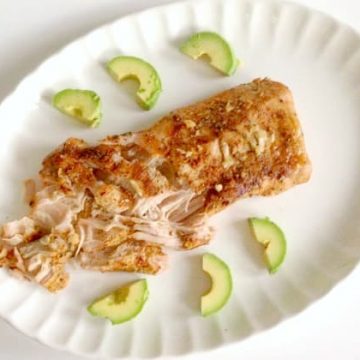 Cilantro-Lime Slow Cooker Pork Roast
A deliciously easy pork roast packed with cilantro, citrus and garlic flavor!
Ingredients
- 1-1 1/2 lb. boneless pork shoulder roast

- Caribbean style seasoning

or garlic powder, salt and pepper

- 1 cup orange juice

- Juice of one lime

- 6 garlic cloves

4 chopped and 2 sliced

- 1/2 tsp. cilantro

fresh or dried

- 1 tbsp. apple cider vinegar

- Non-stick cooking spray or olive oil
Instructions
Spray a skillet with non-stick cooking spray or add a little olive oil.

Season your pork with Caribbean seasoning or garlic powder, salt and pepper.

Sear your meat on all sides over medium heat until browned.

Make four slits in the top of your pork (fat side) and push sliced garlic inside.

In a bowl, add orange juice, lime juice, chopped garlic, cilantro and apple cider vinegar. Mix well.

Place pork in crock pot fat side up. Pour juice mixture over pork.

Set crock pot on low and cook for 8 hours.

When pork is done, shred apart on a platter and serve immediately.
Recipe Notes
Serve with cilantro-lime rice. Cook rice as instructed. Add juice of one lime and cilantro.
The pork just falls apart on your plate. I like to serve it over cilantro-lime rice and use the leftovers to make pork soft tacos or nachos. Along with rice, slices of avocado, hot sauce and a dollop of sour cream make this a delicious, Spanish-inspired meal!
Enjoy this slow-cooked pork dish with an icy margarita and allow your taste buds to savor the Spanish-inspired flavors of this easy and delicious meal!