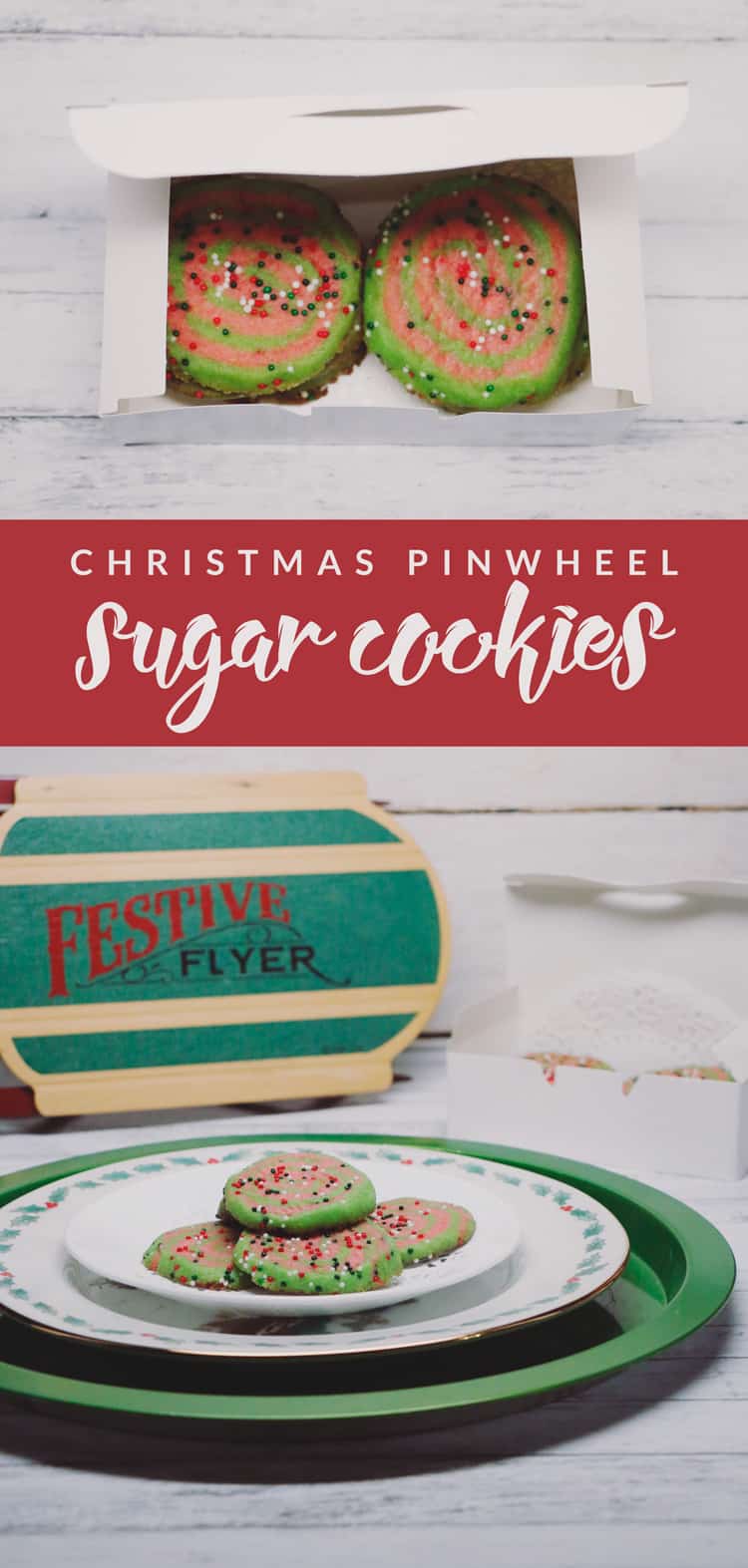 Living in a small town this time of year really makes me appreciate the holiday season. This past weekend was our first annual tree lighting ceremony and I know we're only days away from the lighted stockings, trees and stars adorning our light poles. Sure, we have all of that when we lived in the city – but there's something special about it's such a small community of like-minded people.
Small town living also means we know more names than I'd ever thought we would. Everyone at the post-office, our UPS driver, people at the grocery store, local restaurant owners and so much more. It gives us a special connection to this area and this time of the year, that seems extra special.
So this year, we're spreading some holiday cheer by showing our appreciation for all that they do. They've all helped us grow our business (and even this blog!) so we wanted to show our gratitude and this is a perfect time of the year to do that. And I'm excited to share the delicious pinwheel sugar cookie recipe that I made to give them a little different twist on sweets this holiday season!
I won't lie – I used my favorite Betty Crocker Sugar Cookie mix to make these because I knew they'd turn out fantastic. Betty Crocker makes it super easy to celebrate the wonderful people in your life. They're easy to make mixes that save you time, but never cost you flavor. They're a must-have in my pantry this time of the year! A bonus is that they're offered at our one and only grocery store that we have in our small town: Supervalu! Some days I miss having a wide selection of grocery stores to shop, but Supervalu has pretty much everything we need so I'm not missing out on much!
Christmas Pinwheel Sugar Cookies
Ingredients
Betty Crocker Sugar Cookie Mix

1

Stick of Butter

softened

3

Tbsp

Flour

1

Egg

Red and Green Food Coloring Gel

Sprinkles
Instructions
Preheat the oven to 375F.

Combine the butter, flour, egg, and sugar cookie mix together to form the cookie dough. Split in half.

Place half in a bowl, place a couple of red food coloring drops, and mix thoroughly. Repeat for the other half and green food coloring.

Roll out the red dough to be approximately 1/8" thick in a long rectangle on wax paper. Trim the sides to get an even line, add the extra dough on to the end and roll out. Repeat for green so they are approximately the same size rectangles.

Set in the fridge to cool down - approximately 10 minutes.

Once cooled, press sprinkles into the red dough by rolling over it. Peel off the green dough and lay on top of the red dough.

Place sprinkles on top of the two doughs and press the sprinkles in by rolling over it.

Roll the two doughs together. If it starts to crack/bend instead of a smooth roll, just keep going and smooth out as you go along.

Once the two doughs are rolled together to form a log, trim the ends to give a straight line on each end. Place sprinkles on wax paper or cookie sheet and roll the log in it.

Cut the log in approximately 1/4"slices, reshape if necessary to be more of a circle, and place on a slightly greased cookie sheet. Place cookies approximately an inch or so apart. Place sprinkles on top and press down by rolling over it.

Bake for 5-7 minutes or until firm.
Recipe Notes
Wear gloves when using the food coloring gel or your hands may stain.
And these cookies? They may have the simple sugar cookie flavor, but they look nothing like the ordinary sugar cookie you're used to seeing! The pinwheel sugar cookie is such a simple but elegant way to change up the cookie we all know and love. Plus, you can easily customize it with a little bit of extract (maybe peppermint or almond?) to make it even more unique.
And this is such an easy way to get your little ones in on the fun! My friend Summer and her daughter helped give back to the community and hand out cookies as well. It's the perfect time of the year to teach how easy it is to give back and spread a little holiday cheer :)
spread cheer yourself this holiday season
---
Make the world a better place this holiday season when you spread cheer with the gift of cookies! When you surprise your favorite people with fresh-baked goodness made straight from the heart, you're letting them know that their good deeds don't go unnoticed. Celebrate the season by spreading cheer with cookies, and help get the word out to inspire others to keep the celebration going. This season, giving back is easier than ever with simple cookie recipes from Betty Crocker.
Grab your $0.50 off coupon when you buy ONE (1) Betty Crocker™ Cookie Mix! And make sure to save these spread cheer printables (like the one above!) for when you're spreading the deliciousness to your friends and family with your little ones. Want to make spreading cheer a little easier? Enter to win $20 PayPal Cash below to help you get all of the ingredients!