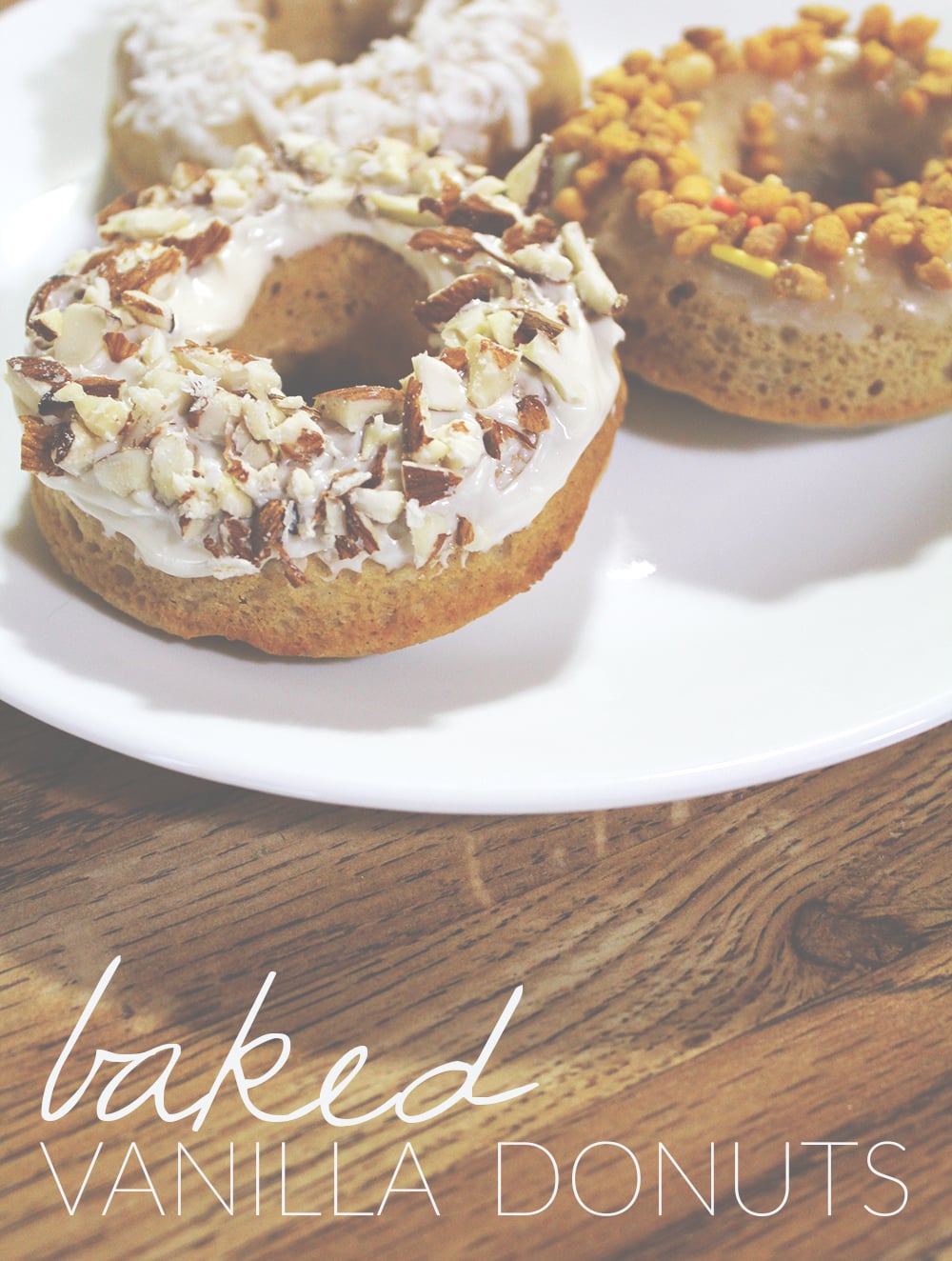 If there's opportunity to eat a donut, I have to take it. It's not optional in my mind – it's just how life will always be.
Dieting? Doesn't matter – I eat it quick it enough that it couldn't possibly count as calories. Jelly-filled? Doesn't matter – I may dislike the need to take away from the donuts delicious inside and fill it will gooey and sugary sweetness, but I'll still eat it. Day old? Who cares! Blame it on impulse control problems Five-Year Engagement style, but if it's not rock-hard, I will eat it.
Donuts have this magical pull on me that I don't think I could break even if I tried, especially if there are nuts or maple involved. And if both are involved, I'll just die happy after I eat a couple dozen.
Now that you know my strange affection for donuts, let's get on to boring things like how donuts are not Weight Watchers friendly. And how I knew that if I wanted to actually be able to stick with Weight Watchers, I'd have to find a "healthier" version of a donut to curb my cravings. Which is easier said than done because well, who likes healthy donuts?!
Well, I do now. These baked donuts are amazing. And so versatile. And so easy. And so everything that is good in this world. I'd recommend buying a donut pan (here's the donut pan I bought) but if you don't have one and don't feel like buying one, you could always try making these in muffin pans.
Enjoy!
Baked Vanilla Donuts
Ingredients
Donut Ingredients
1

Cup

All-Purpose Flour

6

Tbsp

Buttermilk

6

Tbsp

Truvia Baking Blend

1

Tbsp

Melted Butter

1

Tsp

Baking Powder

1/2

Tsp

Cinnamon

1/2

Tsp

Salt

3/4

Tsp

Vanilla Extract

1

Egg
Glaze/Frosting/Topping Ingredients
Cream Cheese Frosting

Powdered Sugar + Water for a Glaze

Any toppings for the donuts
Instructions
For The Donuts
Preheat the oven to 325F.

Combine the flour, buttermilk, sugar blend, baking powder, cinnamon, salt, vanilla extract. Mix thoroughly.

Add in the vanilla extract and egg. Stir until wet ingredients are incorporated into the dry ingredients.

Use a pastry bag or ziplock bag with the tip cut-off to pipe these into a lightly greased donut pan.

Cook for 8-12 minutes, depending on your oven. Stick a toothpick in a donut and if it comes out clean, they're ready. Let cool for ten minutes.
For The Coating
You can use frosting from a container, homemade frosting or a glaze for the coating on these donuts depending on your preference.

If you're making the glaze, combine 1/2 cup of powdered sugar and 2 tsp water and mix thoroughly. Dip the donut in the glaze.

If using frosting, spread the frosting over the donut with a bent icing knife. (Any other knife will work - an icing knife just makes it easier.)

Add your desired toppings.
Recipe Notes
Add more water to the glaze if it's too thick.
Skip the coating if you're looking for something similar to a plain cake donut.
For an easy way to get the toppings to stick, place the toppings on a plate or wax paper. Coat the donut and then flip upside down and press the top into the toppings to get them to stick.
We used almonds, coconut, and peanut butter brittle for our donut toppings - but the possibilities are endless! We plan to use sprinkles, chocolate chips, and pecans in the future.
Add a little bit of food coloring to the glaze or frosting for easy holiday themed donuts that are great year round.
what are your favorite types of donuts?
Think this post is worth a read? Please share – I'd greatly appreciate it! :)
[Tweet "Baked Vanilla Donuts Recipe"]