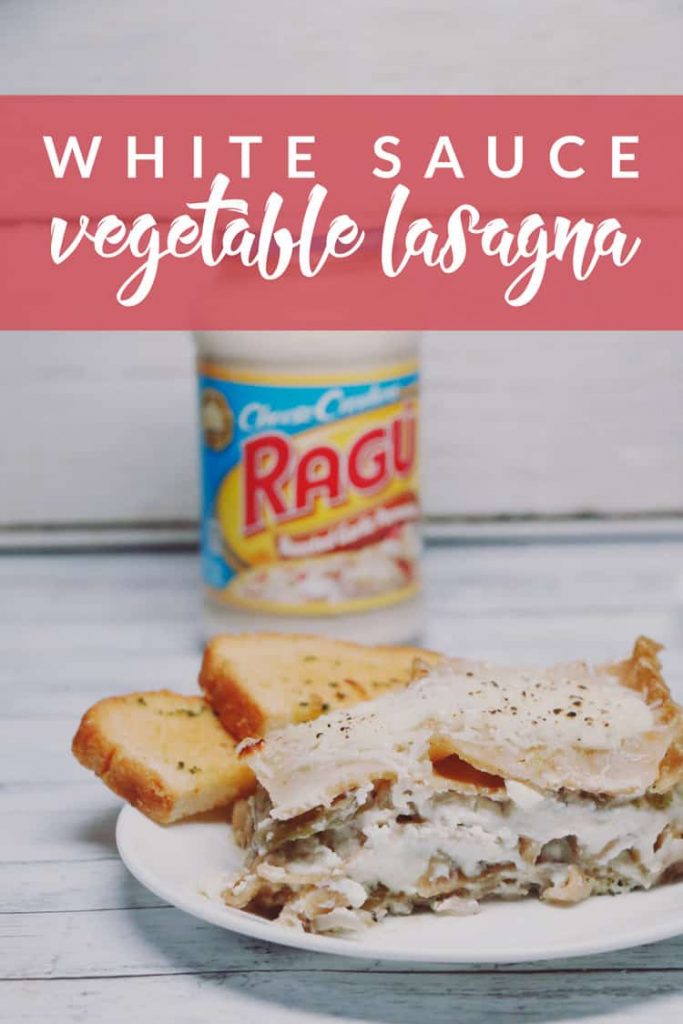 I am so excited to share this white sauce vegetable lasagna recipe with you today! But first, I have a bit of a confession: I don't really love traditional lasagna.
I'm not sure what it is, but it's just pretty much at the end of the spectrum of things I'll order when it comes to Italian food. If it's the only option, I'll eat it. And probably somewhat enjoy it. But other than that? Nope. Not going to touch my plate.
And then there's Nathan. I'm pretty sure he'd eat it for every meal if he could. Opposites attract, right?
But I think we finally found a common ground on this lasagna made with Ragu Roasted Garlic Parmesan sauce. It is to die for! It's the perfect amount of cheesy goodness mixed with a burst of garlic that just screams comfort food. Mix in some veggies, some whole wheat noodles and it becomes a little less of a guilty pleasure, too.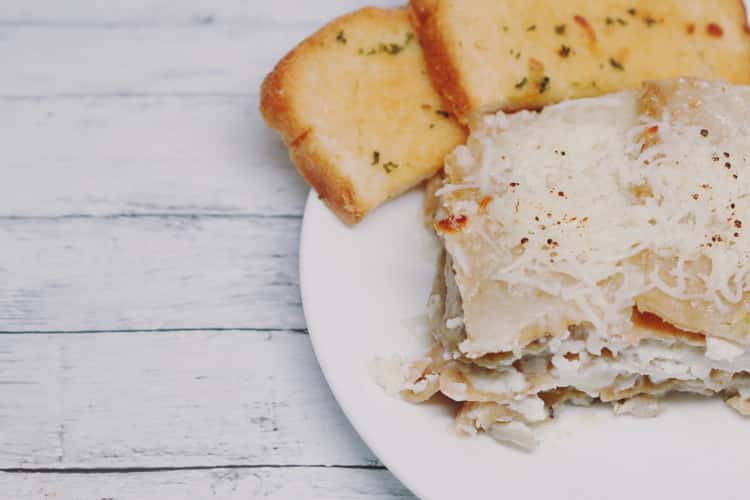 I've been trying to incorporate a lot more vegetables in my diet with the change of whether and this lasagna is such a great way to sneak some in! We used broccoli, eggplant, and onions for the vegetables in this recipe but you can easily mix it up if those aren't your style. Zucchini, tomatoes, summer squash, and peppers would be perfect additions or substitutions for this too.
White Sauce Vegetable Lasagna
Prep time:
Cook time:
Total time:
Ingredients
1 Package of Whole Wheat Lasagna Noodles
1 Medium Eggplant, peeled and sliced
1 Medium Onion, peeled and sliced
2 Cups of Broccoli, chopped
1/4 Cup of Minced Garlic
3 Tbsp Olive Oil
32 Oz Part-Skim Ricotta
1 1/2 Cups of Shredded Mozzarella
1 Jar of Ragu Roasted Garlic Parmesan Sauce
Instructions
Cook the lasagna noodles according to the package in a pot. Once cooked, lay out flat on wax paper so they're easier to layer in the pan.
Sauté the eggplants, onion and broccoli with the olive oil and minced garlic over medium heat for 10 minutes. Pour in the sauce with the vegetables and mix thoroughly.
Once the noodles are cooked and the vegetables have been sautéed, preheat the oven to 350F.
Layer the lasagna by starting with half the vegetables on the bottom. Layer with noodles.
Layer half the ricotta and then layer with noodles. Repeat.
Layer the last half of the vegetables and then cover with the shredded mozzarella.
Cover with foil and bake for 50 minutes or until cheese is melted.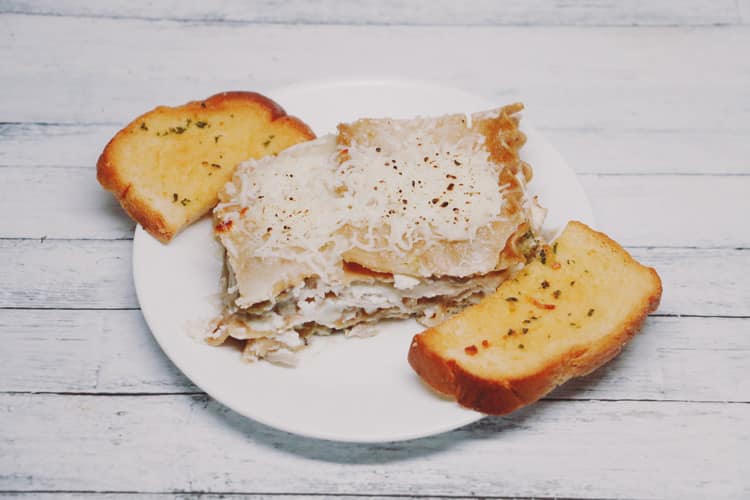 If this Ragu Roasted Garlic Parmesan sauce isn't your sauce of choice, I'm going to have to reevaluate our friendship. (Just kidding. Or am I?) In all seriousness though, if it isn't your cup of tea (or jar of sauce, I guess) – Ragu has got you covered with a massive delicious variety of sauces that are perfect for this lasagna. Including more white sauces. Hooray!
And these sauces are all made with the same high quality standards. They are slowly simmered to add layers of flavor and contain no artificial flavors or high fructose corn syrup. Not only that, but they're packed full of mouth-watering farm grown ingredients. Y U M.
Sweepstakes
Ready. Set. Cook! challenges home cooks to create new and unique recipes featuring Ragu sauce plus a set list of other ingredients. Head over to Food.com and you have a chance to win the Grand Prize of $3,000 along with other prizes!
Giveaway
Need more to get you motivated to bake this noodle goodness? Maybe a giveaway for an Amazon gift card so you can grab most of these ingredients without even setting foot outside of your house? You got it! Good luck!