I participated in an Influencer Activation on behalf of Influence Central for TruGreen. I received a promotional item to thank me for my participation.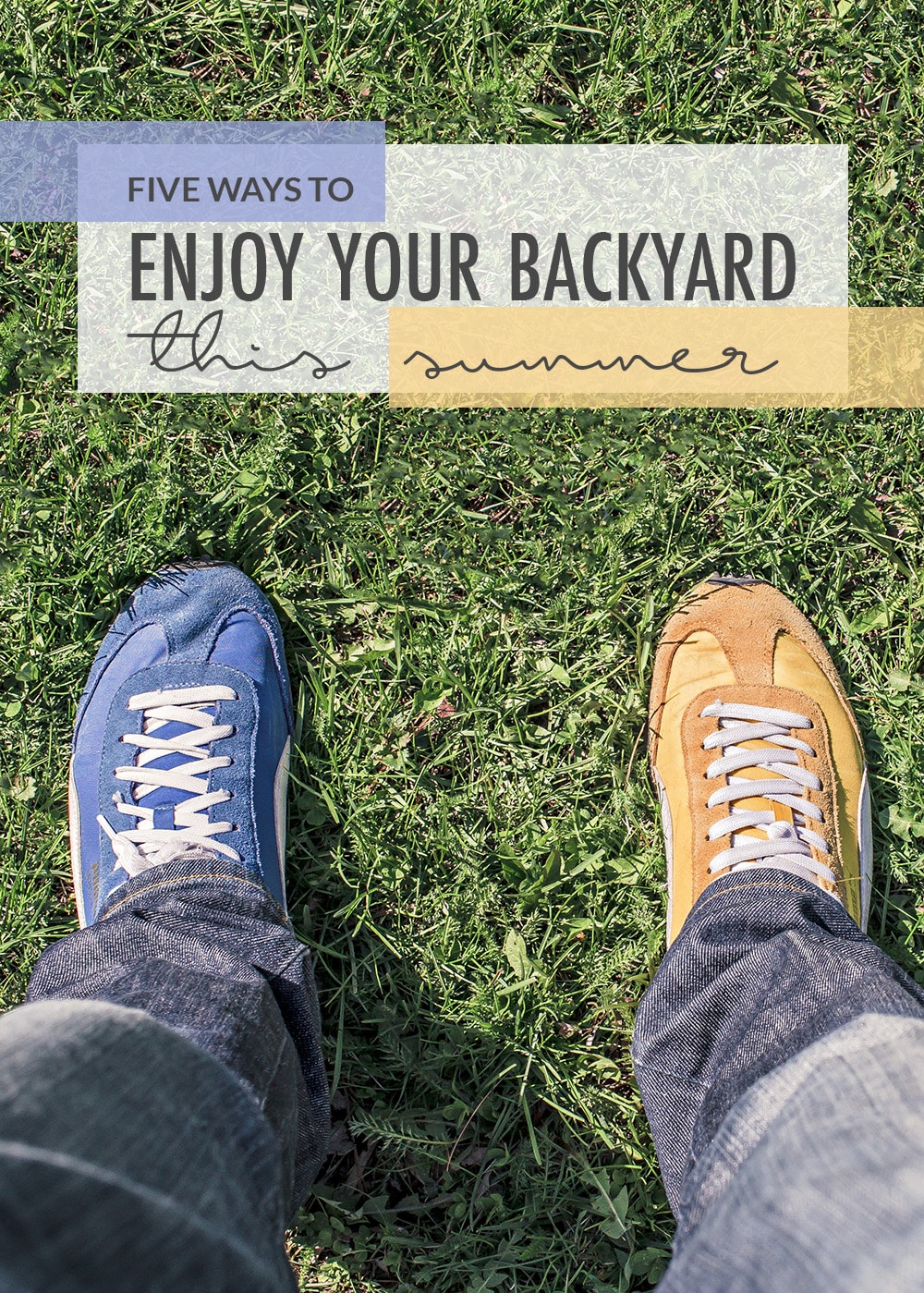 Summer is my absolute favorite time of the year. The Midwest rarely gets too hot (a few days here and there) and it's the perfect time to head outside to enjoy the great outdoors. I'm a hands in the dirt with toes in the sand kind of girl so once the weather is nice enough, you can usually find me barefoot in our backyard or working in our garden.
And today, I've partnered with TruGreen to talk about how easy it can be to enjoy your backyard this Summer. Enjoying life outside encourages better connections with your friends, family, neighbors and even your community. So set the stage with a beautiful lawn and these easy ways to enjoy your backyard this Summer.
Grill Out | Summer is my favorite time of the year for many reasons, but one of the biggest reasons? Grilling out. I love being able to cook outside and not heat up the house. And the food options for grilling are endless, especially if you're trying to eat healthy. Some of my favorites include peaches, pineapples, broccoli, cauliflower, and asparagus.
Have a Movie Night | Bring the movies to your backyard with an outdoor movie night. Since we no longer live close to a drive-in movie theater, or any movie theater for that matter, we've turned out backyard into out own drive-in movie theater. We usually grab some pillows, blankets, snacks, and set up an outdoor screen with a projector then wait until it's dusk to enjoy the show. If it's mosquito season, use citronella candles around your seats. You can turn it into an event for all of your friends and family by adding extra chairs and a snack bar.
Enjoy the Fire Pit | One of the things I was most excited about when we bought our home was that it already had a fire pit built into the backyard. It instantly reminded me of camping and how much I love sitting out by the fire before we head to bed, roasting marshmallows and enjoying nature. But fire pits aren't just for marshmallows. If you're still looking to make food, fire pits are perfect for making zip packs and letting the fire do the work. Throw together some of your favorite vegetables and/or meat, make a pouch out of aluminum foil, seal it up and let it cook by the fire without having to do a thing.
Relax and Unwind | You don't always need something to do to enjoy your backyard. Taking a nap, snoozing in a hammock, laying on a blanket and watching the clouds pass you by can be equally as fun. I still remember the day after our wedding reception where we accidentally fell asleep in our backyard after grabbing a quick bite to eat from a local restaurant. We were so beat that after we finished up lunch on a blanket in our backyard, we promptly fell asleep even though we had every intention of getting up. Now the backyard is my favorite place to take a nap or even close my eyes for awhile. Nothing beats the cool breeze and sunshine on your face if you're looking to lounge around for a bit.
Getting Moving | Everything I've talked about so far has been pretty low-key, but the backyard is the perfect place to get some much needed exercises for the whole family. When we were house hunting, we knew we had to have a big yard for our youngest dog Sookie. She loves to run and needed the room to do so in our own backyard. But playing fetch isn't the only thing the backyard is great for. Adults and kids alike can easily enjoy the perks of playing in the backyard. Badminton, volleyball, ladder golf, frisbee, or even a simple game of catch are perfect for having fun in your own backyard.
You might be able to make your backyard even more enjoyable with the TruGreen Yardleys' Sweepstakes, too! One (1) Grand Prize includes everything you need for the perfect outdoor living room:
$3,000 Gift Card to purchase outdoor furniture
1 year of TruGreen Service
Outdoor movie theater including a movie projector and screen
Entere here and be sure to check out TruGreen on Facebook, Twitter, and YouTube!
TruGreen is encouraging everyone to step away from their digital lives and instead, step into the fresh air to enjoy the physical and emotional benefits of being outdoors. I know I am personally happier, more fulfilled and even more connected with myself and others when I'm spending time outside. So tell me:
how will you live life outside this Summer?
[Tweet "#LiveLifeOutside with these Five Ways To Enjoy Your Backyard This Summer from @sayhellonature:"]