Educate and entertain your children with these super fun yet educational science kits for kids. Whether they love dinosaurs, bugs, or crystals – these kits are perfect for exploring nature with children.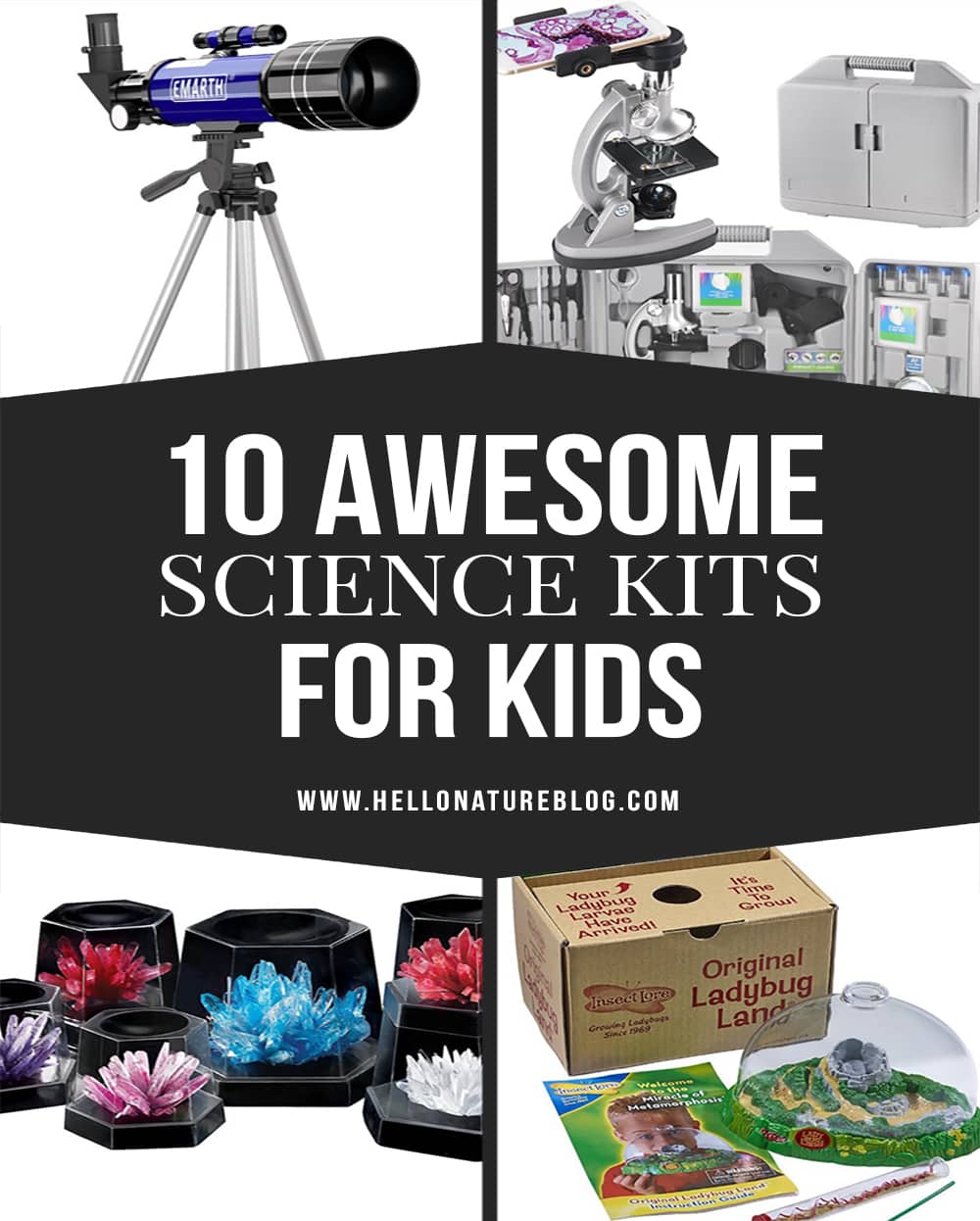 Summer is here. And it is the perfect time to start exploring nature with children. I have an amazing list of 10 science kits for kids for both indoor and outdoor education. These science kits for kids are a perfect gift for the younglings in your life. Plus a lot of them can be used year round!
If you're looking for easy, hassle free shopping – definitely
try Amazon prime
! You can get your science kits in less than two days so you don't even have to leave your house. As a parent, I can appreciate shopping from home so much more.

Smartphone Kids Microscope Kit
Microscopes have come a long way since I was a kid. I had no idea there were Smartphone Microscopes! This microscope functions just like any other microscope with the added benefit of having an adapter to mount your smartphone. This allows the user to take pictures or video. How cool is that!?
Don't forget to get some prepared slides and a microscope book to help explore nature with your children. If the Smartphone Microscope has more features than you're looking for, this Toyerbee Microscope science kit for kids and this Beginner Microscope science kit for kids are excellent choices as well.
Lady Bug Growing Kit
This lady bug growing kit is an awesome way to teach kids about the life cycle of lady bugs. It comes with a habitat as well as live lady bug larvae.
You'll get to see the larvae grow and molt several times, pupate, and then emerge as adult Pink Spotted Ladybugs. After a few days you can release them outdoors. If you want to start again, you can get extra lady bug larvae.
LED Ant Farm
Lady bugs not your thing? You can't go wrong the the classic ant farm! However ant farms have gone high tech. This LED Ant Farm ditches the classic sand for gel. The ants tunnel through it while getting to eat at the same time. Plus the LED light can double as a night light.
Ants aren't included in the set. You can get some live ants online or catch some yourself. If you catch them yourself, be sure they are at least 1/4 inch long.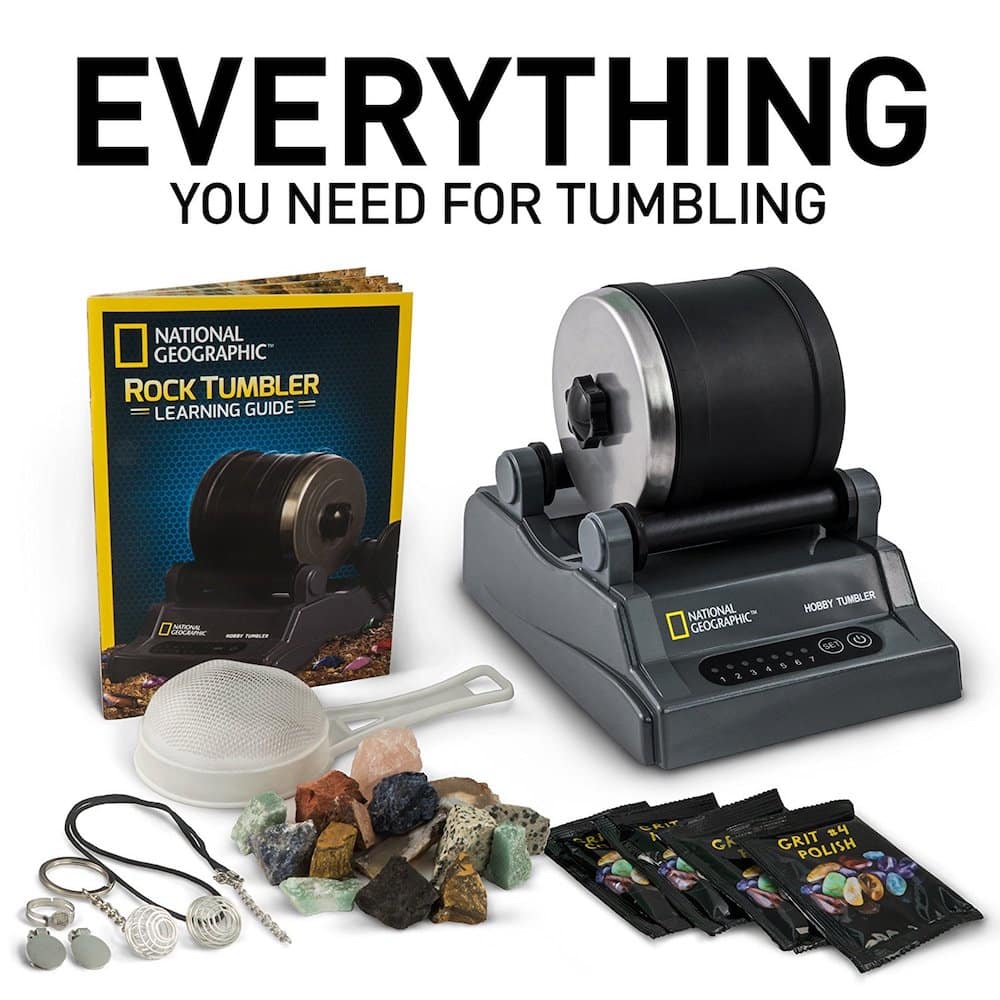 Rock Tumbler
Who doesn't love collecting rocks? This Rock Tumbler science kit for kids is perfect for taking your rocks and polishing them.
One thing I see a lot these days at zoos and other tourist attractions are mining stations that let you sift through a bucket of sand through an old school mining system. You are then left with a ton of unpolished precious and semi-precious gem stones.
My favorite part is having them identify them for me. Then comes the sales pitch where they offer to polish them for a heft sum. Skip the middle man! This Rock Tumbler lets you do it at home.
Don't forget to pick up extra gemstones to polish as well as extra grit for polishing. This Rock and Mineral book for kids is perfect for teaching children about nature.
Kids Telescope
Telescopes are an awesome way to start exploring nature with children. Just head out at night and look at the stars. You can learn the constellations and sometimes see other planets. Awesome!
This Emarth Telescope is the perfect starting point for kids. And not to be outdone by that sweet smartphone microscope, you can get a smartphone adapter to take pictures of your telescoping adventures.

Kids Terraium
Terrariums are a fun for exploring nature with children indoors. This Grow 'n Glow Terrarium is perfect for kids of all ages. It comes with everything you need for 2 full plant life cycles.
All you need to do is plant and water. You'll start to see growth in as little as 3 days. As a bonus kids can also decorate the terrarium. This terrarium is both a science and art kit!

Crystal Growing Kit
To be 100% honest, I didn't know you could grow crystals. This crystal growing kit is a perfect science kit for kids. It comes with everything you need to grow 7 different kinds of crystals and display them.
If your child is a little too young to grow crystals, you can start them out on this awesome crystal mining kit.

Butterfly Garden Gift Set
Have your kids ever wanted to raise their own butterflies? This is the science kit for you! It comes with everything you need to raise 5 butterflies from baby caterpillar to full grown butterfly in as little as 3 weeks! Afterwards, you can release them into the wild. You can even get them to stay in your yard if you have your own outdoor butterfly garden.
Want to start again? Be sure to get extra caterpillars to have fun all over again. And if you want to teach kids about butterflies, this Dr. Suess book is a super fun way to do it!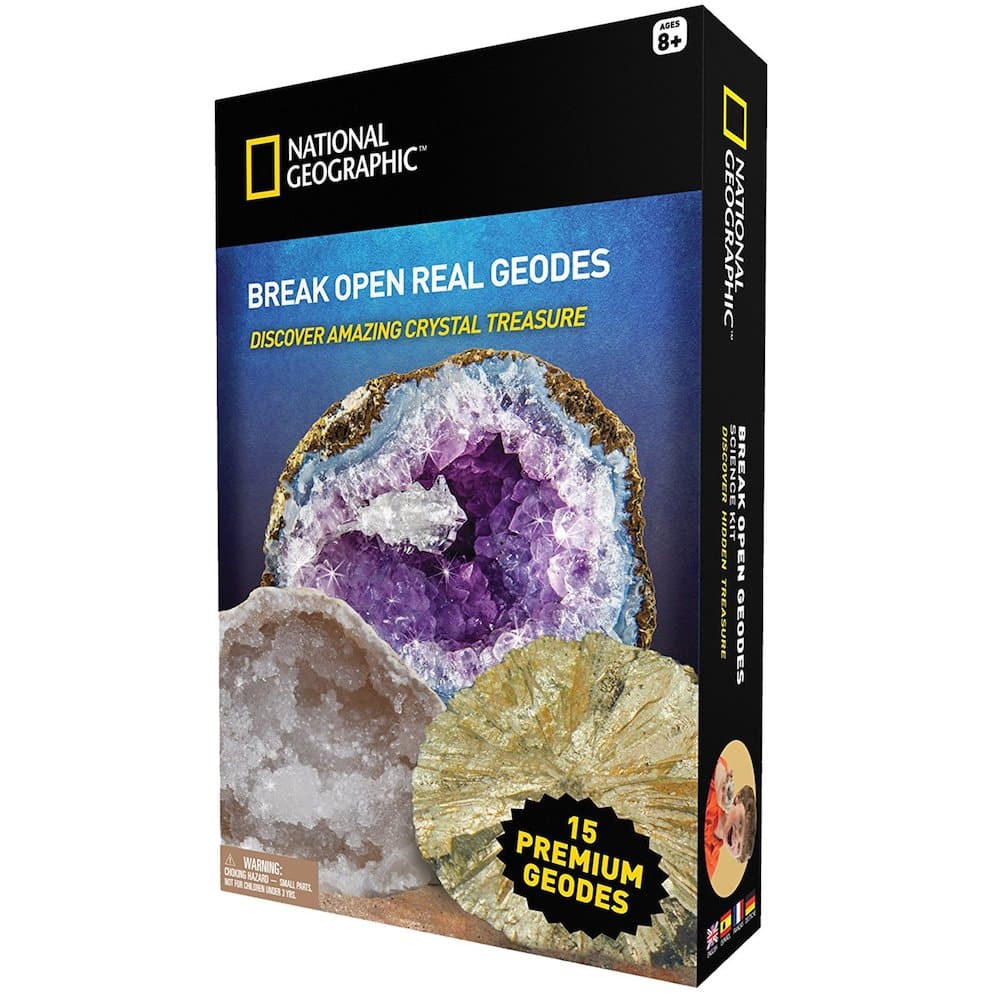 Geode Set
I think geodes are one of nature's most awesome creations. However, I've only ever seen them opened up on a shelf or in a museum. Not anymore! This geode set lets your kids break it open on their own. These would be perfect for a party. Its like a piñata for rocks!
This geode set is also awesome because it comes with pyrite (fool's gold). Don't forget the Shawshank style rock hammer for breaking open your geode or escaping prison after 20 years. This rock and mineral book is a great reference to learn about your geodes.

Mega Fossil Kit
Welcome to Jurassic Park…….in your backyard. This mega fossil kit comes with everything you need to dig up 15 real fossils. Dig for dinosaurs, sharks, brachiopods, mosasaurs, ammonites and more!
It also comes with a 15 page learning guide for identifying your fossils as well as chisel, brush, and magnifying glass. It will keep kids busy for hours!
BONUS – Kiwi Crate Tinker Box
If you've never heard of it, Kiwi Crate is a monthly box delivery. You get one box of age appropriate crafts, games, of science kits.
The Tinker Crate is perfect for the young scientist in your life. It comes with everything you need for 1 science project per month. You get the project, blueprint, magazine with additional projects, and video tutorials. Some example projects are a trebuchet, hydraulic claw, and fiber optic stars! You can save 30% off your first box with code SHARE30.
If you found this helpful, I would greatly appreciate you sharing this on Pinterest!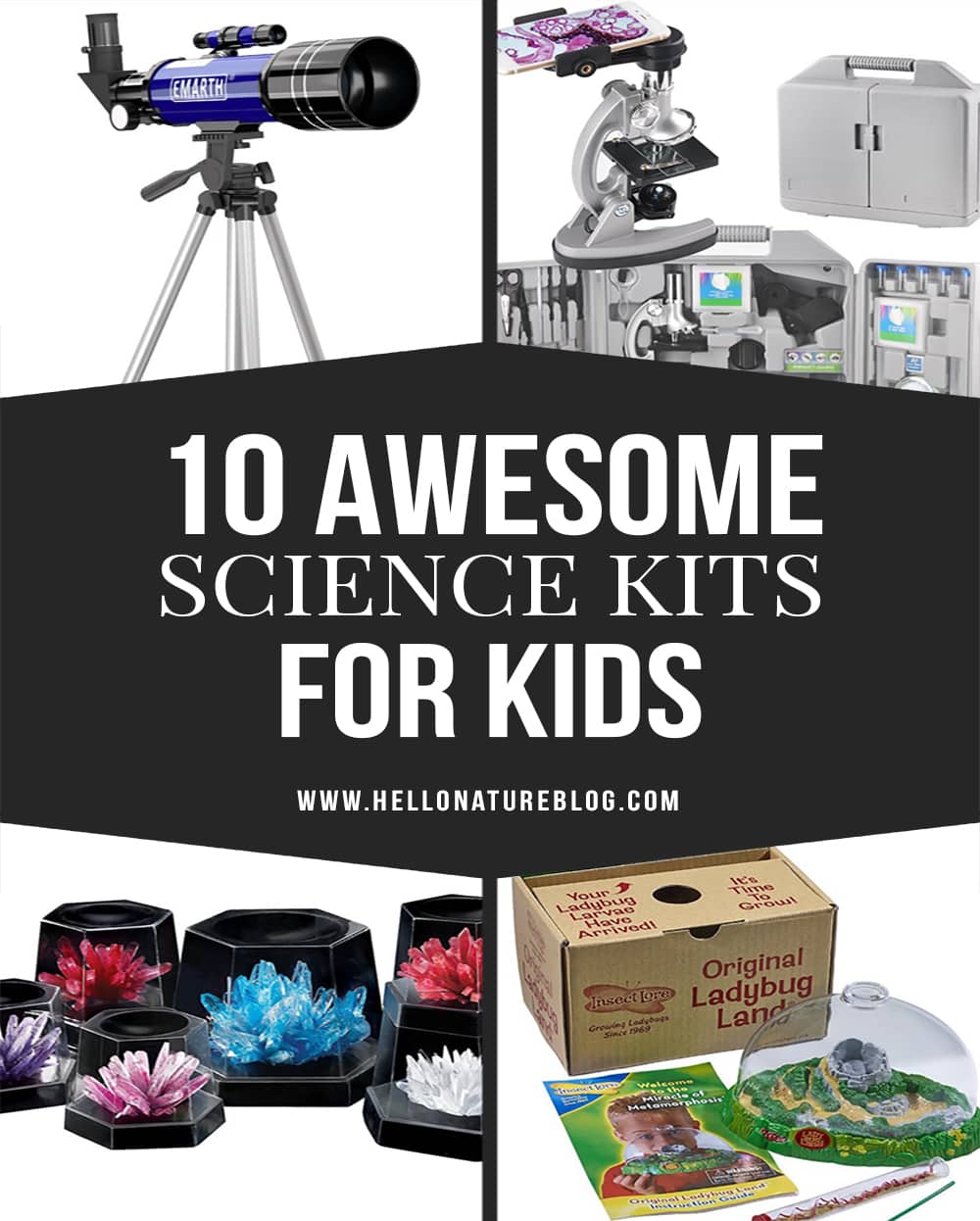 [recent_posts style="11″ rows="four" title = "You Might Also Like:" text_excerpt="" mode="selectable_posts" posts_num="" selectable_posts="25757, 24133, 24152, 23495, 23033, 22882, 21509, 20800″ text_color="undefined" hide_author="" ][/recent_posts]