This post is sponsored by McCormick® but the content and opinions expressed here are my own.
November and December have always been family oriented months for me. Ever since I was little, these were two months of the year I was almost guaranteed to see a bulk of our family – near and far.
With those trips came plenty of food. Between the holidays and the family get-togethers, home-cooked meals and potlucks that included my favorite foods and even some new dishes every year were the things I looked forward to most.
I won't lie though – the dessert table always called to me a bit more. The pumpkin bars, apple pies, sugar cookies, the varieties of fudge … I'm salivating just thinking about it. Even better than these anticipated favorites though, were the new dishes I got to try. I could always count on a few family members to bring something unique and I was quick to try their desserts for the unexpected twists on classic recipes.
This stuck with me through the years, even when we stopped seeing as much of my family. And even now, I still try to make something new every year (usually multiple somethings) to pair with the favorites. And this year was no different.
While doing a little ingredient shopping at Meijer, I grabbed all of the ingredients I needed for our staple holiday recipes – plus some new ones. We made sure to grab our favorite McCormick® spices for baking so I could try combining some of my favorite holiday recipes. I wasn't sure my ideas would pan out, but these recipes may have skyrocketed to the top of my "must-make holiday dish" list.
First, let's start with the one I was most excited about:
An apple pumpkin smoothie.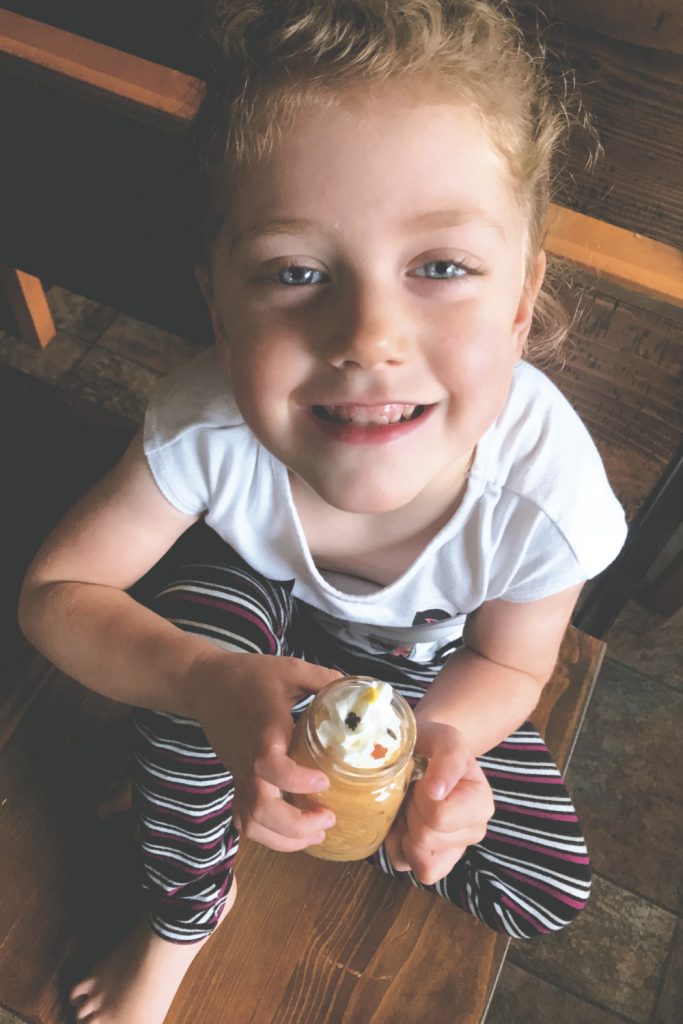 The inspiration I had behind this was apple and pumpkin pie. While holiday leftovers (especially dessert) are often consumed at breakfast, lunch, and dinner by us – I wanted something that was actually breakfast food. And I wanted to opt for something little less heavy. Which is where the idea for a smoothie came in.
Now, I was hesitant on this recipe. I wasn't sure that a pumpkin smoothie was going to be… edible. But I'm not a stranger to recipe failures just for the sake of experimenting so I figured I would give it a go.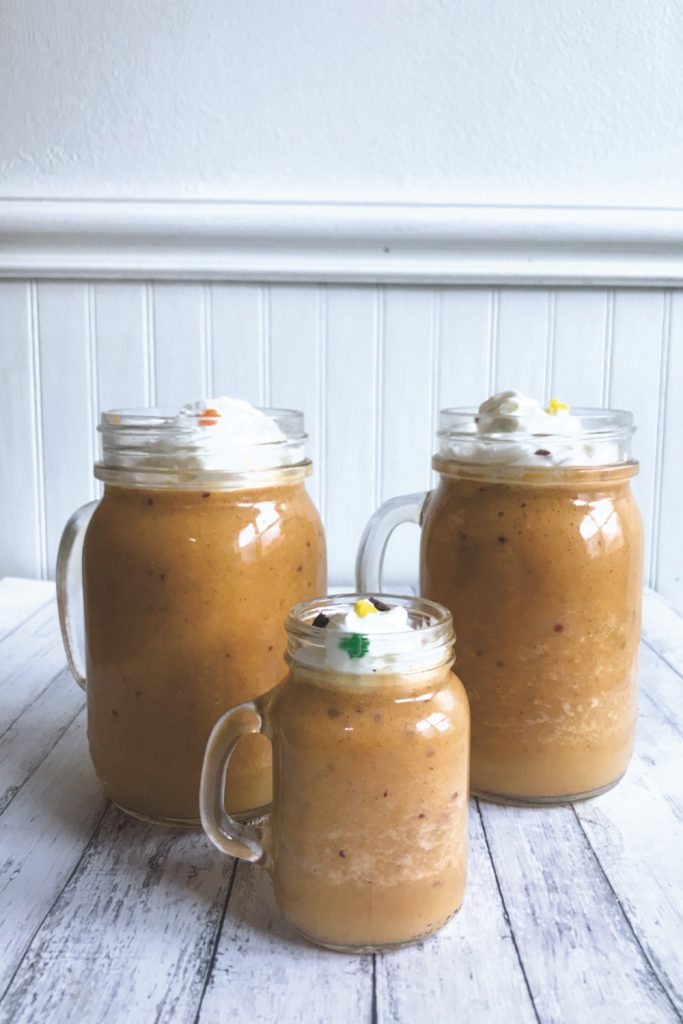 Not only is it edible, it is delicious. Like "let's make this all fall and winter long" delicious. It reminds me of how homes always smelled when multiple pies are baking, but without the heat. Or the baking. Or, you know, tons of effort. 'Cause you just kind of just throw everything together and then in 5 minutes, you get to enjoy it.
And our three year old is smitten with it. She had it every day for a week or more after I made it the first time… even though she supposedly hates pumpkin.
Apple Pumpkin Pie Smoothie Recipe
Apple Pumpkin Pie Smoothie Recipe
A delicious combination of the best pies of the season in smoothie form.
Ingredients
1

Apple

Cored

1

Banana

Peeled

1

Cup

Milk

1/2

Cup

Pumpkin Puree

2

Tbsp

Maple Syrup

1/2

Tsp

McCormick® Pure Vanilla Extract

1/2

Tsp

McCormick® Ground Cinnamon

1/4

Tsp

McCormick® Ground Nutmeg

1/8

Tsp

McCormick® Ground Ginger

1/2

Cup

Ice
Instructions
Combine all ingredients in the blender and blend until smooth.
And next are the delicious Pumpkin Cream Cheese Rolls.
I'm a big fan of filling crescent rolls with a variety of foods. Veggies, cheese, chicken, sausage… they're really versatile. One thing I hadn't tried was a more sweet than savory roll.
Until now.
This year we combined one of my favorite flavor combinations in them: cream cheese and pumpkin. We'd had breads, muffins, and bars with this delicious combo so I figured why not rolls?
And let me say: it worked. Not only is it super yummy, it's also super easy. It's an awesome way to add a unique twist to these rolls and truthfully, I think they can be a tasty side or a not-as-sweet dessert.
Depending on the flavor you're going for, you can omit or add to the sugar. If you'd like a savory roll, I'd skip the sugar entirely. If you want a really sweet crescent roll, follow the recipe and then slowly add more until you reach a flavor you like before baking.
Pumpkin Cream Cheese Rolls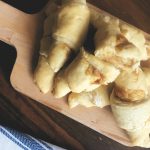 Pumpkin Cream Cheese Rolls
A creamy blend of pumpkin roll meets buttery crescent rolls
Ingredients
2

Oz

Cream Cheese

Room Temperature

1/4

Cup

Pumpkin Puree

1

Tsp

McCormick® Vanilla Extract

1/2

Tsp

McCormick® Pumpkin Pie Spice

1/8

Tsp

McCormick® Ground Nutmeg

1/8

Tsp

McCormick® Ground Cinnamon

8

Crescent Roll Triangles

(1 Can)

2

Tsp

Sugar

Optional
Instructions
Preheat the oven to 350F.

Combine all of the ingredients except for the rolls in a medium bowl. Mix with a hand mixer until smooth.

Unroll the crescent roll dough into the triangles. Spread 2-2 1/2 tsp of the pumpkin cream cheese mixture onto each crescent roll triangle.

Roll the dough in the crescent roll shape, starting with the larger end of the triangle.

Set on pan and repeat until all 8 are set on the pan. Bake in the oven for 9-12 minutes or until golden brown. Serve warm.
Recipe Notes
Omit the sugar if you prefer a savory roll. If you prefer a sweeter roll, make the recipe as is and then slowly add more sugar until the pumpkin cream cheese mixture achieves the flavor you desire before spreading it on the triangles.
Ready to make these recipes yourself? Visit your local Meijer store to get all of the ingredients for both of these recipes, including the McCormick® spices along with any other McCormick® herbs and spices, extracts, gravy and sauces you need for the rest of your holiday dishes. Not only do they have a huge selection to choose from, but the shopping experience from aisle to checkout makes it super easy to get your holiday must-haves!