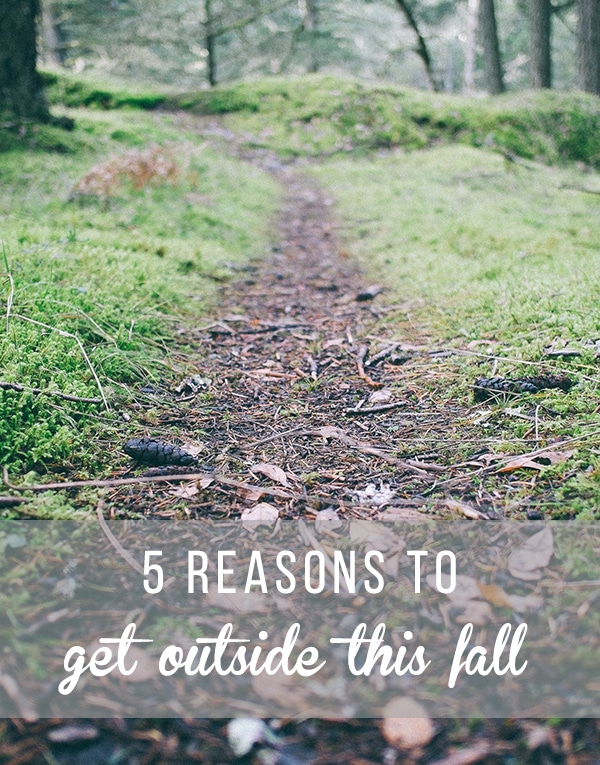 When the cool weather starts rolling in, I immediately want to reach for a warm blanket, a cuppa tea and a good book. Instead, I bundle up and force myself to get outside and enjoy the changing weather. The scenery is astonishing, the mud squishing beneath my boots makes me smile, and the rivers are no longer dry, and instead rushing with water from recent rainfalls.
Not sure what to do? Here are 5 reasons to get outside in the fall:
1. Exercise
Head outside and take advantage of the cool weather before winter arrives! Remember jogging or hiking in the summer? The heat, the bugs, the sweat? Thankfully the cooler weather means less bugs and it forces you to move to keep yourself warm! Just five minutes of outdoor activity can improve your self-esteem and well-being. Be sure to layer up, removing layers as you get warmer and adding them back on as you get cool!
2. Take Some Pictures
Autumn can be such a beautiful time to take pictures. Head into the forest for a hike and take pictures of the colorful foliage against peekaboo sunbeams, or the fog coming in through the trees. Raindrops and puddles, rubber boots and muddy trails are all fun photo opportunities! Look for a photography club, too – many take outdoor hikes to amazing areas to improve their skills together.
3. Head to the Farm
Pumpkin patches, corn mazes, hay rides, and warm apple cider become magical on a chilly fall day. Get dressed up cozy and warm, and be ready to enjoy fresh picked apple while walking on crunchy corn stalks and dry hay. And when was the last time you took a horse-drawn hay-ride on a cool evening night? Bring home some harvest from the farm and make your own locally-grown seasonal meal!
4. Have a Fire
As the evenings start to get darker, it becomes easier to stay inside in the comfort of your home. Instead, head outdoors and make a campfire! Complete the experience with a fire-cooked meal, like sausages, grilled cheese, and baked potatoes. The ambiance and experience of a warm, crackling fire under the stars is amazing.
5. Wake Up Early
The mornings are becoming darker, and it becomes harder to wake up in the morning – most of the time I'd rather be sleeping in my cozy bed! Make the effort to wake up early one morning and get out for a walk. Observe your surroundings, watch the sky lighten as the sun rises, and engage with nature while most of the world is seemingly asleep. Outdoor walks can improve memory and concentration, and gets your day off to a great start!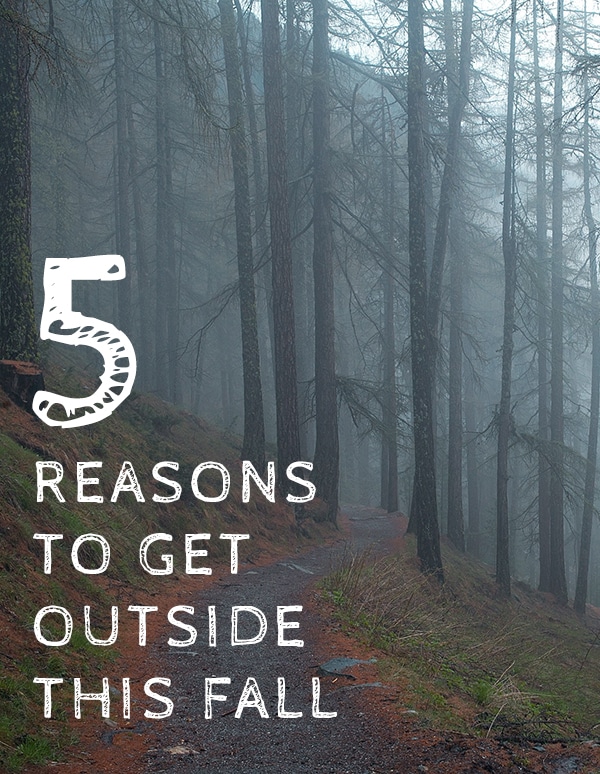 Heading outside can lift your spirits, reduce your stress, and make you happier! Dress appropriately for the changing weather, wearing lightweight and warm layers that are easy to remove and waterproof to keep the rain out.
What are your favorite thing to do outdoors in the fall?
[Tweet "5 Reasons to Get Outside in the Fall"]