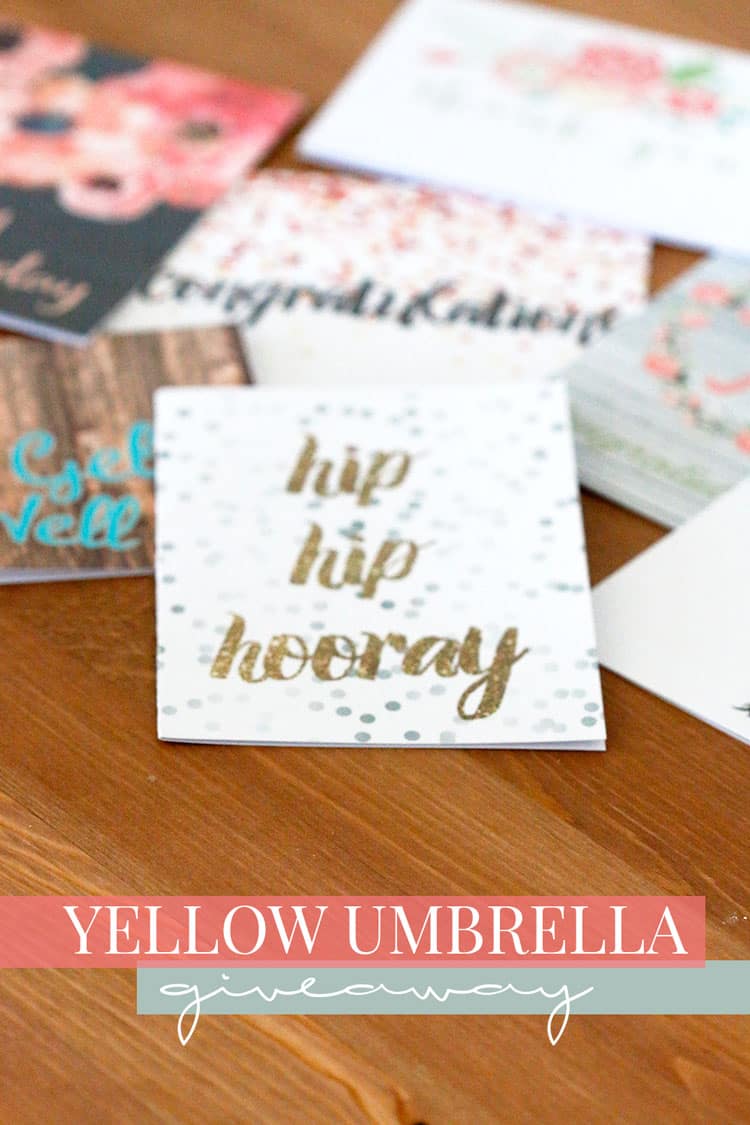 Happy Mother's Day!
I hope everyone's day is filled with happiness and love :) If you need even more of a reason to smile, you have to check out this giveaway because I am in LOVE with this card and I am sure you will be, too!
I've known Brittney for awhile now (if you aren't reading her shop, you're missing out!) and I was super excited to partner with her on this giveaway. I talked about the pros of living in a small town the other day, but one of the cons is the lack of shopping – especially when it comes to gifts. There's a Family Dollar and our grocery store when it comes to options for cards (and I don't even know for sure that our grocery store has cards.) Either way, complete lack of options.
So I tend to buy cards in bulk. And my bill quickly skyrockets because greeting cards are SO expensive. Also, I spend forever in the card aisle at Wal-Mart while Nathan tries to find fifteen other things to look at because I loathe the card selection. So when I saw this assorted greeting card set from shop, I knew it would be mine.
Brittney has assembled an amazing pack of cards that have you covered for pretty much every situation. Birthdays, anniversaries, condolences, celebrations – she's got it all. The great selection of designs in the set make it perfect for guys, girls, friends and family. And I love knowing that the recipient most likely won't receive another card like it!
a little about the card set from Yellow Umbrella Stationery
For years, I have watched the people around me spend so much money on cards in large shops and wondered why it is that we spend as much on a card as we do on the gift itself. As a result, I came up with the idea of creating an assorted card pack that would save an incredible amount of money and would leave you prepared for any occasion.
This a set of 30 assorted greeting cards with envelopes. Look at the initial image on the post to see each and every card that is covered. The insides are blank so that you can personalize your cards as needed. Each card is designed by me and printed on high quality white cardstock. After printing, they are then hand cut and hand folded, to add a special touch just for you. Once ready, they are paired with a matching white enveloped and placed in a lovely package.
Just think, buying a greeting card in the store can cost you around $3-$5 per card and you have to think ahead. Not only will the card pack save you $90-$150 (WOW!) but you will already have a card at home when that special occasion comes up on you!
You can view the assorted greeting card set on Etsy and in the main shop.
a little about Brittney from Yellow Umbrella Stationery
Design for me has never been something I have done, it has been a lifestyle. I can remember at a very young age creating artwork with just a few colors of chalk over any concrete surface around, only to wait for the rain to come to wash it away so that I could start creating once again. As I grew older, I began doodling on any piece of paper put in front of me. Not only that, but I fell in love with paper and the art of notes. Isn't it such a great feeling to receive a handwritten note in the mail?
I spent the majority of my young adult life focusing on becoming an elementary teacher, and then later counseling middle and high school students. It was such a rewarding time in my life but I was missing something. Design. They say you should make your interests you career, so that is exactly what I did.
We want every person to realize they can afford and use great design in their everyday life as well as special occasions.
Want to find out more? Follow Yellow Umbrella Stationery online:
If you loved the greeting card set as much as I did, you can enter to win your own set below! Or if you'd like to snag one right away, use HELLONATURE to get $5 off your card set in either shop right away!
Good luck!