This ramen noodle salad recipe is perfect for Summer get-togethers and picnics! It's light, delicious and super simple to make!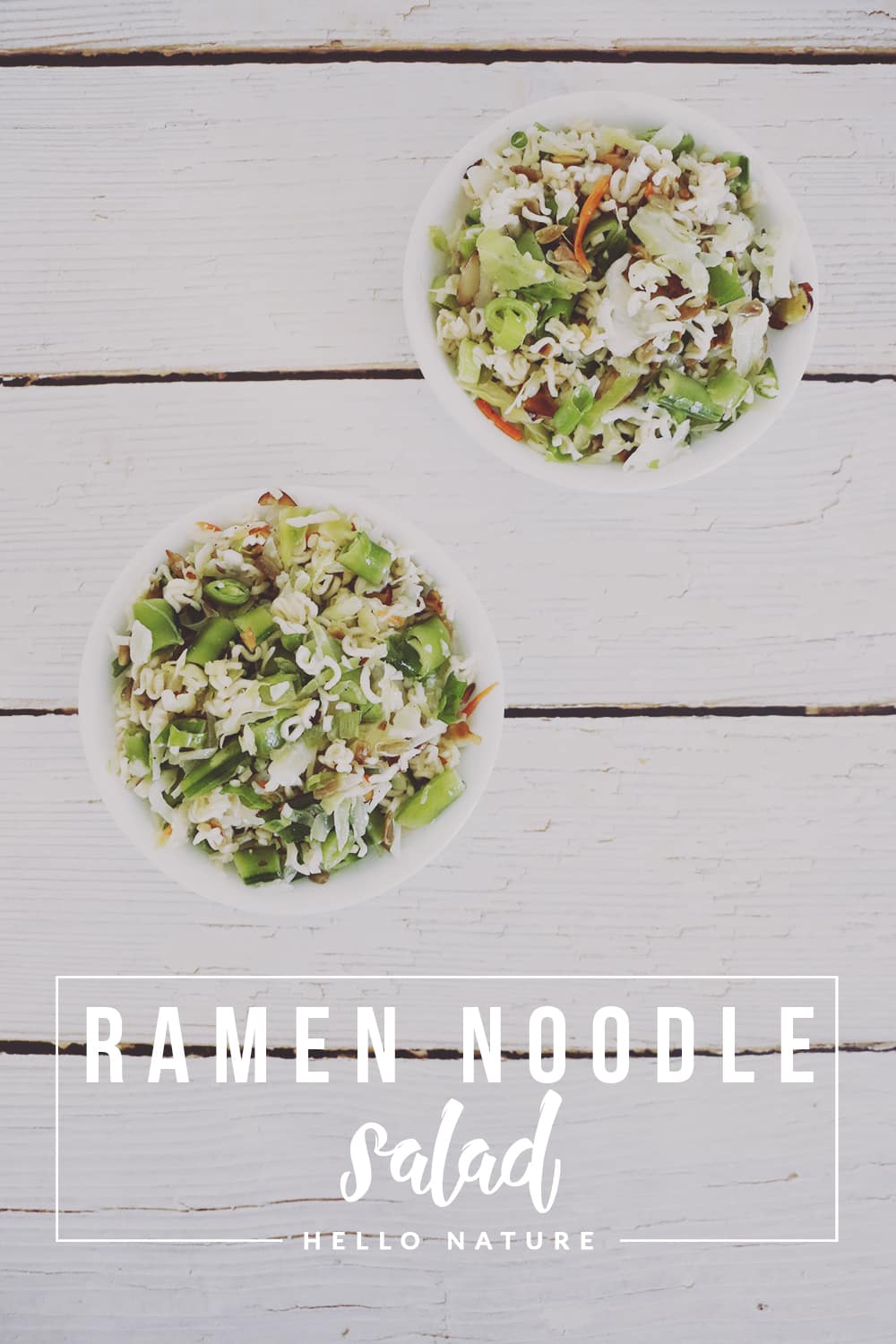 Summer is upon us and that means picnic time. It's always fun to enjoy the outdoors at someone's house or a local park. It seems to be tradition that everyone brings a dish to pass at every outdoor event. I have very fond memories of my mother making one of 3 side dishes for any family event, especially outdoor events. She'd make potato salad, shrimp salad, or this amazing ramen noodle salad.
In full disclosure, this isn't her actual ramen noodle salad recipe. Ashley and I decided to make our own version of it and while I won't admit this to my mother, I think it's better. It was so good that we had to remember to take pictures for the post before we devoured it all.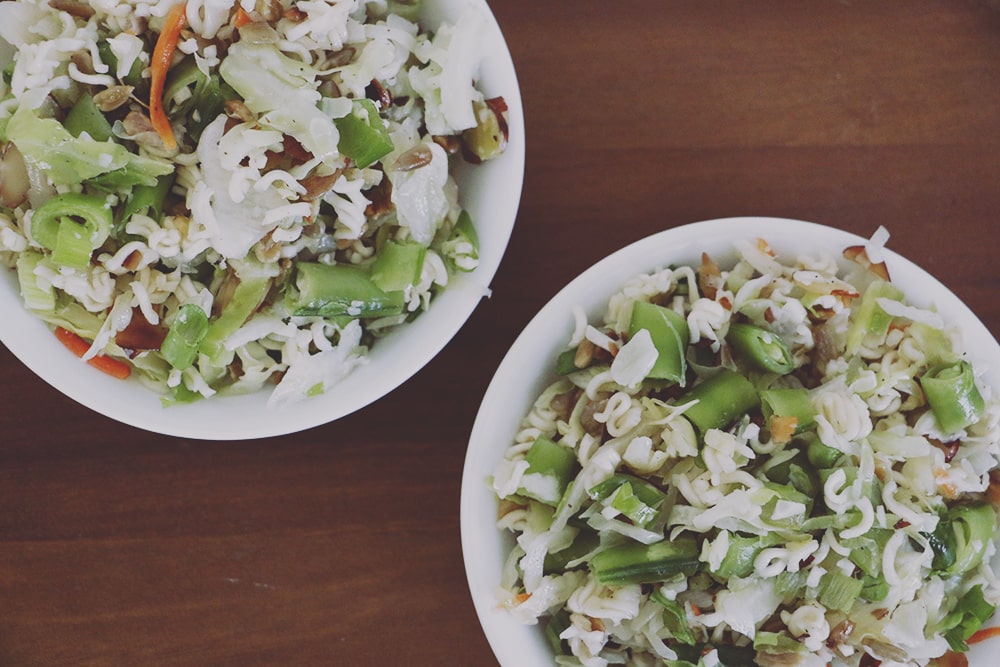 We added sugar snap peas for some extra crunch. If you want even more crunch, I'd recommend adding chow mein noodles to it. We were all out this time around, but they're a fun addition to add more texture to the salad.
We also toasted the almonds and sunflower seeds to add extra flavor. To toast them, all you have to do is put the nuts and seeds in a dry pan over high heat. Stir constantly to avoid burning. They are done as soon as they start to brown.
RAMEN NOODLE SALAD
Ramen Noodle Salad
Ingredients
For the Salad
14

oz

Bag of Coleslaw Mix

2

Packages Ramen Noodles

any flavor

1.5

Cups

Snap Peas

Chopped

1

Cup

Green Onions

Chopped

1/2

Cup

Sliced Almonds

1/2

Cup

Sunflower Seed Kernels
For the Dressing
1/2

Cup

Canola Oil

4

Tbsp

White Vinegar

3

Tbsp

White Sugar

Salt & Pepper to taste
Instructions
Take the packages of ramen and crush them with a rolling pin or by hand.

Combine all salad ingredients in a large mixing bowl.

Whisk all of the dressing ingredients together.

Pour the dressing over salad and mix well.

Add salt and pepper to taste. Mix again.

Cover and store in the refrigerator 2 hours.

Serve cold.
This salad can be eaten right away, but it definitely gets better after it sits for a few hours. Waiting the 2 hours is the only hard part of this recipe. It's almost too good to wait to eat.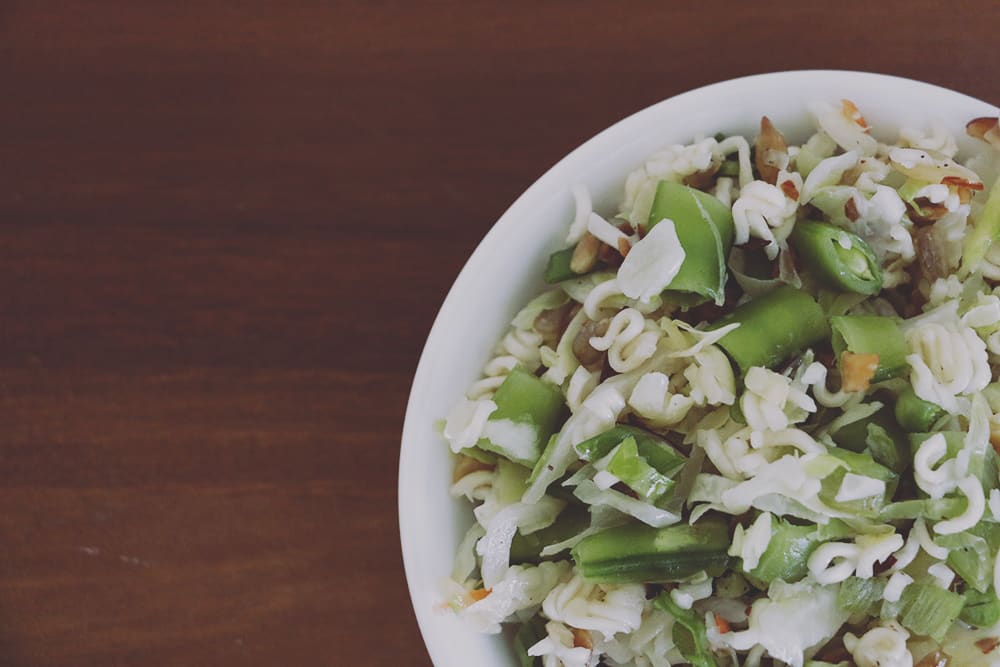 If you're looking for other salad recipes that you might like, here's a few I'd recommend!
If you like grilled corn salads, you should definitely check out the Cherry Tomato Corn Salad. If you prefer Southwestern flavors, try the Southwestern Bean Salad or Southwestern Quinoa Salad. Prefer fruity? try this Tropical Gelatin Fruit Salad. And if you like comfort food type salads, you HAVE to try this Frito Corn Salad.